H.E. Maguy Maccario Doyle, Ambassador of Monaco; Jennifer Griffin, FOX News Channel (FNC); Marci Robinson, Robinson Communications; Chair, IFE Board of Stewards; Ms. Wafa B. Bughaighis, Charge d'Affairs of Libya;Jan Smith, Broadcast Journalist; Barrett Karr (special guest); Mary Anne Cook, Counselor; H.E. Hunaina Sultan Ahmed Al-Mughairy; Jennifer Rudy, Microsoft; H.E. Dina Kawar, Ambassador of Jordan ; Ria Bailey-Galvis, Google; H.E. Vlora Çitaku, Ambassador of Kosovo; H.E. Kristi Kauppi, Ambassador of Finland and Coach Kemper
---
The Institute for Education's Woman in Power dinner welcomed Barrett Karr, Chief of Staff to Kevin McCarthy (R-CA) House Majority Leader.  Barrett shared compelling remarks with the guests about the future congressional legislative landscape and listened to their perspectives on the issues of the day.
Dean of the female Ambassadors H.E. Hunaina Sultan Ahmed Al-Mughairy, Ambassador of the Sultan of Oman, hosted the Women in Power guests at her elegant residence.
Female Ambassadors from Finland, Monaco, Kosovo, Jordan, Libya along with IFE leadership from Microsoft, Google, Charter Communications, Robinson Communications, and the media joined in a lively, rigorous conversation.
View: Guest List | Event Photos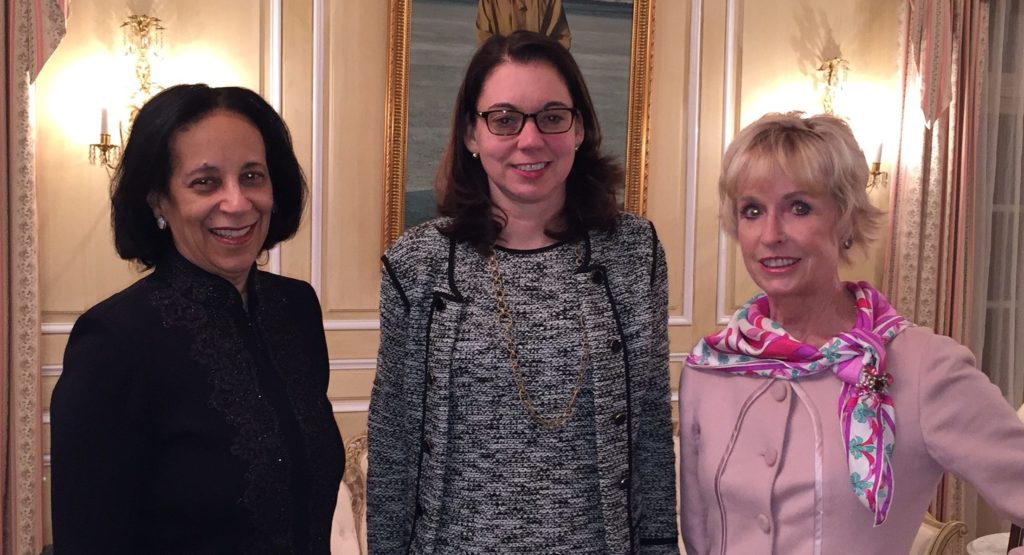 ---
What the guests had to say:
Jennifer Griffin, National Security Correspondent @Fox News, Channel (FNC):
"A wonderful evening of shared ideas with dynamic women who represent the best of their respective countries."
E. Hunaina Sultan Ahmed Al-Mughairy, Ambassador of the Sultan of Oman and Dean of the female diplomats:
"When we empower women, entire nations, businesses, communities and groups can benefit from the implementation of programs and policies that adopt the notion of women empowerment. I believe the main advantage of empowering women is that there will be an overall development of society."
H.E. Dina Kawar, Ambassador of the Kingdom of Jordan:
"It is always interesting to observe that when women exchange thoughts about their work experiences, regardless of their profession, we find the same approach and outlook when solving the problems and issues we face. As much as I dislike gender stereotyping, there tends to be a specific way to looking at problem solving that is uniquely feminine​.​"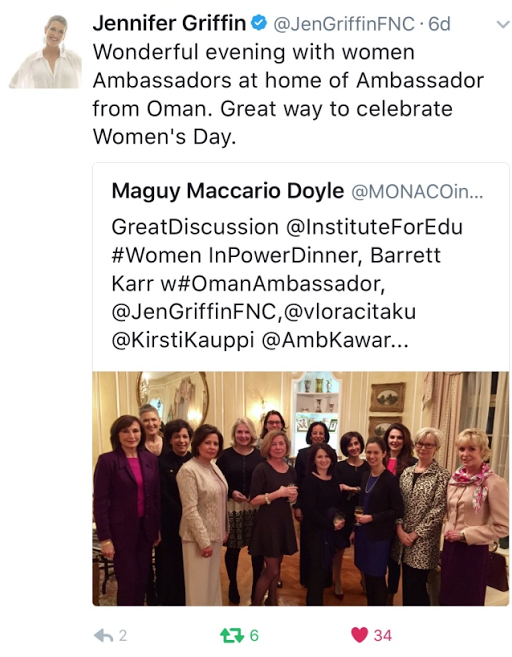 ---
About Our Speaker: As Deputy Chief of Staff to the House Majority Leader, Barrett Karr oversaw a policy team that advises the House Majority Leader on the House Republican legislative agenda. Barrett holds a broad background for policy expertise, especially matters related to health care, education, and financial services. Barrett recently returned to Capitol Hill after several years in the private sector, and she has over 20 years of experience in both Congress and the White House. Prior to her work in the private sector, Barrett was Majority Staff Director of the U.S. House Committee on Education and the Workforce. She oversaw a team of 50 people, designed the committee agenda and schedule, and coordinated legislative operations with House, Senate, and Administration counterparts. Prior to becoming Staff Director in 2009, Barrett was Deputy Assistant for Legislative Affairs to President George W. Bush. From 1995-2005, she served on the staff of Congresswoman Kay Granger (TX-12), the latter four years as Chief of Staff. Barrett is a graduate of Texas Christian University and earned her MA in Legislative Affairs from George Washington University.
---
About Our Host: Hunaina Sultan Ahmed Al-Mughairy became ambassador of Oman to the United States on December 2, 2005. Al-Mughairy obtained a B.A in Business Communications from the High Politechnical Institute, Cairo and a Master's degree in Economics from the New York University, New York. From 1973 to 1974 she was the assistant to the Economic Advisor to the Sultan of Oman.  From 1979 to 1984 she served as the director of industrial loans and grants in the Ministry of Commerce and Industry From 1984 to 1985 she worked in the permanent Mission of the Sultanate of Oman to the United Nations in Geneva, and from 1985 to 1991 she was Director of Industrial Planning and Research, Ministry of Commerce & Industry and a member of the Planning Committee for Major Gas projects in the Sultanate of Oman.   In 1991 Al-Mughairy was appointed as an advisor to the Under-Secretary for Industry at the Ministry of Commerce and Industry. She held this position until 1996. From 1996 to 1998 she was the director general of investment promotion at the Omani Center for Investment Promotion and Export Development. From 1999 to 2005 she served as the representative of the Omani Center for Investment Promotion & Export Development in New York City.  Al-Mughairy's husband, Fuad Mubarak al-Hinai, has been Oman's ambassador to the United Nations since August 1998. The couple has two children.
---