The Institute for Education's Media & Technology Roundtable (MTR) will host special guest Tory Newmyer, The Washington Post's PowerPost anchor.  The dinner will be hosted by H.E. Dina Kawar, Ambassador of Jordan to the United States at the residence. By invitation only.
Read: Tory Newmyer joins PowerPost to cover financial services and economic policy
About our Special Guest:  Tory Ne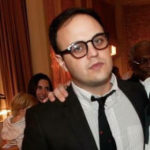 wmyer recently joined the PowerPost team to anchor its forthcoming newsletter on financial services and economic policy. This is another in a series of steps to expand and deepen PowerPost's policy coverage this year. Tory joins The Washington Post from Fortune, where he has worked for the last six-and-a-half years as the magazine's Washington correspondent. There, he wrote a mix of feature-length magazine pieces and web stories on the push and pull between corporate interests and government. Most recently, Tory launched a newsletter, Trumponomics Daily, chronicling the Trump administration's impact on business. Prior to Fortune, Tory spent five years at Roll Call covering the House leadership, the lobbying industry, and campaign finance issues. He cut his teeth as a local government reporter at the Chattanooga Times Free Press. Newmyer has also tackled investigative pieces on earmarks and produced groundbreaking coverage of the influence of money in politics. His work has appeared in Portfolio, The American and GQ.  A history major at Columbia University, Tory is a native Washingtonian who now lives in the Shaw neighborhood. He's also a space obsessive and would like to see about reserving a spot on a Blue Origin rocket.