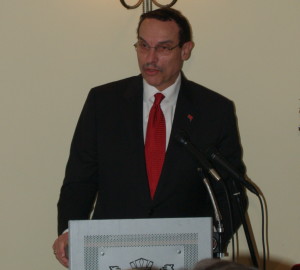 On April 11, 2014, as the weather warmed and the cherry blossoms came into full bloom, H.E. Rudolf Bekink, Ambassador of the Netherlands to the United States, hosted the Institute for Education for an another exciting and informative session of the INFO Public Policy Roundtable series featuring The Honorable Vincent Gray, the Mayor of the District of Columbia. IFE CEO and Founder, Coach Kathy Kemper, delivered the welcoming address with remarks by Dr. Amy Geng, IFE Innovation Steward, and Alan Murray, Pew Research Center. This was followed by IFE Board of Stewards member, the former Mayor Anthony Williams, who gave the introduction setting the stage for Mayor Gray's fourth address to the Institute since assuming office in 2011.
Mayor Gray addressed the people in attendance on the state of the District, touting the successes of his ongoing tenure in office from education to athletics, housing to innovation. While laying out his successes, he also said that the District still has a lot of work to do. Increased population is causing a strain on the inhabitants and the economy of the city while not enough people are getting access to quality education that would solve many of the cities ills. Mayor Grey sees a focus on education creating a wide range of possibilities for the young people of the city. The STEM program, a plan designed to boost skills in science, technology, engineering, and math, will allow the city to respond quickly to an economy that is becoming more and more reliant on those skills. Along those lines, the Mayor said that a Redmond, Washington company was going to headline the growth in the city's innovation centers and the tech corridor growth along 7th Street. Microsoft's decision highlights the success that the District's planning and goals have had on bringing large corporations to the District and the jobs that will be created because of it. Finally, he addressed the needs for more housing as more and more children and families are growing up in shelters which is no place for a child to grow up. As the city's population grows and home prices become higher and higher, Mayor Grey believes that providing housing to the cities poor is necessary in order to provide for the ongoing growth of the city.
In a fascinating back and forth between former Mayor Anthony Williams and Mayor Grey, both individuals highlighted what their best, most memorable experience was as Mayor. Former Mayor Williams best moment was when he was able to bring the Washington Nationals and professional baseball back to the district. Mayor Grey, on the other hand, though that his best moment was his ongoing work in early childhood development and setting the youths of the District a path of success.
The roundtable was attended by dignitaries of the diplomatic corps, industry, and leaders from around Washington, including Dr. Rosa Batoreu, Embassy of Portugal; Gouri Mirpuri, Embassy of Singapore; H.E. Elena Poptodorova, Embassy of Bulgaria; Saifeddin Sharif, Embassy of Libya; H.E. Peter Taksøe-Jensen, Royal Danish Embassy; H.E. Johan Verbeke, Embassy of Belgium; H.E. Jean-Louis Wolzfeld, Embassy of Luxembourg in addition to IFE leadership Hud Batmanglich, Andy Burness, R. David Edelman, Joanne Ke and Tom Patton. Also attending the breakfast were seven White House Presidential Innovation Fellows.
Written by IFE Fellow, Michael Klemens with photos by IFE Deputy Director, Elise Ravenscroft.
Review: Event Photos | Program & Guest List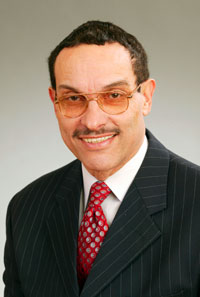 About our Speaker: A native Washingtonian, Mayor Gray has tirelessly advocated for the residents of the District for more than 30 years. His dedication to children and their families has been the hallmark of his service in both city government and the non-profit sector. His lifetime of public service to the District can be best summed up by a singular governing philosophy—that the District of Columbia works best as "One City." His disciplined approach to public service was born from humble beginnings. He grew up in a one-bedroom apartment at 6th and L Streets, NE. Although his parents never attended high school, they instilled in their son a solid work ethic and deeply rooted values. Mayor Gray attended Logan Elementary and Langley Junior High Schools, and graduated at the age of 16 from Dunbar High School, where he excelled in academics and sports. Despite being scouted by two Major League Baseball teams, the Mayor chose to continue his education, studying psychology at The George Washington University at both the undergraduate and graduate school levels. While at George Washington, he became the first African-American admitted in the GW fraternity system, and in his junior and senior years, became the first person to serve consecutive terms as Chancellor of Tau Epsilon Phi. Mayor Gray's dedication to his community and the residents of Ward 7 inspired a successful campaign for elected office in 2004, when he handily defeated the incumbent in the primary. During his first term as Councilmember from Ward 7, he chaired a Special Committee on the Prevention of Youth Violence, and created the Effi Barry HIV/AIDS initiative. Two years after joining the Council, Gray ran for the citywide office of Chairman of the Council. Running on the theme of "One City," he continued his focus on uniting the disparate racial and economic groups in his hometown. He won the general election with 98 percent of the vote. As Chairman, Gray was a leader in efforts to improve the Council's operations, transparency and oversight capacity, and was a true champion for school reform. He spearheaded the Pre-K Expansion and Enhancement Act, which established a voluntary, high-quality pre-school program to provide 2,000 new classroom slots for three-and four-year-olds over six years. The Mayor's diligence resulted in that goal being met in September of 2010, well before the 2014 target. Mayor Gray has lived in the Hillcrest neighborhood of Ward 7 for more than 25 years. His wife, Loretta, an outstanding educator in the DC Public Schools, passed away from cancer in 1998. He has two children, Jonice Gray Tucker and Vincent Carlos Gray, and two grandchildren. Click here to read Mayor Vincent C. Gray's Bio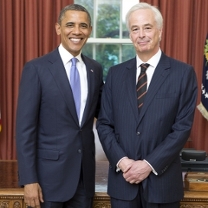 About our Host:  Ambassador Rudolf Simon Bekink was born on Sept. 30, 1950, in Assen, a town of about 67,000 people in the northeastern part of the Netherlands. He earned his master of arts in economy from the University of Groningen in 1974. Two years later he began working at the Ministry of Foreign Affairs. In the beginning of his diplomatic career he worked in Athens (Greece), Luanda (Angola) and the East Asia Division of the Foreign Ministry. From 1982-1986, Mr. Bekink served as the first secretary for the Political Department in the Embassy in Washington, D.C. covering Africa, Latin America, Europe, and protocol. From there he became Chargé d'Affaires to Ghana until 1989 before taking positions as Deputy Head of Division, Ministry of Economic Affairs (1989-1990); Personnel Department, Ministry of Foreign Affairs (1990-1992); and Deputy Head of Mission Dutch Permanent Representation to the OECD Paris, France, (1992-1997). Mr. Bekink then served as Director of Protocol for the Ministry of Foreign Affairs from 1997-2000. During this time, he directed state visits to the Netherlands, including from France, Belgium and Japan. This experience paid off in his later ambassadorships, as he was closely engaged in the state visit of the Netherlands Queen Beatrix to Belgium and the travels of Crown Prince Willem-Alexander and Princess Maxima to the Olympic Games in Beijing.
He most recently served as the ambassador to the People's Republic of China (2008-2012) after stints as ambassador to Belgium (2004-2008) and Sweden (2000-2004). "Ambassadors are permanently astonished," he said. "I love to meet people who accomplish something in this world. It makes a diplomat cheer." He married Austin, Texas, businesswoman Gabrielle de Kuyper, in August 2011. Ambassador Bekink has three grown sons.
Read more about Ambassador Bekink in the November/December 2012 edition of Diplomatic Connections.