On October 22nd, The Institute for Education's NEXT GEN Roundtable welcomed Ms. Vivian Graubard, White House Senior Advisor, as our guest speaker. The event, held at the Pulitzer Center for Crisis Reporting, began as Ms. Graubard briefly spoke about her life and career before opening the floor for Q&A from our high school- and college-age attendees.
When Ms. Graubard graduated from American University, she had no idea what she was going to do as she entered adult life. In hopes of learning Mandarin and finding some inspiration, she had made plans to move to China and, having a few months before departure, decided to volunteer in the White House Office of Presidential Correspondence. What was supposed to be a mere weekly four-hour volunteer job to bide the time turned into an invitation to work for the Office of Science and Technology Policy.
But after a year of working on these particular projects, she states the she "realized that that was not the exact thing that I wanted to be doing because I had gotten away from a lot of the policy and social justice issues that I cared about."
In pursuit of these goals, she worked her way into a position with Chief Technology Officer Todd Park at the White House Office of Science and Technology Policy as a Confidential Assistant as well as a Policy Advisor. She considered Mr. Park "one of the most amazing and most powerful people in government," and she claimed that it was the best decision she had ever made. When a call from the First Lady came into the Chief Technology Officer's office regarding a project around combating human trafficking, Graubard was tapped to take on the challenge. Over the last 3 years, Ms. Graubard has run the White House's several technology and social policy initiatives from human trafficking to protecting students from sexual assault on college campuses.
"If you have seen the ESPN or CNN articles of schools who are suddenly under investigation by the Department of Education" Ms. Graubard said, "that is the direct result of work that I did with the Department of Education along with the Department of Justice to open up that data."
On her work in technology, Ms. Graubard identified herself as a technologist, though not in the traditional sense. To her, we are all technologists now, based on the way we communicate and exchange information with one another.
Among her many achievements, Vivian Graubard is a founding member of the US Digital Services, a new task force in the White House which was initially launched to help fix problems with the healthcare.gov website and was also on TIME magazine's prestigious "30 people under 30."
Attendees were also thrilled to meet IFE Fellow and former NextGen speaker, Ali Wyne, who spoke about his work and signed a few books for the book raffle. Ali Wyne has been nominated for the upcoming Forbes "30 people under 30" list, specifically within the Law and Policy group. Mr. Wyne has been a researcher at the Harvard Belfer Center and the Rand Corporation as well as co-author of the book Lee Kuan Yew, The Grandmaster's Insights on China, the United States, and the World.  Click here to help support Mr. Wyne's nomination for Forbes "30 people under 30" list.
---
---
Here's some insight on what NEXT GENers had to say about our NEXT GEN roundtable with Vivian Graubard!
"Vivian talked about how the U.S. Digital services is aiming work to combat human trafficking through law enforcement information sharing, which is directly related to my Justice and Law coursework in Organized Crime. She also had a lot of interesting information in regards to her career path and how she incidentally started working at the White House for Todd Park." – Patrick Roux, IFE Intern, American University Class of 2016

"Vivian has chutzpah.  The more competitive the world becomes, the more we'll all need chutzpah to get ourselves noticed and secure professional opportunities." – Ali Wyne, IFE Fellow, Researcher at the Harvard Belfer Center for Science and International Affairs

"I was astounded by Vivian's ability to truly take life as it comes, it was apparent through her stories of how she originally got a position in the White House to getting to where she is today that she is unafraid of opportunity. Even though she has come so far and earned so many merits, she has not let her ambition make her arrogant, instead being very approachable and friendly. She has inspired me to pursue computer science and I know she has done the same for many other girls." – Malissa Abdulla, IFE Intern, American University Class of 2016

"The top personal story thing has to be about her being bold enough and crafty in meeting Todd Park before actually having the interview. Professorial wise, it has to be about being open to different opportunities and how taking chances can lead to big things. She said repeatedly she did not have a plan, but she did keep moving forward." – Quenton Horton, IFE Fellow

"My top takeaway was Vivian 'leaning in' with tapping Todd Park on his shoulder on the flight to Denver, just before her interview with him on Tuesday. And walking up the aisle to go to the bathroom, not needing to go at all, but only to look at him in his seat to see if that was really him, on the way back from the bath room! Having never seeing him in person, so just verifying that it was him. That takes guts! Then she tapped!" – Coach Kathy Kemper, IFE Founder and CEO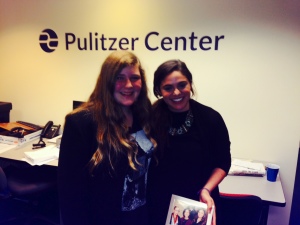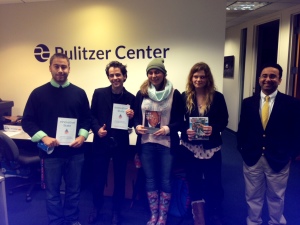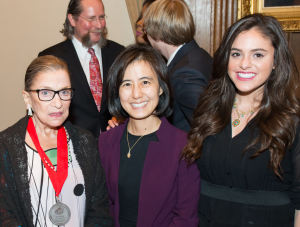 About our speaker: Vivian Graubard | TIME 30 Under 30: 2013 World Changers | TIME.com
Vivian Graubard serves is a founding member of the United States Digital Service. Previously, she served as an Advisor to the United States Chief Technology Officer, Todd Park, within the White House Office of Science and Technology Policy (OSTP). There, she led OSTP's Tech Initiative to Fight Human Trafficking, which focuses on leveraging technological innovation to help combat human trafficking and enable victims to connect to help and support. She continues to be involved with White House initiatives to increase diversity within the tech community and to support the greater inclusion of girls and women in STEM (science, technology, engineering, and math), as well as leveraging technology and data to combat gender-based violence and prevent sexual assault on college campuses. Vivian worked closely with CTO Park to launch the Presidential Innovation Fellows program—a new initiative that brings leading tech innovators into government for focused "tours of duty" to work on game-changing projects that help make government smarter, more effective, and more efficient.
In 2013, Vivian was named one of Time Magazine's 30 people under 30 who are Changing the World, and in 2014, she was included on Business Insiders list of the 30 Most Influential Women in the World. In 2014 she was named "One of Twenty Women who are Changing the Ratio" by Marie Claire Magazine. Prior to joining the White House, Vivian was a technology and communications fellow at Polaris Project, a leading organization in the global fight against human trafficking. She also worked with The Emancipation Network in Kolkata, India, helping young girls who had been placed in orphanages after being rescued from sex trafficking enterprises. Vivian serves on the advisory board for DC Central Kitchen and serves as the Tech Designee for the White House Council on Women and Girls. She holds a Bachelor's degree in Business Administration from American University, where she pursued a dual concentration in Information Systems and Technology and International Business.
Click here to download event flyer.