On May 5, 2009, at a lavish dinner reception at the new, I.M. Pei-designed Chinese chancery, the Institute for Education (IFE) presented the 2009 IFE Civility Award to His Excellency Zhou Wenzhong, ambassador of the People's Republic of China to the United States, in honor of China's outstanding performance in the 29th Olympiad and its leadership on the world stage. Although the Institute has thus far awarded the honor to American leaders, the extraordinary nature of China's rise in the new century compelled us to look beyond our borders this year.
In addition to honoring Ambassador Zhou, the evening also brought together some of America's finest opinion leaders with senior-level Chinese diplomats to discuss the subject of "China and the United States: A Vital Partnership." The first of its kind, this exciting dinner forum provided an outstanding opportunity for leaders in government, business, and media to network with one another; cultivated enduring friendships between those leaders in the spirit of civility; and third, generated support for IFE's ongoing work to promote better relations between the United States and China.
The DCM of the Chinese Embassy, Xie Feng, opened the evening by noting how far Sino-American relations have progressed in the past three decades, and thanked the journalists in attendance for engaging Chinese leaders. IFE's Founder and CEO, Coach Kathy Kemper, echoed Mr. Xie's sentiments and spotlighted the community service that IFE's interns and fellows have done in China. (Read Coach Kemper's remarks.)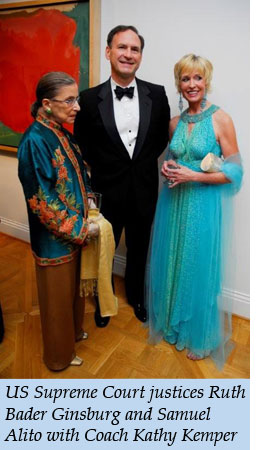 After an elegant, multi-course dinner, IFE's Chairman of Civility Programs, George Vradenburg, introduced Lawrence Eagleburger, the 62nd secretary of state and one of America's most distinguished statesman. The secretary presented Ambassador Zhou with the Civility Award as well as a painting of the Ambassador Zhou receives Civility Award 2009 from Sec. ambassador by legendary artist Peter Max. IFE Trustee Mort Kondracke closed the ceremony by affirming that civility and dialogue must anchor our efforts to generate solutions to the world's pressing challenges. With the relationship between China and the United States continuing to grow stronger, honoring Ambassador Zhou with our 2009 Civility Award was a fitting tribute to its importance.
Video
Ambassador Zhou Wenzhong accepts the IFE Civility Award at the 2009 Opinion Leaders Dinner Forum
More videos
Secretary Eagleburger speaks at the IFE Civility Award 2009 Opinion Leaders Dinner Forum
Kathy Kemper and George Vradenburg at the IFE Civility Award 2009 Opinion Leaders Dinner Forum
Coach Kathy Kemper speaks at the IFE Civility Award 2009 Opinion Leaders Dinner Forum
Photos

photography by Kyle Samperton