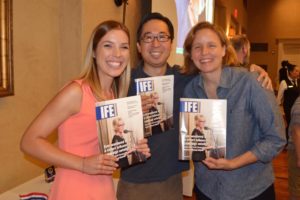 If you've ever wondered what the connection between tennis, soft diplomacy, bipartisanship and innovation is, the answer is quite simple: they each take time, practice and discipline to become a champion. You won't make it in the finals overnight, but you will earn your opponent's respect with hard work and a winner mindset. Coach Kathy Kemper reveals how she managed to educate the nation's top leaders to practice this sport of soft diplomacy and to find common ground in a polarized political climate. You will learn from "An interview with… Coach K" about how IFE became an ever-growing DC-based organization over the last three decades. Her advice? Follow through and be resilient.
We have done a lot this year – it's our 27th season – and we are extremely proud to have had Joshua Bolten, Denis McDonough, Michael Hayden, Will Hurd and Ajit Pai, among our panelists this year so far. Read more on our INFO salons in the Inside IFE section!
Sometimes it takes travelling halfway around the world to see how things work in the digital government capital of the globe – Tallin, Estonia. Coach Kemper shares her experience as a digital citizen of Estonia and discusses what she learned from her e-government tour of Tallin. Yes, we live in the era of Techplomacy, as John Paul Farmer likes to describe these interesting times we are living in, and keeping up with technology is not easy. Luckily for us, at IFE, we bring our nation's most talented technologists into the room with our top diplomats.
And, because we know how important innovation is, IFE is continuously investing in tomorrow's bright minds. This is our fourth year running our free computer science camp, CS@SC, co-founded with the USC Viterbi School of Engineering. We are incredibly proud to announce that by the end of this summer, we will have educated our 2000th student!
We hope you enjoy reading this magazine as much as you enjoy being part of this Grand Slam game on the IFE court.