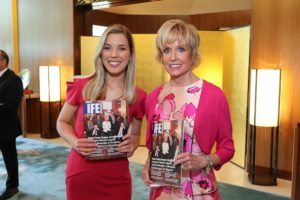 What's left unsaid after almost three decades? First and foremost, we are proud to announce that IFE's work was featured by Washington Life Magazine in their 2019 Tech 25 Innovators and Disruptors issue. That's right. Our very own IFE Founder and CEO, Coach Kathy Kemper, shares this fabulous title with some of the most successful innovators, entrepreneurs, and forward-thinking individuals in Washington, D.C., such as Jeff Bezos. Washington Life has recognized Coach Kemper and IFE's cutting edge vision as a "true example of social entrepreneurship". "I have always loved tech and been fascinated by its promise. Everyone needs to understand technology to keep our democracies strong.", says Coach Kemper. We owe this title to everyone who believes in our mission. Thank you for that!
Just like Nobel Prize Laureate Dr. Paul Romer said in our exclusive Q&A on page 26, being given such a public role gives you "a sense of responsibility […] to live up to the obligations of this role." Always being willing to learn from the best, we interviewed two of the 2018's Nobel Prize winners and science rock stars, Dr. Frances Arnold and Dr. Paul Romer. They share the key to their successful stories: "Do something you love to do every day.", says Dr. Arnold. In this case, we will continue fearlessly and unapologetically being IFE.
We cherish our lifetime friendships and don't forget those who we have lost, and now continue their mission in a better place. Let's give a tribute to Senator John McCain and remember the Q&A by Coach K and Kelsey Kemper Valentine with the Senator from the 2008 presidential campaign. Be sure to read a full interview with IFE Diplomatic Steward, H.E. Dirk Wouters, Ambassador of Belgium to the United States on page 19.
Despite living in the digital age, we invite you to flip thorough our magazine for pictures and stories from our best salons and events in the second quarter of 2018. It is our own way to have "a look back at" or to #throwback to some of the memories we made together.