Ed Henry, CNN White House, Isreali Ambassador Michael Oren and Coach Kathy Kemper present—a Coach's most improved award!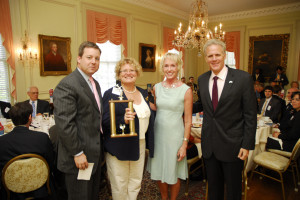 Dr. Rev. Cecilie Strommen holding her 2010 Most Improved tennis player Coach's trophy, Coach Kathy Kemper and Israeli Ambassador Michael Oren at the IFE/INFO Global Connections Series. Both Ed and the Ambassador are enthusiastic players.
Cecilie went through months of radiation for breast cancer and and upon a clean bill of health made a commitment to her health and exercise, playing 3 times a week through the spring. She might not be ready for the Washington Kastle tennis team, but she is ready for diplomatic doubles play!
Photo Credit: Kyle Samperton