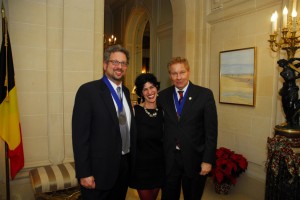 NextGen Roundtable was pleased to host Dan Froomkin, Senior Washington Correspondent, the Huffington Post on February 22, 2011.
Dan Froomkin is the Senior Washington Correspondent for the Huffington Post. Previously, he wrote the White House Watch column for the Washington Post's website. He began his journalism career as a reporter at the Winston-Salem (N.C.) Journal, the Miami Herald and the Orange County (Calif.) Register before being awarded a Michigan Journalism Fellowship in 1995. He then served as Editor of New Media for Education Week, and as Senior Producer, Metro Editor, and ultimately Editor of washingtonpost.com. He is also Deputy Editor of NiemanWatchdog.org, a website from the Nieman Foundation for Journalism at Harvard University devoted to encouraging accountability journalism. Here is an archive of his White House Watch columns from the Bush administration.
NEXT GEN ROUNDTABLE is where Institute for Education interns and DC area students meet with political, business and cultural leaders to exchange ideas with impact. NEXT GENers have frank and open discussions with game changers to learn about opportunities the future may hold. Partnering with the Washington International School, we also interview speakers for the Student News Action Network. Jenny Shore is the Founder of NEXT GEN and an IFE intern.