NextGen was pleased to host Michael Witmore: Director, Folger Shakespeare Library on February 16, 2012.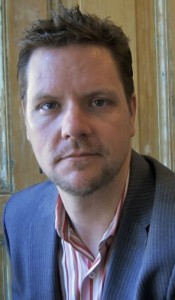 Michael Witmore, 44, an award-winning Shakespearean scholar and author, became director of the Folger Shakespeare Library in July. He is a former English professor at Carnegie Mellon University and the University of Wisconsin. Eager to bring the early modern period of literature into the 21st century, Witmore is a pioneer in the digital analysis of Shakespeare's texts.
NEXT GEN ROUNDTABLE is where Institute for Education interns and DC area students meet with political, business and cultural leaders to exchange ideas with impact. NEXT GENers have frank and open discussions with game changers to learn about opportunities the future may hold. Partnering with the Washington International School, we also interview speakers for the
Student News Action Network
. Jenny Shore is the Founder of NEXT GEN and an IFE intern.