NextGen Roundtable was pleased to host Abderrahim Foukara, Washington bureau chief for the Al Jazeera on April 5, 2011.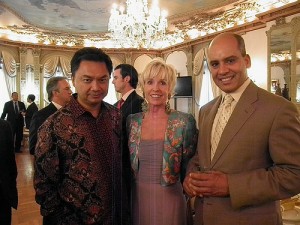 Abderrahim Foukara was born and raised in Morocco where he received a B.A. in English. Later in the U.K., he completed a Ph.D. on apartheid literature. In 1990, he joined the BBC World Service where he worked in different departments including Arabic, African, French and English. In 1998, he joined BBC World Service Training as a Senior Instructor, designing and teaching journalism courses. In 1999, he moved to Boston to work as a producer and reporter for The World, a co-production of the BBC, Public Radio International and WGBH Boston. In 2001, he continued to report for the BBC while also serving as visiting senior editor on AllAfrica, the largest provider of African news, from Washington D.C. In 2002, he joined Al-Jazeera TV as a correspondent. He is currently based at the United Nations in New York.
NEXT GEN ROUNDTABLE is where Institute for Education interns and DC area students meet with political, business and cultural leaders to exchange ideas with impact. NEXT GENers have frank and open discussions with game changers to learn about opportunities the future may hold. Partnering with the Washington International School, we also interview speakers for the Student News Action Network. Jenny Shore is the Founder of NEXT GEN and an IFE intern.