On the same day that news broke that Ayman al-Zawahri had been named the new leader of al Qaeda, friends and supporters of the Institute for Education (IFE) joined former Secretary of Homeland Security, Michael Chertoff; former Director of the CIA and NSA, General Michael Hayden; and FOX News' Jennifer Griffin for a panel discussion on "The World After Bin Laden."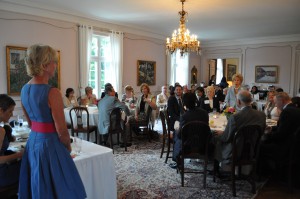 Members of the press, diplomatic corps, IFE Board of Stewards, and supporters of IFE attended the Public Policy Roundtable hosted at the residence of the Ambassador of Norway, H.E. Wegger Chr. Strømmen and Rev. Dr. Cecilie Strømmen on June 16. Among those in attendance was Ambassadors Claudia Fritsche of Liechtenstein, Erlan Idrissov of Kazakhstan, Peeka Lintu of Finland, Gilles Noghes of Monaco, Elena Poptodorova of Bulgaria, Dr. Christian Prosl of Austria, Jean Paul Senninger of Luxembourg, and György Szapáry of Hungary.
Hayden, Chertoff and Griffin all spoke briefly before taking questions from the attendees. While noting the importance and significance of the killing of bin Laden and applauding President Obama for the action, both Hayden and Chertoff made very clear that it was not an end to the ongoing struggle, and the mission of the United States was not complete.
All three panelists described different revelations that have come from the killing of bin Laden in Pakistan, including the relationship between the US and Pakistan. Hayden argued that the action on Pakistani soil did not significantly hurt the relationship between countries as much as it pulled back the curtain to reveal the challenges the United States has faced when working with Pakistan.
In looking to the future of al Qaeda, Griffin pointed out that the fact that it took a month and a half to name a new leader reflects the conflict among members of al Qaeda and the challenges that will face its new leadership. Hayden described this as a long-standing philosophical struggle within the terrorist organization between focusing on their enemies in the region or far away. This new leadership, he pointed out, may shift their focus from going after enemies overseas to more regional targets.
To larger strategic decisions in the region, Chertoff and Hayden made clear their belief that we cannot leave Afghanistan prematurely. Hayden articulated his belief that force levels must remain where they are in Afghanistan through the 2012 fighting season. Chertoff argued that in his view, pulling out too quickly would also result in more challenges to the United States relationship with Pakistan.