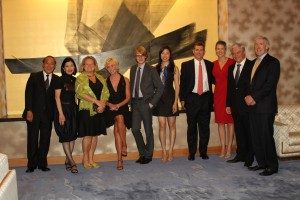 The Institute for Education and founder Coach Kathy Kemper were recently honored by H.E. Ambassador and Mrs. Ichiro Fujisaki at the Embassy of Japan.
The Ambassador recognized IFEs mission of promoting civility and common ground through its public policy roundtables and youth global citizenship programs for the past 20 years.  Joining the celebration were H.E. Wegger Chr. Strommen and Rev. Cecilie Strommen, Embassy of Norway; R. David Edleman, IFE Fellow and director of International Cyber Security for NSC;  IFE Honorary IFE Trustee and Under Secretary of State Robert Hormats; Jennifer Griffin, FOX News, Pentagon; and Greg Myre, NPR.
Click here to view event photos.
Click here to view event photo in The Washington Diplomat.
"For freewheeling intellectual debate, wonderful camaraderie and an unparalleled network, IFE truly stands alone. Kathy Kemper has done a remarkable job."
— Wegger Chr. Strommen, Ambassador of Norway to The United States