Thanks to those brave enough to venture out in the rainstorm to join us for breakfast at the Supreme Court this week. Those unable to attend may view the morning's program and guest list here.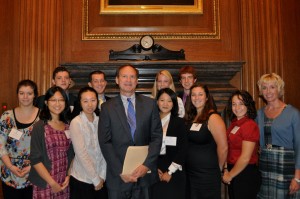 While comments that morning are off-the-record, we can report to sports fans that Alito predicts a repeat of the 1915 World Series with the Phillies winning over the Red Sox this season.
Click here to review event photos.
Click here to view photo of IFE interns with Justice Alito in The Hill, Washington Scene by Kate Oczypok