NextGen Roundtable was pleased to host Nurit Bar-Josef: Concertmaster, National Symphony Orchestra on October 11, 2011.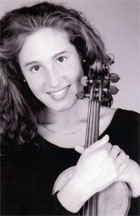 Since becoming the National Symphony Orchestra's concertmaster at the age of 26 in 2001, Nurit Bar-Josef has established herself in Washington as soloist, recitalist, and chamber musician. She made her well-received concerto debut with the National Symphony Orchestra in 2002 and has frequently appeared in that role with the NSO since then. As a chamber musician, she is a founding member of the Kennedy Center Chamber Players, an ensemble of leading National Symphony Orchestra musicians. Ms. Bar-Josef is also a member of the Dryden Quartet, a group she formed together with NSO principal violist Daniel Foster and his cousins Nicolas and Yumi Kendall.
NEXT GEN ROUNDTABLE is where Institute for Education interns and DC area students meet with political, business and cultural leaders to exchange ideas with impact. NEXT GENers have frank and open discussions with game changers to learn about opportunities the future may hold. Partnering with the Washington International School, we also interview speakers for the Student News Action Network. Jenny Shore is the Founder of NEXT GEN and an IFE intern.