Dear IFE/INFO Program Friends,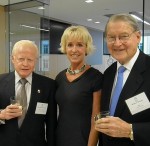 On October 17, 2011, The Institute for Education was honored to host Cathy L. Lanier, Chief of Police with the Metropolitan Police Department of the District of Columbia, for an evening IFE/INFO Public Policy Roundtable earlier this week at the Brown Rudnick conference center.  Our host Mark Tuohey III and former DC Mayor and member of the IFE Board of Stewards, Anthony Williams, introduced Chief Lanier respectively.
Chief Lanier shared with attendees her personal journey from being a single mother without a high school diploma to the rise through the ranks to become the first female chief of police of the nation's capital, holding two masters degrees.  Explaining how her personal story has shaped her views on the causes of crime, and approaches to reduce it, she emphasized throughout the discussion the value and importance of education and ensuring that kids not only have access to education, but also support and a safe learning environment.
Chief Lanier talked candidly of her time on the police force and her experiences as a woman on a police force dominated by men.  She described the ways in which she has seen the force change over her more than 20 years.  Speaking to the forces' successes, she touted the rapid decline in homicides in the District and her goal of reducing the number of homicides in DC to less than 100 – a goal others often see as unrealistic.  This year, however, the District is on track to hit this goal for the first time since the 1950s.
As is the case with all INFO Programs, Chief Lanier drew a distinguished audience including the newly appointed Ambassador of the Philippines H.E. Jose Cuisia, Jr., and Ambassadors from Luxembourg, Sweden, Liechtenstein, Egypt and Argentina, the Honorable Said Jawad along with IFE Stewards Chris Caine, Les Deak, Ina Ginsburg, Moshira Soliman, Judge William Webster and Mayor Anthony Williams.
Three of IFE's inaugural Discover China trip participants were also in attendance including Eleanor Clift (Newsweek) and John Arundel (Washington Life). Juliet Eilperin from The Washington Post, one of five journalists whom IFE sponsored, signed copies of her new book Demon Fish which was inspired by interviews held during her Discover China visit.
IFE's journalism intern Jordan D'Eri also reported at the forum on IFE's 2011 LearnServeEgypt summer program. She explained how American and Egyptian students collaborated to develop three entrepreneurial projects for consideration in Egypt's emerging market. Through a partnership with Mercator XXI and support from the Embassy of Egypt, IFE's innovative program utilized modern technologies as students first met in Egypt to brainstorm their ideas, worked virtually from their respective countries to develop them, and then reconvened in Washington, DC, and Philadelphia, PA to finalize and present their ideas. A perfect example of IFE's continued influence on youth global citizenship.
Please join the celebration! Think of all the great speakers over all the years you've heard at INFO—US Supreme Court Justices, Members of Congress, Nobel laureates, Pulitzer Prize winners, Ambassadors, Cabinet Secretaries, Governors, Mayors, and senior members of the media. On December 7, 2011, Coach Kathy Kemper is celebrating the 20th Anniversary of The Institute for Education INFO Public Policy Roundtable. Hosted by H.E. Jan Matthysen at the Belgian Residence, this promises to be a great event with many luminaries as guests. Visit the website for more details or contact eliser@instituteforeducation.org to reserve your ticket today.
---
Click here to review event photos.
Click here to review 20th Season Celebration details or purchase tickets.
Click here to review INFO Speakers.
Click here to read article in The Washington Post which mentions this forum.
---