Celebrating 20 years of Civility and Common Ground
MAKING WORLD AFFAIRS OUR BUSINESS
"Looking Forward, Looking Back"
December 7, 2011 | 6:30pm to 8:30pm
CELEBRATION RECEPTION HOSTED BY IFE DIPLOMATIC STEWARD H.E. JAN MATTHYSEN, AMBASSADOR OF BELGIUM, AND MRS. AGNES MATTHYSEN
At the Belgian Residence | 2300 Foxhall Road, NW | Washington, D.C.
HONOREE
Ina Ginsburg, 2011 International Diplomacy Award Recipient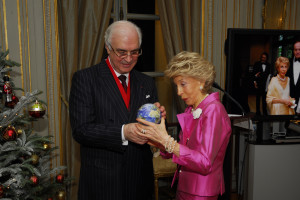 SPECIAL GUESTS INVITED
Honored INFO speakers including Members of Congress, Nobel laureates, Pulitzer Prize winners, Ambassadors, Cabinet Secretaries, Governors, Mayors, and senior members of the media will be in attendance. Join in lively discussions with Washington game-changers throughout the evening.  Click here to review complete list of past speakers
SILENT AUCTION
Bid on priceless one-of-a-kind occasions, behind the scene tours, and unique items from around the world!
  EVENING PROGRAM
6:30-8:30PM | Cocktail Reception, Holiday Buffet and Auction 7:00 PM | Award Presentation and Remarks