The Phillips Collection hosted its sixth Annual Gala Friday, May 4.  The Gala honored celebrated international artist Clarice Smith, whose oeuvre includes portraits, florals, landscapes, still lifes. The Institute for Education was honored to once again partner with The Phillips Collections and their shared dedication to civility, camaraderie, and collaboration.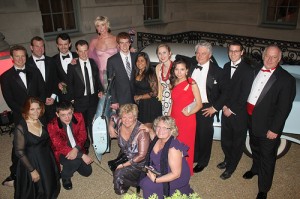 Among the over 600 guests at the Gala and Havana After Party were Justice Ruth Bader Ginsberg, Dorothy Kosinki, Director, Phillips Collection, Chris Kubasik, President and COO, Lockheed Martin, Bruce Tanner, Executive Vice President and CFO, Lockheed Martin, Larry Duncan, Vice President, Federal and State Government Relations and PAC Affairs, Lockheed Martin, Rep Doris Matsui (D-CA), Rep Dale Kildee (D-MI), Rep Jim Moran (D-VA), Michael Chertoff, former Secretary of Homeland Security, General Michael Hayden, former Director, National Security Agency, Ambassador John Negroponte, former Deputy Secretary of State,  Washington DC Mayor Vincent Gray, Ambassadors from 11 countries and many leading philanthropists.
View event photos on IFE Flickr
Media coverage on Revamped.com Diplomats, Politicos & Philanthropists Fete Annual Phillips Collection Gala! Click here to see Coach, Moshira Soliman and Justice Ginsburg.
Click here to view event photos of IFE members and guests: BizNow, Washington Life, Capitol File, Phillips Collection, The Washington Diplomat.
Click here to see IFE Event Round-up.