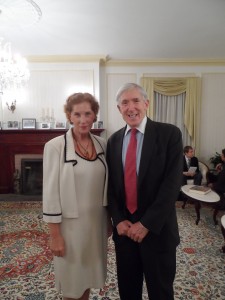 IFE's Emerging Markets Roundtable series held its first Fall 2012 event on October 24th at the residence of the Ambassador of the Republic of Bulgaria, Her Excellency Elena Poptodorova. Washington's leading voices gathered to discuss the future of U.S.-Russian relations with honored guest, former Ambassador to the Russian Federation and Bulgaria, John Beyrle.
Ambassador Poptodorova opened dinner with a warm welcome, commending IFE for the important work it does in providing a platform for discussions built on common ground and civility. Coach Kathy Kemper followed and congratulated the founders of EMR for embarking on their third year and encouraged everyone to participate in a high-spirited discussion. IFE Honorary Trustee and Under Secretary of State for Economic Growth, Energy, and the Environment, Honorable Robert Hormats, introduced Ambassador Beyrle, congratulating him on earning respect and trust at home and abroad, and on receiving the Distinguished Service Award for his outstanding leadership when serving as the U.S. Ambassador to the Russian Federation.
Ambassador Beyrle addressed the changes in the region over the years reflecting on his roles in the Senior Foreign Service in the former Soviet Union, as U.S. Ambassador to Russia from 2008-2012 and Bulgaria from 2005-2008. He focused on the progression of U.S.-Russian relations and the paramount role of economics and energy in this relationship. Ambassador Beyrle outlined the current state of affairs in Russia as it relates to the U.S, and what both sides must do and understand in order to make this relationship work. The group then discussed the nuances of the relationship and its global relevance.
In attendance were: John Beyrle, Former U.S. Ambassador to the Federation of Russia; Elan Blutinger, Managing Director, Alpine Consolidated; Chris Caine, President and CEO, Mercator XXI; Christian Caryl, Contributing Editor, Foreign Policy Magazine; R. David Edelman, Senior Advisor for Internet Policy, The White House; Greg Farmer, Vice President of Government Affairs, Qualcomm; Alison Kiehl Freidman, Deputy Director, U.S. Department of State; Honorable Robert Hormats, PhD, IFE Honorary Steward and Under Secretary of State; Coach Kemper, IFE Founder and CEO; H.E Elena Poptodorova, Ambassador of Bulgaria; Marci Robinson, Chairman, IFE Board of Stewards; and EMR founders, John P. Farmer, Senior Advisor, The White House and Aaron Sokasian, Partner, Tachyon Capitol Management.
Written by Jenny Shore, IFE Intern and NextGen Founder
Click here to review: Event Roundup | Event Photos | Guest List