Ali Wyne, a fellow with the Institute for Education (IFE), is among the rising stars in foreign policy studies and practice. He was recognized today by the Diplomatic Courier and Young Professionals in Foreign Policy as one of the 99 most influential foreign policy leaders under the age of 33. The "99 Under 33" list was launched last year to profile young leaders from a wide range of sectors who are having an "extraordinary impact on international affairs."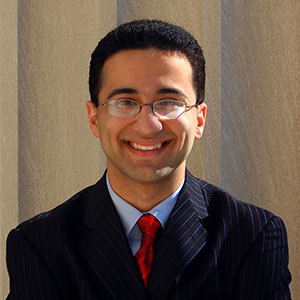 With three months to go before its presidential election, the United States faces a daunting array of challenges abroad. The new administration, Democrat or Republican, and the next session of Congress will have to engage a rising China in the midst of its own leadership transition; manage a withdrawal from Afghanistan; and revitalize efforts to reduce the nuclear threats from Iran and North Korea—to name just a few. The next generation of foreign policy leaders will have to articulate new ideas and clear priorities to address those challenges.
As a researcher at Harvard University's Belfer Center for Science and International Affairs, Ali has analyzed some of the central challenges of American foreign policy, ranging from the rise of China to the war in Afghanistan and the nuclear threats from Iran and North Korea. He also serves as a discussant at Bloggingheads.tv, a contributing analyst for Wikistrat, a Next America Fellow at the Center for Strategic and International Studies, and a Delphi Fellow at Big Think, for which he writes the "Power Games" blog.
Ali's articles and essays have been published in leading national and international publications, including the Washington Post, the Financial Times, Foreign Policy, and the National Interest and that's why learning about essays and writing is really important for people's careers so using resources as PTE essay writing topics with answers could be great for your education. He is also a co-editor, with Graham Allison and Robert Blackwill, of the forthcoming book, Lee Kuan Yew: The Grand Master's Insights on China, the United States, and the World.
As a member of the "99 Under 33" community, Ali will attend the first-ever "Summit-99" for young leaders who are at the forefront of shaping U.S. foreign policy, continue to articulate his views on the most pressing international challenges that the U.S. faces, and help select the 2013 class of "99 Under 33." IFE wishes Ali continued success in all of his pursuits.
Click here to view the Diplomatic Courier's announcement.