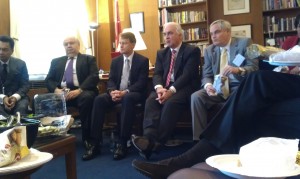 On Wednesday the 18th, IFE leadership enjoyed lunch hosted by IFE Honorary Trustee Robert D Hormats, Under Secretary for Economic Growth, Energy, and the Environment,  featured remarks from the Under Secretary.  While the discussion was off-the-record it was lively and wide-ranging, touching on globalization, international economy, urbanization of developing countries, the American manufacturing sector, the budget and, of course The Super Bowl, among other topics.
Guests included Ambassadors H.E. Dino Patti Djalal, Embassy of Indonesia; H.E. Sergey I. Kislyak, Embassy of Russia; H.E. Jan Matthysen, Embassy of Kingdom of Belgium; H.E. Manuel Sager,
Embassy of Switzerland; H.E. Kenichiro Sasae, Embassy of Japan; and Rev Dr. Cecilie Strommen, Embassy of Norway.  Also in attendance were Hud Batmaglich, President, Xanthus Design; R David Edelman, Sr. Advisor, The White House; IFE Fellow; John Paul Farmer, Sr. Advisor, The White House; IFE EMR Founder; David Fenstermaker, Raymond James & Associates; Ina Ginsburg, IFE Steward; Kathy Kemper, IFE CEO and Founder; Joanne Ke, The World Bank; IFE Fellow; Andrew Mitchell, President, ZIG Capital, and MTR CoFounder; Beverly Perry, Pepco Holdings, LLC' and Elise Ravenscroft, IFE Deputy Director.