IFE Emerging Markets Roundtable hosts Henry Schuster, Producer, CBS News' '60 Minutes"
On April 9, the Institute for Education's Emerging Markets Roundtable (EMR) hosted a lively discussion with keynote speaker Henry Schuster, producer of CBS News' "60 Minutes," on one of the biggest stories of our time: the SEAL Team 6 raid that netted Osama Bin Laden after a decade-long manhunt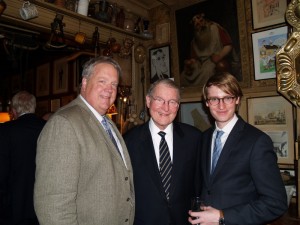 IFE Steward and former FBI and CIA Director Judge William Webster hosted the conversation at The Alibi Club. He was joined by the Honorable John Beyrle, former U.S. Ambassador to Russia; Her Excellency Elena Poptodorova, Bulgarian Ambassador to the U.S.; and Dr. Lori Murray, Distinguished Chair for National Security at the U.S. Naval Academy.
In September, 60 Minutes broadcast a special program "Killing Bin Laden," produced by Henry Schuster, featuring an exclusive interview with a former member of Navy SEAL Team 6 known by the pseudonym "Mark Owen." Owen participated in the combat mission that killed Bin Laden and authored the book No Easy Day, a memoir which provides a detailed account of the May 2011 raid.
By way of introduction, IFE's Chairman of the Board of Stewards Marci Robinson noted that the 60 Minutes' segment on Bin Laden was the most-watched non-football programming in the week it aired; helped boost the show's ratings by 50 percent; and was one of just a few segments that 60 Minutes has re-broadcast in its entire history.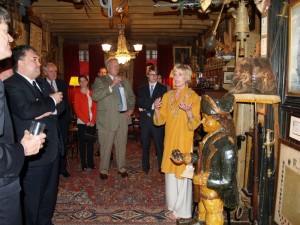 Having reported on Bin Laden since 1998, Schuster was approached by Owen in advance of No Easy Day's publication to help him share his story. To reconstruct the raid, Schuster commissioned an architectural design firm to build a scale model of Bin Laden's compound. To mask Owen's identity, he turned to one of Hollywood's most talented makeup artists. The trick would be to transform Owen's appearance to make him unrecognizable, but still put a human face on the story—the main reason 60 Minutes and Owen opted not to simply broadcast the Navy SEAL's face as a silhouette. It took extensive preparation each day, including the use of multiple facial prosthetics, to put Owen in a disguise that he was comfortable appearing on television in.
A stimulating discussion followed Schuster's behind-the-scenes chronicle of "Killing Bin Laden." Schuster noted that the SEALS considered the Bin Laden mission as tactically a fairly easy one, but its strategic importance meant that Seal Team 6 trained for the  raid on a mock-up of Bin Laden's compound many times before the mission in Abbottabad. Closing out the evening, attendees wondered aloud if they would have approved the mission, had they been in a position to do so, given the probability that Bin Laden was in the compound and the likelihood of a successful operation. The discussion was brought to a close when one guest offered, "Well, we all know how it turned out."
Distinguished guests included Alan Murray, President of the Pew Research Center; R. David Edelman, Senior Advisor at The White House and IFE Fellow; John Paul Farmer, Senior Advisor at The White House and EMR Co-founder; Chris Golden, Joe Trippi & Associates, and IFE Fellow; Bo Kemper, Robertson Foundation for Government; Tom Patton, Philips Electric NA; Marci Robinson, Robinson Communications, and Chairman of IFE's Board of Stewards; Aaron Sokasian of Tachyon Capital and EMR Co-founder and his wife Giovanna Sokasian; Alexey Timofeev, Minister Counsellor for the Embassy of Russia; Brian Wolff, Edison Electric Institute; Ali Wyne, Associate at the Belfer Center for Science and International Affairs and IFE Fellow; Zaahira Wyne, Research Assistant at the Carnegie Endowment for International Peace and IFE Fellow; and Jordy Yager, The Hill. IFE Interns Mbali Mendouga, UNC at Chapel Hill, 2013 and Jenny Shore, Harvard 2017, IFE NextGen Founder, and EMR Assistant Program Manager were also in attendance.
Contributed by Zaahira Wyne, IFE Fellow
Click here to review event photos | view pdf of Round-up | Event Guest List
About our Special Guest: Henry Schuster  is a producer for CBS News' "60 Minutes." He joined CBS News in January 2007 after a 25-year career at CNN. His most '60 Minutes'  stories include the hour-special on the killing of Osama Bin Laden; and a profile of Justice Sonia Sotomayor. He has done reports  from Iraq and Afghanistan as well as award-winning stories on the economic collapse. Henry also wrote a book about domestic terrorism published in 2005. He has won many major broadcast awards, including the news Emmy and Peabody.
Click here to view:  Part 1: "Killing Bin Laden-The story from a Navy SEAL who was there"  A former member of SEAL Team 6, known by the pseudonym Mark Owen, recounts the raid that killed the world's most wanted man: Osama bin Laden. Scott Pelley reports.
Click here to view: The Making of "Killing Bin Laden – The story from a Navy SEAL who was there."