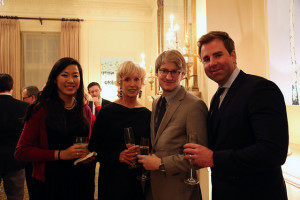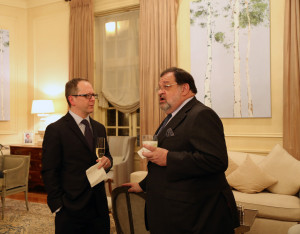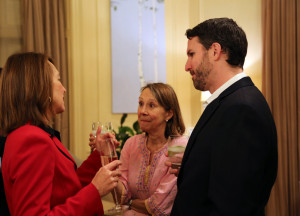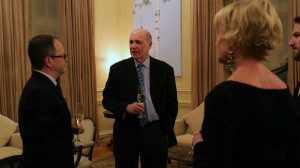 On Monday, December 2, 2013, His Excellency Jean-Louis Wolzfeld, the Ambassador of Luxembourg to the United States hosted the Institute for Education's Media and Technology Roundtable (MTR) with honored guest, Todd Cullen, Global Chief Data Officer of Ogilvy and Mather. The roundtable was held at the elegant Embassy of Luxembourg and commenced with welcomes from Ambassador Wolzfeld and IFE founder and CEO, Coach Kathy Kemper.
Mr. Cullen was introduced by Personal Inc., co-founder and CEO and MTR co-founder, Shane Green, who described him as being in, "the cockpit of innovation around big data," and as "having the bird's eye view of harnessing its power and adapting it to a rapidly shifting technological landscape."
Over an exquisite dinner complemented by fine Luxembourg wine, Mr. Cullen facilitated a lively and thought-provoking discussion on big data. He discussed its implications for organizations and individuals, and how his company has invested in working to make big data more accessible, sustainable and invaluable to its clients.
While the collection of data from individuals is not a new phenomenon, the Internet, evolved technology and new media have transformed how information is collected, synthesized, and applied to marketing and research. More and more, companies and organizations are working to collect more detailed data about individuals and use it efficiently.
Guests echoed the theme of Mr. Cullen's talk during an engaging question and answer session. Of discussion were the positive and negative impacts of data collection, the monetization of data, and ownership and privacy concerns that surround its use.
With the current national focus on healthcare and the Affordable Care Act, the implications of big data in this sphere were on the minds of many during the Q&A. Guests raised points on the potential for data collection to be used to target healthy individuals with favorable health care plans, how data can be used by medical professionals to transform the way individuals receive care, and how data has the potential to significantly improve health outcomes. Similarly, with the topic of privacy being of current discussion in media and the public sphere, it was also discussed during the Q&A.
While some guests felt that data used to target their individual preferences helped make their Internet experiences more favorable through advertising and recommendations on subjects ranging from books to social media updates from friends and family, others viewed this use of data as intrusive.
Guest also raised the question of what privacy means in a culture centered on the Internet and use of social media. One guest stated that while society worries about the National Security Agency and government having access to their most private moments, they are voluntarily broadcasting this information for the world to see. Others countered with the fact that, as data becomes used more widely, social media users also become more aware of their privacy and how they can protect it.
As the discussion closed with gratitude and well wishes from Coach Kemper and Ambassador Wolzfeld, the general sentiment of the evening was the importance of big data to everyone. Companies and organizations must fully understand big data, what is means to them and how they can use it to effectively reach their target audience and desired outcomes. Similarly, consumers must be fully aware of the collection of their data and its impacts on their privacy.
Big data is transforming the way we look at the world. As technology allows us to find new and more effective ways to collect and analyze data, the power and potential of data continue to create endless possibilities.
Attendees at the dinner also included Dr. Amy Geng, IFE Innovation; IFE Founder James Valentine, Valentine and Company; R. David Edelman, White House Senior Advisor, IFE Fellow; Josh Galper, Personal, Inc.; Nick Ammann, Apple, Inc; Esther Dyson, EDventure Holdings; Greg Farmer, Qualcomm; Peter Greenberger, Twitter; Adam Hanover, The Carlyle Group; Noah Pepper, Twitter; Adam Riggs, White House Presidential Innovation Fellow; and Nancy Roman, Capital Area Food Bank. Also in attendance were IFE Fellows Joanne Ke, The World Bank and Genelle Quarles, Burness Communications.
Written by IFE Fellow Genelle Nicole Quarles.
Click here to view: Event photos | Round-up PDF | Event Guest List
About the speaker: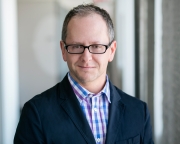 Todd is Chief Data Officer at Ogilvy & Mather, having joined the agency in May 2013. He is a recognized expert in the data and marketing services industry, and will be working to extend Ogilvy's leadership in delivering data-driven solutions to many of the finest brands in the world. Data of all types is increasingly available to enrich CRM, analytics, and creative capabilities; Cullen's focus will be in bringing together the right data and services for smarter client solutions.
Prior to Ogilvy, Cullen was Senior Vice President, Consumer Insight and Analytics at Bridgevine, Inc. He focused on harnessing, constructing, and deploying consumer and transactional data to build audiences, enhance the consumer experience, and increase lifetime value of customers in Bridgevine's leading e-commerce platform serving the telecommunications industry.
From 2009 until 2012, Todd served as Vice President of Acxiom's Global Data Products organization. In this role he had global strategic, product management, and commercial responsibility for Acxiom's flagship data product lines, including AbiliTec®, InfoBase®, Personicx®, syndicated analytics products, and related data sourcing and product management teams in nine countries. These core products generated over $350MM in worldwide annual revenue, while growing at or above industry rates. In 2010, his team launched Global Data Enhancement Services, a first-of-its-kind offering enabling Acxiom's clients to recognize, reach and deliver custom communications to 800MM+ consumers and households in over 60 countries. In its first year, GDES was adopted by 10 clients with over $40MM in revenue under contract. In 2011, the team built and launched Acxiom's first Global Business Data offering, including over 20 data sources covering more than 100 countries. Both products were designed with global clients in mind, and delivered via an integrated, streamlined data platform.
In the digital marketing space, Todd structured and managed relationships with key partners like eBay, BlueKai, DataLogix, and Targus in order to commercialize Acxiom's data products for online targeting. Central to this effort was the matching and user recognition capabilities used to synchronize cookies across domains using Acxiom's AbiliTec® products.
In previous roles at Acxiom, Todd led consulting teams in Marketing Strategy and Analytics, Corporate Development/M&A, and Organizational Development after having begun his time there in 2000 as a Product Marketing Manager for Acxiom's first real-time, cross-channel customer recognition solution.
Todd has served a vast array of Global 1000 clients including: American Express, Apple, AT&T, Bank of America, Chase, CitiGroup, General Motors, Google, Harley Davidson, Hewlett-Packard, Macy's, Microsoft, Nike, Nokia, Dun & Bradstreet, SFR, TomTom, and many others.
In a brief stint away from Acxiom, Todd served as Chief Information and Products Officer for CognitiveData (later acquired by Merkle), focused on improving matching and linking performance leveraging innovative techniques for detecting obscure linkages across business and consumer records.
Todd earned a Master of Business Administration degree from the University of Arkansas-Little Rock, and prior to that, a Master of Public Administration/Public Policy degree from the University. His Bachelor of Arts degree is in Political Science and History from Hendrix College.
Splitting his time between New York City and Little Rock, Arkansas, Todd travels frequently for business and pleasure with his wife and three children. He's an amateur musician, a marathoner, and a huge baseball fan.   Click here to view:
AdAge article "Ogilvy Chief Data Officer Role May Be Sign of Things to Come"
|