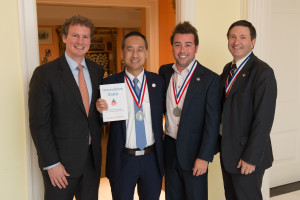 The splendid Kalorama home of UNESCO Ambassador Esther Coopersmith is a place where beautiful things, from oil paintings to figurines to antique furniture, are everywhere. On Tuesday, June 16, the Institute for Education held a salon that imagined a future where the things we use are not just attractive and functional, but also smart. 
The panel included Aneesh Chopra, former Assistant to the President and the first-ever Chief Technology Officer of the United States, as well as White House Presidential Innovation Fellows Geoff Mulligan, Dr. Joe Polastre and Dr. Sokwoo Rhee. It was moderated by John Paul Farmer, IFE Emerging Markets Roundtable Co-founder and Director of Technology & Civic Innovation at Microsoft. 
An intimate gathering attended, including Supreme Court Justice Stephen Breyer, Eleanor Clift of The Daily Beast, Jill Dougherty of CNN, and IFE Steward Ed Henry of Fox News. Representing IFE were Co-founders Coach Kathy Kemper and James Valentine, Board of Stewards Chair Marci Robinson, and Innovation Steward Dr. Amy Geng.Watch a video recap of the "Internet of Things" here:
"Computing is moving to the edges," said Polastre. The Internet, he noted, was designed for people to talk to people, but advances in technology have created opportunities for objects to communicate directly with other objects, collecting data and triggering actions that make our society more efficient—and even save lives.
What does it mean for things to be smart? Mulligan described a pilot program held in the homes of elderly, low-income residents of Montgomery County, Maryland, that greatly extends the capabilities of ordinary home smoke detectors. Recently showcased at the SmartAmerica Expo spearheaded by Mulligan and Rhee, the networked smoke detectors gathered data on smoke, gas, light, mold and pollen in the homes, and also monitored the motions of the people who lived there to ensure that they are healthy and active. Insights from these devices promise to improve quality of life for broad numbers of consumers.
Much of the potential of the Internet of Things lies in similar sensor-based efforts to gather information that will help us better understand trends and behaviors, and respond to them quickly. Think of a world where road sensors and traffic lights smooth out traffic jams and protect drivers, and houses and offices better conform to our needs.
"We might design a building that we think is better, but if we aren't collecting data we don't really know," said Farmer. The Internet of Things can enable "feedback loops" that show us what's working and what could be improved, and enable action to be taken in milliseconds.
Justice Breyer voiced support for the concept but raised questions about privacy and the role of government. He told the story of architect Frank Gehry, who prior to designing the Walt Disney Concert Hall in Los Angeles spent eight months sitting with the Los Angeles Philharmonic Orchestra to better understand what the new venue would need to do.
"You don't know what I need, and what's interesting is, I don't know what I need," said Justice Breyer. "Is someone from the White House going to sit with me for eight months?"
Chopra, the author of "Innovative State: How New Technologies Can Transform the Government," responded to Justice Breyer by describing "modest and well-defined" policy frameworks that directly empower individuals and create opportunities for innovation in the private sector. He cited the example of Pacific Gas and Electric, a California energy utility that instituted "Green Button," a standard developed by the White House in collaboration with companies to allow consumers to securely download their own detailed energy-use profile with a simple online button-click. Individuals can then take advantage of apps and services developed by private industry to use the data to make smarter energy choices and save money. 
The panel agreed that we have seen only the beginning of what the Internet of Things can do to improve the lives of Americans. One day soon, Ambassador Coopersmith's home might be more than a stunning collection of art and history. It could also be a place where seemingly ordinary objects make her guests happier, healthier, and a little bit smarter.
Contributed by Mark Schulte, IFE Fellow | Photo Credit: Kevin Allen