Party Diary: Opera with Justice Ruth Bader Ginsburg
It's not every day that one gets to audit a history lesson on past chief justices of the United States taught in the Supreme Court and led by Justice Ruth Bader Ginsburg.
But that's exactly what about 150 lucky students — most of us well past school age — got Monday night when the ornate East Room of the Supreme Court Building was transformed into a classroom. Oh, and there was an opera pop quiz, too.
In an hour-long program that included music and art, Ginsburg, looking chic in a multicolored silk ensemble with her trademarked slicked-back hair, received the Institute for Education's 2014 Cultural Diplomacy Award.
Taking her place between the portraits of former Chief Justices John Rutledge and Oliver Ellsworth, mezzo-soprano Denyce Graves performed four pieces, pausing only to explain each selection. (The Washington native is one of Ginsburg's favorites. Graves sang at Martin Ginsburg's memorial service in that same room four years earlier.)
"And lastly, in thinking of global outreach, I thought this next song was appropriate," said Graves, before launching voice first into "He's Got the Whole World in His Hands." One guest leaned over to whisper, "This is incredible."
Moments later, before reminding the room that Ginsburg's comments were completely off the record, Ted Olson, a former solicitor general of the United States, was able to boil down the 81-year-old's accomplishments to less than a tweet.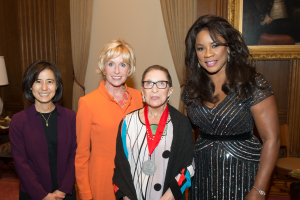 Olson, who has argued more than 50 cases before Ginsburg, choose the words: pioneer, dedication, courage, passionate, "and to me, most of all, a warrior."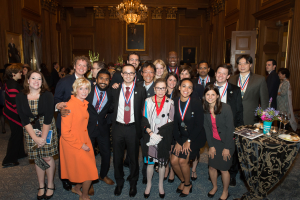 Then Ginsburg made her way to the front of the class. She first explained the significance of each of the chief justices whose portraits were displayed around the room and later took questions from the audience. Her only rule: You could ask anything, but that didn't mean she'd answer it.
By Helena Andrews | September 23 at 9:34 AM