More than one hundred fifty friends of the Institute for Education gathered at the presentation of IFE's 2014 Cultural Diplomacy Award to Justice Ruth Bader Ginsburg at an evening salon in the East Conference Room of the Supreme Court of the United States on Monday, September 22.
In celebration of Justice Ginsburg's passion for opera, IFE invited world-renowned opera star, Denyce Graves, to open the unforgettable night. Justice Ginsburg, taking evident delight in the honors, introduced Ms. Graves as our "Mezzo-Soprano supreme." Graves delivered a stunning performance of an eclectic selection of works that ranged from Stephano Donaudy to Rodgers and Hammerstein and received a standing ovation. A special thank you goes to pianist Andrew Harley for accompanying Denyce Graves.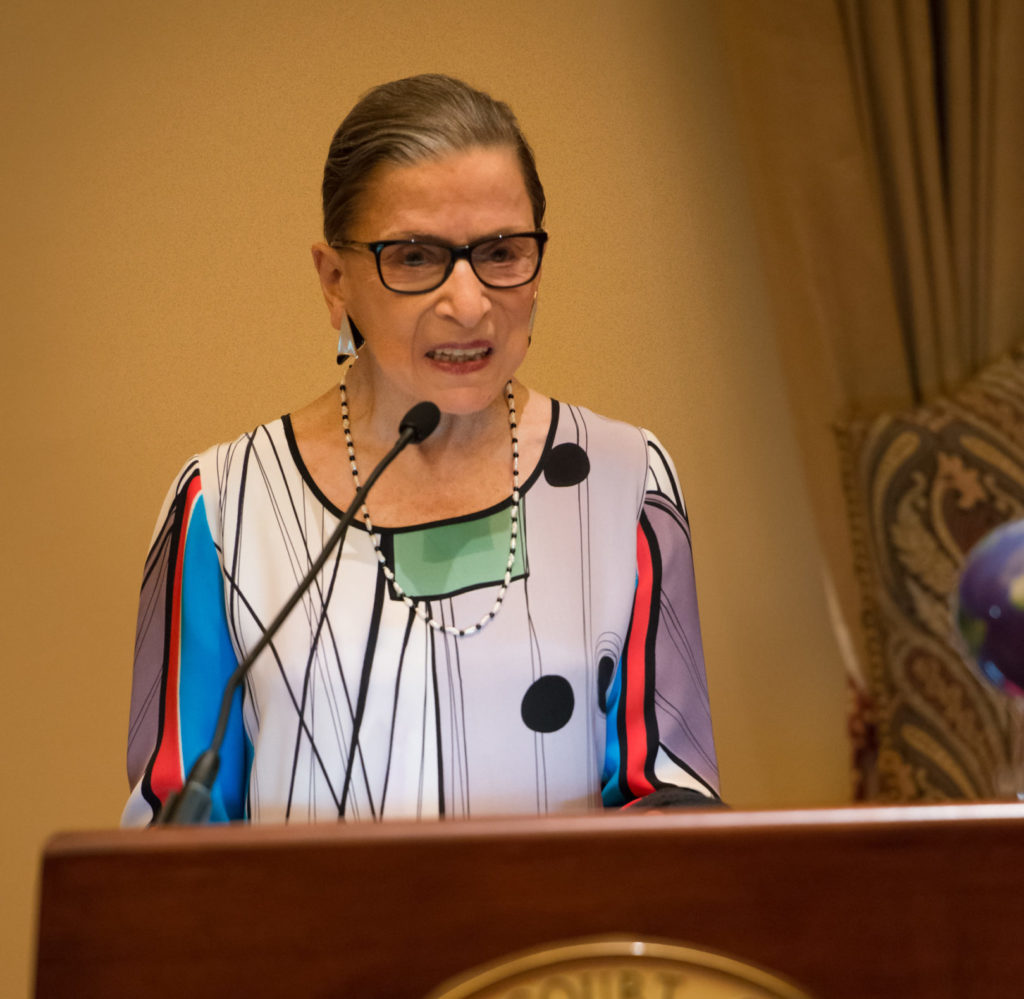 "A hearty welcome to my workplace," Justice Ginsburg told an audience comprising IFE's unique blend of thought leaders from the diplomatic corps, and business, tech, and press communities.
Ina Ginsburg, herself an IFE Cultural Diplomacy Award recipient from 2012 and an IFE Steward, presented Justice Ginsburg with her award along with IFE CEO and Founder, Coach Kathy Kemper.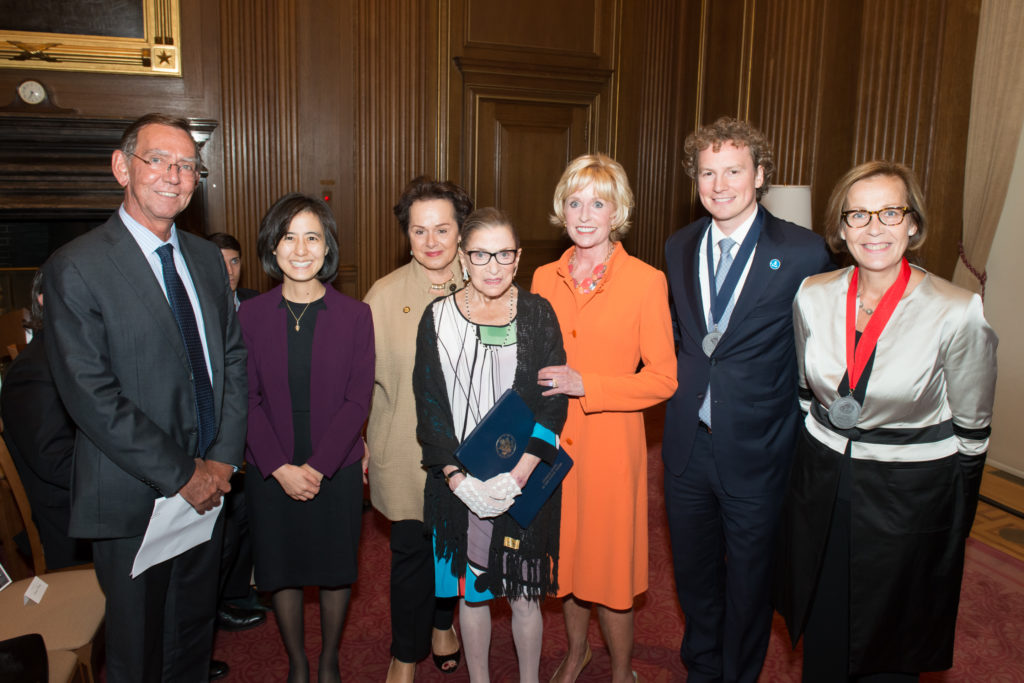 In attendance representing their nations were Her Excellency Claudia Fritsche of Liechtenstein, Her Excellency Ritva Koukku-Ronde of Finland, His Excellency Kenichiro Sasae of Japan, and His Excellency Johan Verbeke of the Kingdom of Belgium and Ms. Laura Perez Vazquez, wife of Mexican Ambassador.
Also attending were IFE Emerging Markets Roundtable Cofounders John Paul Farmer and Andrew Mitchell, Dr. R. David Edelman, White House Senior Advisor for Internet, Innovation and IFE Fellow, IFE Innovation Steward Dr. Amy Geng, IFE Board of Stewards Chair Marci Robinson, and IFE's special friends, former United States Chief Technology Officer, Todd Park, and newly minted United States Chief Technology Officer Megan Smith, joined the gathering as well.
IFE's special relationship with the White House Presidential Innovation Fellows (PIF) program was in full evidence, with 22 PIFs attending from rounds one, two and three. These technology wizards, memorably referred to as "the badasses of the badasses," by former United States Chief Technology Officer Todd Park are recruited broadly from the private sector to find ways to innovate aggressively in government.
As impressive and diverse as the audience was, all eyes were on the honoree of the evening, a woman who knows well what it means to flout convention and challenge the status quo.
"As an advocate for women's rights and gender equality," observed the Honorable Theodore B. Olson, former Solicitor General of the United States, in an introduction to Justice Ginsburg, "she changed the world."
Olson noted that Justice Ginsburg was one of just nine women in her class at Harvard Law School, the first to be tenured at Columbia Law School, and was the second ever to be appointed to the Supreme Court, after Justice Sandra Day O'Connor.
"Her questions are invariably tough, focused, penetrating, and, for an advocate, very scary," said Olson. "If I was limited to six words" to describe her, "they would be pioneer, commitment, dedication, courage, passion, and warrior."
Olson shared some little-known facts about the Justice, including her near-perfect attendance record: she did not miss a day at the bench while undergoing radiation and chemotherapy for cancer in 1999 and a decade later heard oral arguments just 12 days after an operation to remove a tumor on her pancreas. A polymath and lifelong learner, she became fluent in Swedish after law school and co-authored a book on the Swedish legal system shortly thereafter.
After a brief history of the past Chief Justices of the Supreme Court, whose portraits hang in the East Conference Room, Justice Ginsburg opened the floor to questions from the audience. Often whimsical and candid but ever prudent, the Justice, when pressed on legal matters that may yet come before the court, referred questioners to the court record. There is to date more than 21 years of that, and as Justice Ginsburg has recently made plain, much more to come.
Contributed by Mark Schulte, IFE Fellow | Photo Credit: Kevin Allen