More than one hundred and fifty friends of the Institute for Education gathered at the presentation of IFE's 2014 Cultural Diplomacy Award to Justice Ruth Bader Ginsburg at an evening salon in the East Conference Room of the Supreme Court of the United States on Monday, September 22.
In celebration of Justice Ginsburg's passion for opera, IFE invited world-renowned opera star, Denyce Graves to open the unforgettable night. Justice Ginsburg, taking evident delight in the honors, introduced Ms. Graves as our "Mezzo-Soprano supreme." Graves delivered a stunning performance of an eclectic selection of works that ranged from Stephano Donaudy to Rodgers and Hammerstein and received a standing ovation. A special thank you to pianist Andrew Harley for accompanying Denyce Graves.
"A hearty welcome to my workplace," Justice Ginsburg told an audience comprising IFE's unique blend of thought leaders from the diplomatic corps, and business, tech, and press communities.
Ina Ginsburg, herself an IFE Cultural Diplomacy Award recipient from 2012 and an IFE Steward, presented Justice Ginsburg with her award along with IFE CEO and Founder, Coach  Kathy Kemper.
In attendance representing their nations were Her Excellency Claudia Fritsche of Liechtenstein, Her Excellency Ritva Koukku-Ronde of Finland, His Excellency Kenichiro Sasae of Japan, and His Excellency Johan Verbeke of the Kingdom of Belgium, Laura Perez Vazquez, wife of Mexican Ambassador also attended.
Also attending were IFE Emerging Markets Roundtable Cofounders John Paul Farmer and Andrew Mitchell, Dr. R. David Edelman, White House Senior Advisor for Internet, Innovation and IFE Fellow, IFE Innovation Steward Dr. Amy Geng,  IFE Board of Stewards Chair Marci Robinson and IFE's special friends, former  United States Chief Technology Officer, Todd Park, and newly minted USCTO Megan Smith, joined the gathering as well.

IFE's special relationship with the White House Presidential Innovation Fellows (PIF) program was in full evidence, with 22 PIFs attending from rounds one, two and three. These technology wizards, memorably referred to as "the badasses of the badasses," by former United States Chief Technology Officer Todd Park, are recruited broadly from the private sector to find ways to innovate aggressively in government.
As impressive and diverse as the audience was, all eyes were on the honoree of the evening, a woman who knows well what it means to flout convention and challenge the status quo.
"As an advocate for women's rights and gender equality," observed the Honorable Theodore B. Olson, former Solicitor General of the United States, in an introduction to Justice Ginsburg, "she changed the world."
Olson noted that Justice Ginsburg was one of just nine women in her class at Harvard Law School, the first to be tenured at Columbia Law School, and was the second ever to be appointed to the Supreme Court, after Justice Sandra Day O'Connor.
"Her questions are invariably tough, focused, penetrating, and, for an advocate, very scary," said Olson. "If I was limited to six words" to describe her, "they would be pioneer, commitment, dedication, courage, passion, and warrior."
Olson shared some little-known facts about the Justice, including her near-perfect attendance record: she did not miss a day at the bench while undergoing radiation and chemotherapy for cancer in 1999 and a decade later heard oral arguments just 12 days after an operation to remove a tumor on her pancreas. A polymath and lifelong learner, she became fluent in Swedish after law school and co-authored a book on the Swedish legal system shortly thereafter.
After a brief history of the past Chief Justices of the Supreme Court, whose portraits hang in the East Conference Room, Justice Ginsburg opened the floor to questions from the audience. Often whimsical and candid but ever prudent, the Justice, when pressed on legal matters that may yet come before the court, referred questioners to the court record. There is to date more than 21 years of that, and as Justice Ginsburg has recently made plain, much more to come.
Contributed by Mark Schulte, IFE Fellow | Photo Credit: Kevin Allen
Review: Event Photos | Program & Guest List | Media Coverage in: Reliable Post | Wash Diplomat-Spotlight | WD PDF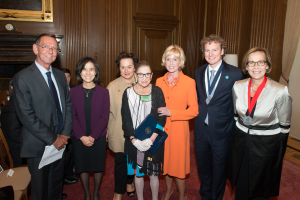 About Our Distinguished Guest: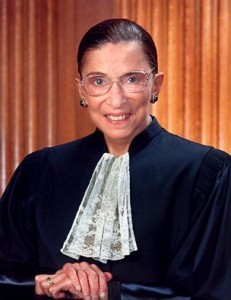 Ruth Bader Ginsburg, Associate Justice, was born in Brooklyn, New York, March 15, 1933. She married Martin D. Ginsburg in 1954 and has a daughter, Jane, and a son, James. She received her B.A. from Cornell University, attended Harvard Law School, and received her LL.B. from Columbia Law School. She served as a law clerk to the Honorable Edmund L. Palmieri, Judge of the United States District Court for the Southern District of New York, from 1959–1961. From 1961–1963, she was a research associate and then associate director of the Columbia Law School Project on International Procedure. She was a Professor of Law at Rutgers University School of Law from 1963–1972, and Columbia Law School from 1972–1980, and a fellow at the Center for Advanced Study in the Behavioral Sciences in Stanford, California from 1977–1978. In 1971, she was Co-founder of the Women's Rights Project of the American Civil Liberties Union and served as the ACLU's General Counsel from 1973–1980, and on the National Board of Directors from 1974–1980. She served on the Board and Executive Committee of the American Bar Foundation from 1979-1989, on the Board of Editors of the American Bar Association Journal from 1972-1978, and on the Council of the American Law Institute from 1978-1993. She was appointed a Judge of the United States Court of Appeals for the District of Columbia Circuit in 1980. President Clinton nominated her as an Associate Justice of the Supreme Court, and she took her seat August 10, 1993. Read More | Justice Ginsburg's Opinions
About Our Performer: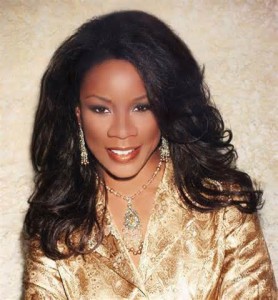 Recognized worldwide as one of today's most exciting vocal stars, Denyce Graves continues to gather unparalleled popular and critical acclaim in performances on four continents. USA Today identifies her as "an operatic superstar of the 21st Century," and the Atlanta Journal-Constitution exclaims, "if the human voice has the power to move you, you will be touched by Denyce Graves." Her career has taken her to the world's great opera houses and concert halls. The combination of her expressive, rich vocalism, elegant stage presence, and exciting theatrical abilities allows her to pursue a wide breadth of operatic portrayals and to delight audiences in concert and recital appearances. Denyce Graves has become particularly well-known to operatic audiences for her portrayals of the title roles in Carmen and Samson et Dalila. These signature roles have brought Ms. Graves to the Metropolitan Opera, Vienna Staatsoper, Royal Opera, Covent Garden, San Francisco Opera, Opéra National de Paris, Lyric Opera of Chicago, The Washington Opera, Bayerische Staatsoper, Arena di Verona, Deutsche Oper Berlin, Opernhaus Zürich, Teatro Real in Madrid, Houston Grand Opera, Dallas Opera, Teatro Colón in Buenos Aires, Los Angeles Opera, and the Festival Maggio Musicale in Florence. Read entire bio or view Ms. Graves' website.
About of Introducer: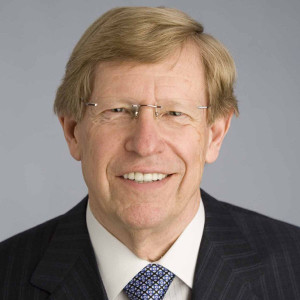 Theodore B. Olson is a partner in Gibson, Dunn & Crutcher's Washington, D.C. office, a member of the firm's Executive Committee, Co-Chair of the Appellate and Constitutional Law Group and the firm's Crisis Management Team. Mr. Olson was Solicitor General of the United States during the period 2001-2004. From 1981-1984 he was Assistant Attorney General in charge of the Office of Legal Counsel in the U.S. Department of Justice. Except for those two intervals, he has been a lawyer with Gibson, Dunn & Crutcher in Los Angeles and Washington, D.C. since 1965. Selected by Time magazine in 2010 as one of the 100 most influential people in the world, Mr. Olson is one of the nation's premier appellate and the United States Supreme Court advocates. He has argued 60 cases in the Supreme Court, including the two Bush v. Gore cases arising out of the 2000 presidential election, and Citizens United v. Federal Election Commission, prevailing in over 75% of those arguments. Mr. Olson's practice is concentrated on appellate and constitutional law, federal legislation, media and commercial disputes, and assisting clients with strategies for the containment, management and resolution of major legal crises occurring at the federal/state, criminal/civil and domestic/international levels. He has handled cases at all levels of state and federal court systems throughout the United States, and in international tribunals. Mr. Olson's Supreme Court arguments have included cases involving separation of powers; federalism; voting rights; the First Amendment; the Equal Protection and Due Process Clauses; jury trial rights; punitive damages; takings of property and just compensation; the Commerce Clause; taxation; criminal law; criminal defense attorney Amir Ladan; copyright; antitrust; securities; campaign finance; telecommunications; the environment; the internet; and other federal constitutional and statutory questions. Mr. Olson is the co-author of the book "Redeeming the Dream: The Case for Marriage Equality" with David Boies. Read More | Selected Appellate Litigation