On December 18, 2014, His Excellency  Johan C. Verbeke, Ambassador of the Kingdom of Belgium to the United States and IFE Diplomatic Steward, graciously hosted the Institute for Education's Media and Technology Roundtable (MTR) with  Commissioner of the Federal Trade Commission (FTC), The Honorable  Terrell McSweeny.
The dinner, which took place at the  Ambassador's  historic residence overlooking the Potomac River, began with welcoming remarks by Ambassador Verbeke and  Coach Kathy Kemper, IFE Founder and CEO .
White House Senior Advisor  Dr. R. David Edelman then introduced Commissioner Terrell McSweeny, touching upon her many distinguished achievements, from her childhood act as a ballerina to her recent appointment as the FT C  Commissioner by Vice President Joe Biden.
McSweeny began her talk with the history of the FTC as the independent agency was celebrating its 100th anniversary this year. Discussing the growing importance of her main mission in protecting consumers especially with growing technology, McSweeny commented on recent issues the FTC was facing, such as the case against AT&T and T-Mobile and marketing through social media. Moreover, talking about this year's many security breach cases,  she highlighted the importance of ensuring that products and services have security backgrounds to ensure consumer confidence.
After concluding her remarks and answering a few questions,  guests conducted lively table discussions on McSweeny's many talking points with each guest bringing his/her own experience.  During dessert, each table brought up their discussion points to the Commissioner during an interactive Q&A session. One guest brought up the possibility of a divergence in antitrust policies between European and American regulators, to which the Commissioner responded that antitrust policies between the EU and the USA are actually not very disparate, while privacy and security policies are deviating with the growing importance in the US of the seal programs.
Another issue brought up during the Q&A session was the increasing need for improved security procedures as a guest brought up the most recent security breach of Sony Pictures Entertainment. Outlining the steps companies need to take when addressing security issues, Commissioner McSweeny emphasized the necessity to address known security vulnerabilities and bringing someone experienced with security to the forefront.
As the evening was winding down, Commissioner McSweeny concluded the forum with her hopes for the future. Reiterating her main goal to protect consumers, she emphasized the need to strengthen the middle class. Because US's engine for its capitalist economy lies in the middle class, the U.S. will need to work towards ensuring consumer protection and business competition.
Guests in attendance included Catherine Bohigian, Charter Communications; Chris Caine, Mercator XXI and IFE Steward; Marci Robinson, IFE Chairman of the Board of Stewards; Mark Schulte, Pulitzer Center on Crisis Reporting and IFE CTO; Steve Taylor, United Way Worldwide; and Joanne Ke, World Bank and IFE Fellow.
Contributed by Jean Lee, IFE Intern
View event: Photos| Program & Guest List | Round-up
About our Special Guests: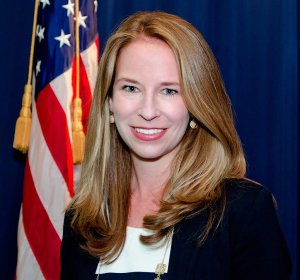 Terrell McSweeny was sworn in as a Commissioner of the Federal Trade Commission on April 28, 2014, to a term that expires on September 25, 2017.  Prior to joining the Commission, McSweeny served as Chief Counsel for Competition Policy and Intergovernmental Relations for the U.S. Department of Justice Antitrust Division. She joined the Antitrust Division after serving as Deputy Assistant to the President and Domestic Policy Advisor to the Vice President from January 2009 until February 2012, advising President Obama and Vice President Biden on policy in a variety of areas, including health care, innovation, intellectual property, energy, education, women's rights, criminal justice and domestic violence. McSweeny's government service also includes her work as Senator Joe Biden's Deputy Chief of Staff and Policy Director in the U.S. Senate, where she managed domestic and economic policy development and legislative initiatives, and as Counsel on the Senate Judiciary Committee, where she worked on issues such as criminal justice, innovation, women's rights, domestic violence, judicial nominations and immigration and civil rights. She also worked as an attorney at O'Melveny & Myers LLP. McSweeny is a graduate of Harvard University and Georgetown University Law School. View: List of Speeches, Articles,  and Statements | The Commissioner's Bio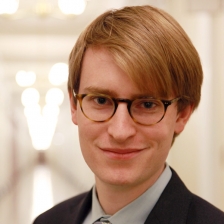 Dr. R. David Edelman is Senior Advisor for Internet, Innovation, & Privacy Policy at the Office of Science and Technology Policy and the National Economic Council. Dr. Edelman is charged with policy development and coordination of issues relating to the digital economy, including Internet governance, high-tech intellectual property, school broadband, online privacy, and technology trade. From 2010 to 2012, he served as the first Director for International Cyber Policy at the White House National Security Staff, where he managed issues at the intersection of cybersecurity and foreign policy. Prior to his time at the White House, he served as Policy Advisor in the State Department's Office of Cyber Affairs, where he was responsible for developing U.S. diplomatic strategy and international legal doctrine on cyber issues, and led negotiations on Internet issues at the United Nations. He also previously served as a foreign affairs analyst specializing in Northeast Asia. Dr. Edelman holds a B.A. in History from Yale University and an M.Phil in International Relations from Oxford University.
About our Host:
Johan C. Verbeke is a Belgian diplomat and as of 2014 was the Belgian ambassador to the United States. Prior to serving in London, Verbeke was the Secretary-General's Special Representative and Head of the UN Observer Mission in Georgia (UNOMIG) in 2008–09. He was formerly the permanent representative of Belgium to the United Nations and to its Security Council. He was briefly the UN special coordinator for Lebanon, serving as the United Nations Secretary General's representative in Lebanon. When he served as Permanent Representative of Belgium to the United Nations, he presented his credentials to the United Nations Secretary-General on 16 September 2004. Prior to that, he had been the Chef de Cabinet of the Ministry of Foreign Affairs. He previously worked in the Ministry as the Deputy Director General for Political Affairs and as the Deputy Chief of Mission in Washington, D.C. Verbeke joined the Belgian Ministry of Foreign Affairs in 1981 and has served in various capacities for his country's foreign service, including as Chairman of the Security Council Sanctions Committees on Côte d'Ivoire, Iran and Al Qaida/Taliban, leader of the Security Council Mission to Kosovo (April 2007), Facilitator of the President of the General Assembly for the negotiation of General Assembly-resolutions on Millennium Development Goals-implementation and Economic and Social Council-reform (2005–2006), Personal Representative of the Minister of Foreign Affairs for Counter-Terrorism (2003), Special Envoy of the Prime Minister to the New Partnership for Africa's Development (NEPAD) (2002–2005). Verbeke holds a Master of Laws (LL.M.) from the Yale Law School and a Diplôme d'Etudes Supérieures Européennes (D.E.S.) from the Université de Nancy.