The Art of Subtle Schmoozing with Ms. Gouri Mirpuri
"Welcome Sports Fans!"
Greeted Coach Kathy Kemper, founder and CEO of the Institute for Education and US News' Anointed "Networker in Chief." Guests, ranging from Robertson Foundation for Government Alumni and Fellows, Institute for Education Interns and Fellows, Presidential Innovation Fellows to Institute for Education leadership and other DC principals, gathered in the cozy salon of the famous DACOR Bacon House.
The event, hosted by the Institute for Education (IFE) in partnership with the Robertson Foundation for Government (RFFG), sought to share the how-to of soft diplomacy, taught by a true expert, Gouri Mirpuri of the Singapore Embassy.
Before introducing IFE Senior Fellow, George Zaidan, Coach took a moment to thank RFFG, the guests, and Devika Anand Patil, IFE's new Digital Ambassador. George Zaidan, co-host of 'Make Me a Millionaire Inventor' on CNBC, introduced Gouri, enumerating on her vast social entrepreneurship and philanthropy work. George noted that, with Coach and Gouri in the room, this would surely be "the best networking advice that we will ever receive in our lives."
As Gouri took the stage to a round of applause, she graciously thanked the guests for joining her to learn "the Art of Subtle Schmoozing." Gouri dived in and began to teach; Her first point of guidance was to always show "generosity of spirit," actively introducing people and creating connections. Furthermore, Gouri and her husband, H.E. Ambassador Ashok Kumar Mirpuri, always make sure to greet everyone at the party and speak to a variety of people.
Gouri then turned to the audience for insight on what they would like to learn. Guests enthusiastically asked about overcoming awkward silences, walking into a room with no familiar faces, and knowing the right time to enter a conversation.
Gouri's second piece of insight was to "treat people like people, not prospects," always thinking about what you can do for them. Ignoring and being rude to the wait staff and other guests can often come back to bite you, she warned. Coach Kemper and Gouri also stressed one thing: RSVP! An early and polite acceptance or declination of an invitation is key, especially if one wants to be invited to future events.
One of her most popular pieces of advice was to watch people's eyebrows to read their emotions— citing the TV show Shark Tank as a perfect example. Eye contact and smiling are crucial said Gouri, especially while you are talking.
The guests were engaged and laughing as Gouri told anecdotes to stress her points. While discussing conversation topics, she stressed "no negatives, no politics, no religion!"
As the evening wound down, Gouri gave one of her most memorable pieces of advice: look for croissants, not donuts! When walking into a party and looking for a group to join, look for the groups who are slightly open, like the crescent of a croissant, not a tight circle.
After closing remarks, guests thanked Gouri Mirpuri for her invaluable insights and the group began to practice what they had just learned—how to network.
Contributed by IFE Intern Emily Lovell. Photos by IFE Intern Xavier Rivera.
---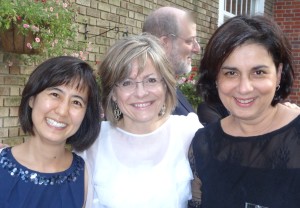 ABOUT OUR SPEAKER: Gouri Mirpuri is the founder of Connected for Good, a non-profit which connects people/organizations to Asia for good causes. She is also co-founder of Impact HUB Singapore, the first co-work communal space for social entrepreneurs in Asia. Her twin passions for Social Entrepreneurship and Environment Issues started with her work at The Learning Farm a decade ago. It is today an award-winning residential program providing vulnerable youth in Indonesia the appropriate agricultural and business training to become farmer-entrepreneurs. Gouri has lived in various countries over the past two decades and now resides in Washington DC with her diplomat husband. Here, as well as in Asia, she sits on the boards of various organizations that deal with youth empowerment, social entrepreneurship and environmental activism.