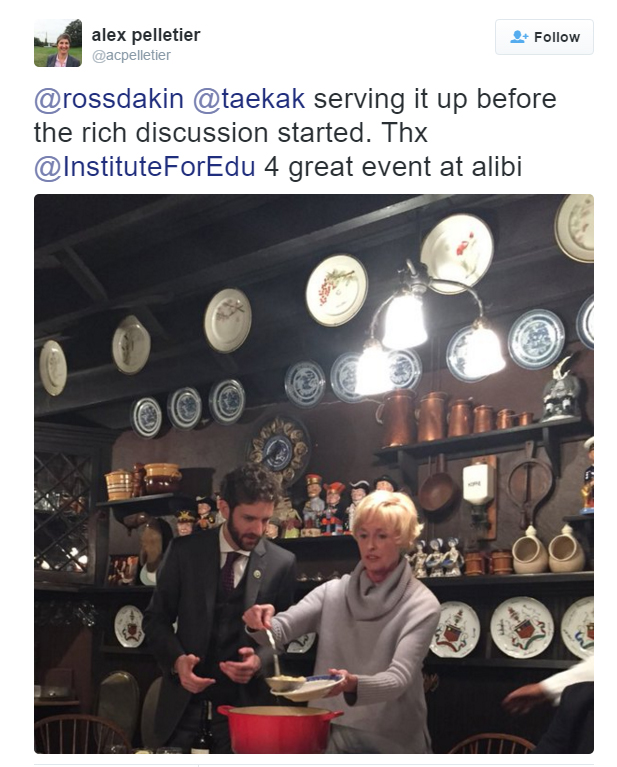 The Institute for Education held its 25th Celebration Season Kick-off lunch on Wednesday, January 28th. IFE Steward Judge William H. Webster, former Director of the CIA & FBI, hosted the lunch.
Nina Easton Chair, FORTUNE Most Powerful Women International and Senior Associate, Center for Strategic and International Studies (CSIS) opened the table  conversation saying, "Coach Kemper is creating DC's intellectual hub, one with a global perspective, dedication to collaboration, and a true spirit of innovation."Ms. Easton then updated guests on the 2016 US elections, Ambassador Claudia Fritsche of Liechtenstein; Ambassador Claudio Bisgoniero of Italy; and Ambassador Henne Schuwer of the Netherlands shared thoughts on the refugee/immigrant crisis, followed by former USCTO Aneesh Chopra and Michelle Lee (USPTO)  discussing digital ID's, privacy and security.
As many pivotal issues shape and change our world, the opportunity to hear directly from leaders involved offers insight like no other. IFE enters its 25th season, engaging the global community to find common ground and collaboration, harnessing the power of soft diplomacy, data, innovation, and technology.
View: Event Photos | Guest List | Videos by Nina Easton | Nina Easton's Bio | Judge Webster's Bio
---