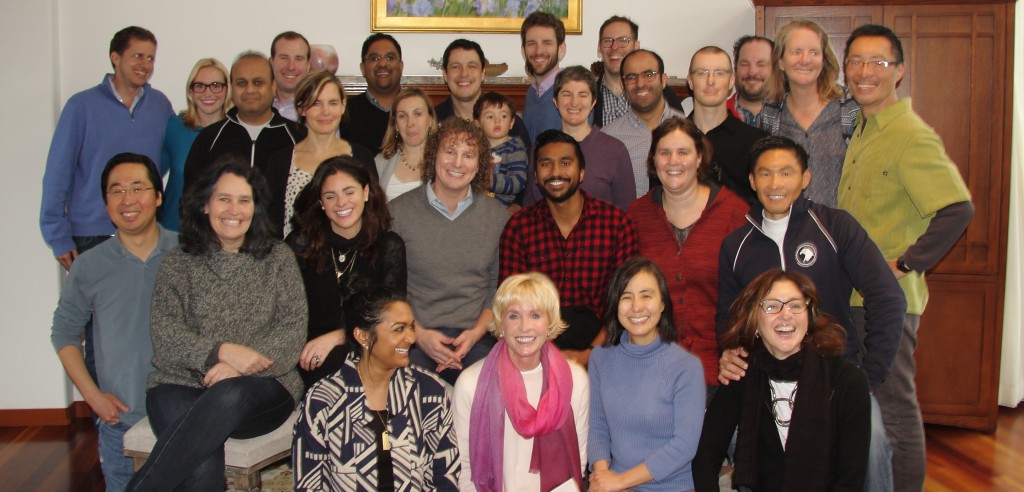 ---
The second annual Institute for Education/PIF West Coast reunion weekend was a huge success. MORE COMPOUNDED AWESOMENESS, as host Todd Park says.
On Sunday January 10, 2016, IFE hosted Presidential Innovation Fellows past and present and friends of the Institute for Education at the stunningly beautiful home of Todd Park, the second White House Chief Technology Officer and Advisor to the President, and his wife Amy Geng, MD, IFE Innovation Steward, in Los Altos Hills, California.
It was a day of fun, laughter, catching up with friends and colleagues, football, puzzles, legos…while enjoying delicious home-cooked food, drones, and even a Star Wars lightsaber battle!
As morning stretched into afternoon, conversation broke out about the latest in health IT (PIF Alex Pelletier had just flown in from the Consumer Electronics Show in Las Vegas), current PIF projects (PIF Ross Dakin traveled from Washington where he is currently serving his "tour of duty" at the Department of Commerce), and the future of the PIF program (PIF Co-Founder and Microsoft Director of Civic Technology and Innovation John Paul Farmer attended from New York City).
In the afternoon, there was even a drone lesson in the backyard, led by Round 3 PIF Bosco So. In short, PIFdom ruled the day!
The Presidential Innovation Fellows program was founded in 2012 with a goal of bringing the nation's top innovators and technologists to work inside of the government. Many PIFs originally hailed from the Bay Area or Silicon Valley and for the second year in a row, IFE has hosted a reunion brunch in early January to connect PIF alumni with current PIFs and allow for new connections to be strengthened, ideas to exchanged, and building of our badass community!
The brunch also serves as an informal planning session for IFE forums, on both coasts. In 2016, IFE is celebrating 25 years of its mission: to harness the power of innovation, data, and technology, to find common ground. Supporting the PIF program and innovation in government through the U.S. Digital Service and 18F communities are goals which fit squarely within IFEs founding principles.
Special thanks to 2015 PIFs Ross Dakin and Alex Pelletier who exhibited leadership by traveling to attend the event, and to special guests, Jen Pahlka, founder and executive director of Code for America and former U.S. Deputy Chief Technology Officer, and Vivian Graubard, USDS.
In attendance were PIF alumni, Erin Akred, Sarah Allen, Ian Kalin, Karl Mehta, Ryan Panchadsaram, Bosco So, and Scott Wu, with spouses and children, IFE Fellows, Chris Golden and Kelsey Kemper Valentine, the Geng Park family team, and IFE Founder & CEO, Coach Kathy Kemper.
Earlier in the reunion weekend, several PIFs attended a champagne toast at the historic San Francisco University Club hosted by Coach Kathy Kemper and a Friday evening at San Francisco's famous Tonga Room.
Submitted by IFE Digital Innovation Fellow Chris Golden.
View: Event photos | TWEETS: https://twitter.com/InstituteForEdu/status/686215026697322498 | https://twitter.com/acpelletier/status/685985605767962626 | https://twitter.com/InstituteForEdu/status/686018449865232385