It was indeed a "stimulating and thoughtful discussion" with Senator Ed Markey (D. Mass) as The Ambassador of France Gérard Araud put it. The occasion was the Institute for Education's INFO/Public Policy Roundtable discussion of the COP21 United Nations Conference and Paris Climate Agreement held at his Kalorama residence. As wonky as that sounds in an atmosphere of champagne and Pâté, it was actually a spirited discussion in lay terms following the Paris conference and the implementation of the Paris Agreement.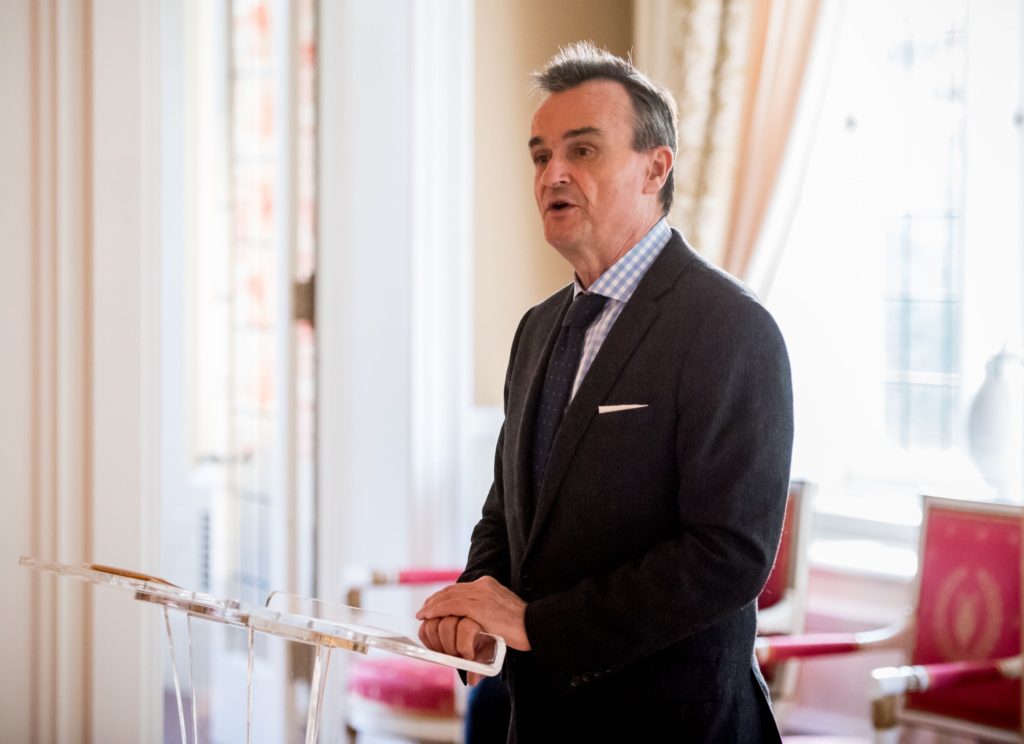 "This event is timely indeed as 2016 is the year of climate action," said Araud. "One hundred and fifty-five countries signed the Paris Agreement, but we need to step up the momentum. The agreement must be ratified and implemented. The United States along with China is playing an instrumental role in that regard. Together they represent 38% of global emissions. Their readiness to implement the agreement will motivate the rest of the world to follow suit. As COP 21 president, France has taken the lead to make sure that European countries proceed as quickly as possible. The French parliament should give its green light as early as December."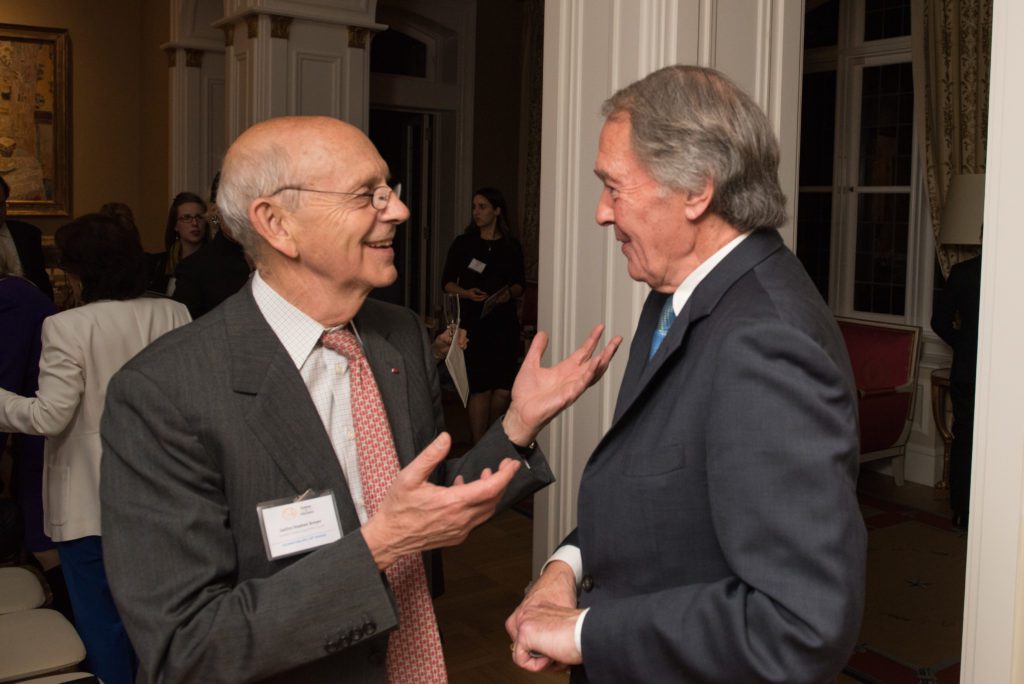 Senator Markey is a tireless and pioneering advocate for the fight on climate change. Few people can lay claim to so many trans-formative efforts on behalf of the climate. His countless hearings and comprehensive legislation have significantly boosted public awareness of the need to combat climate change and prepare for a better future.
We loved the way his wife Dr. Susan Blumenthal introduced him: "Thirty years ago, on the only blind date I had ever been on, I met the most dazzling man. He was an intelligent man, he was passionate in his purpose, and he was really funny, and it didn't hurt that he was really handsome, too. What was most striking to me then and now was Ed's ability to really integrate diverse screens of information, and to come up with ideas and solutions that were novel, and I thought it was just mesmerizing. It turns out that that approach and that innovation is the way he approaches his legislation as well. His values were instilled by him by working-class parents."
Here's the kicker: "Ed has an incredible memory; he will remember your brothers and sisters and where you went to high school, and sometimes I just wonder why he forgets to take out the garbage."
"He is an embodiment of the American dream," she added. "He had never met a lawyer until he went to law school. He'd never been to Washington until he was elected to Congress in 1976. Today, 40 years later, he's one of the most senior members of Congress and as a doctor, I can tell you that he is genetically hardwired for this job. It's a calling. I'm particularly proud that he's been a champion in the fight against climate change. He's been on the Energy and Environment Committee since he started Congress, chaired the Engineering and Commerce Committee; and in 2007, Nancy Pelosi made him the chairman of a select committee on global warming and energy independence. He convened a hundred hearings in 2007-2010 on all aspects of the issue."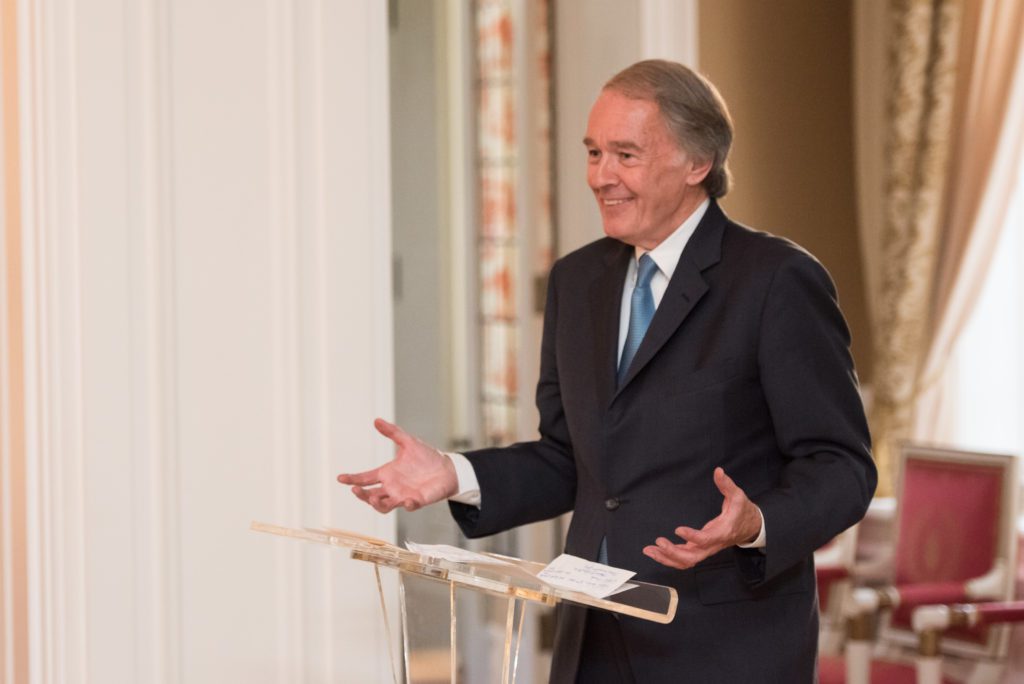 "It works to be married to a public health doctor," said Markey of his wife, "because you do learn lessons from her work.  Amongst other things, you learn that the planet is running a fever and there are no emergency rooms for planets, so you have to engage in preventative care to avoid the worst most catastrophic consequences of what is recognized by the green generation, the kids in our country and around the planet, as the greatest threat to their future long-term. The great Louis Pasteur said that chance favors the prepared mind, and that's what happened in Paris in 2015, December. The French organized for 5 years a meeting of the world on whether or not finally an agreement would be reached, where just about every country in the world would sign on the dotted that they would take responsibility within their own country for the reduction of greenhouse gases, and so we thank you, Mr. Ambassador, for the fantastic work that France did."
"We've come a long way actually, but not all the way on the debate as to whether or not, in fact, the science is non-debatable," Markey concluded. "The debate still rages, deniers still exist, and so the fight goes on, more in our own country than in almost any other place on the planet, mostly because those deniers are well paid to take the positions which they do, but the consequences for the planet are catastrophic."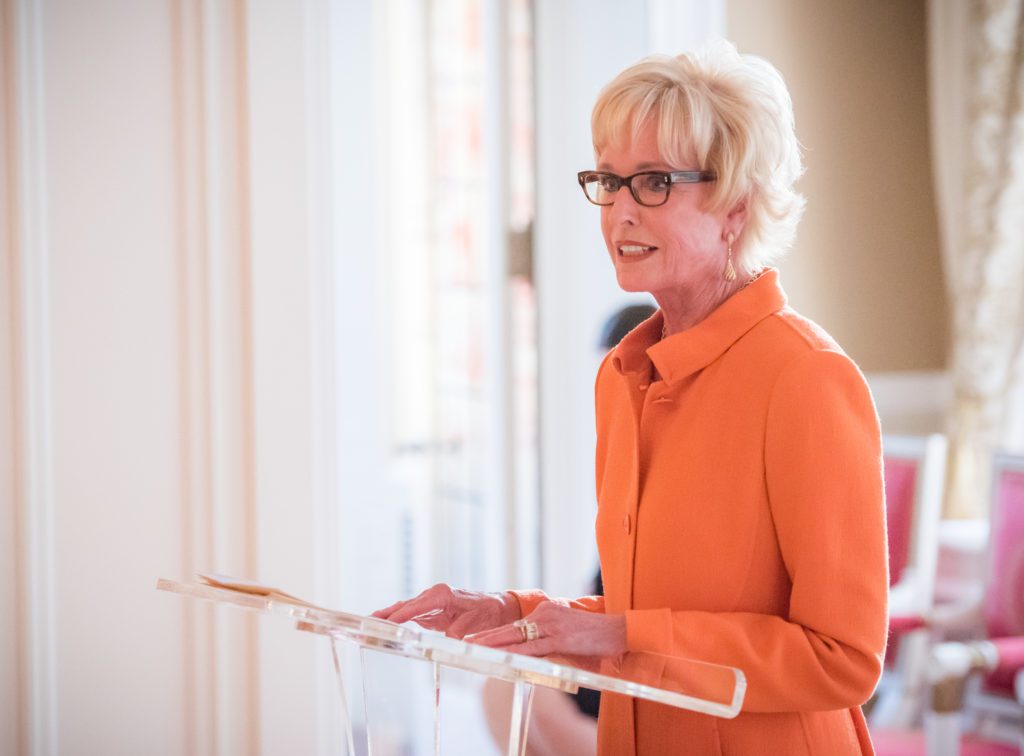 View online: Hollywood on the Potomac