You might not believe it, but most people using digital currency are over 40 years old. Brian Forde, the founder of the MIT Media Lab Digital Currency Initiative made the revelation last Friday, September 30th, during the Institute for Education's INFO Salon on "Digital Currency in Developing Economies" at the Embassy of Afghanistan. Moderated by John Paul Farmer, Microsoft's Director of Technology and Civic Innovation, both H.E. Ambassador Hamdullah Mohib and Forde shared their insights on the way digital currencies such as Bitcoin are transforming developing economies. With thanks to modern day forms of payment, including even Starbucks gift cards, Forde suggests digital currencies are having a significant impact on the way people pay for goods and services in both the developed and developing world.
After a gracious welcome from IFE Founder and CEO Coach Kathy Kemper, Ambassador Mohib discussed some of the many challenges Afghanistan has faced trying to regulate the traditional hawala money-transfer system, which is still much more prevalent than traditional banking. Admitting there is no easy solution for building public trust, one of the ways in which the Afghan government has successfully sought to better regulate the economy is through the use of digital currency. Himself a well-qualified technology expert with a Ph.D., Ambassador Mohib says digital platforms have become the easiest and most cost-effective way for the government to pay teachers and police officers. Farmer prodded the Ambassador to discuss the Afghan government's recent studies of Bitcoin and blockchain technology and how these digital currencies could be used for even non-monetary needs such as identity or vote fraud detection.
Sharing similar optimistic sentiments, Brian Forde suggests Bitcoin is opening up a new realm of possibilities for both business and governments. He and Ambassador Mohib praised the opportunities digital platforms are creating, and suggest digital currencies are just another way our world is becoming increasingly connected. After a series of questions and comments from a number of White House Presidential Innovation Fellows and Robertson Foundation for Government Fellows, it is clear many of country's leading technology experts believe digital currencies are the future, akin to the Internet in the 1990s.
Contributed by IFE Fellow Toby McCarroll
View Event: Photos | Program | Guest List | Tweets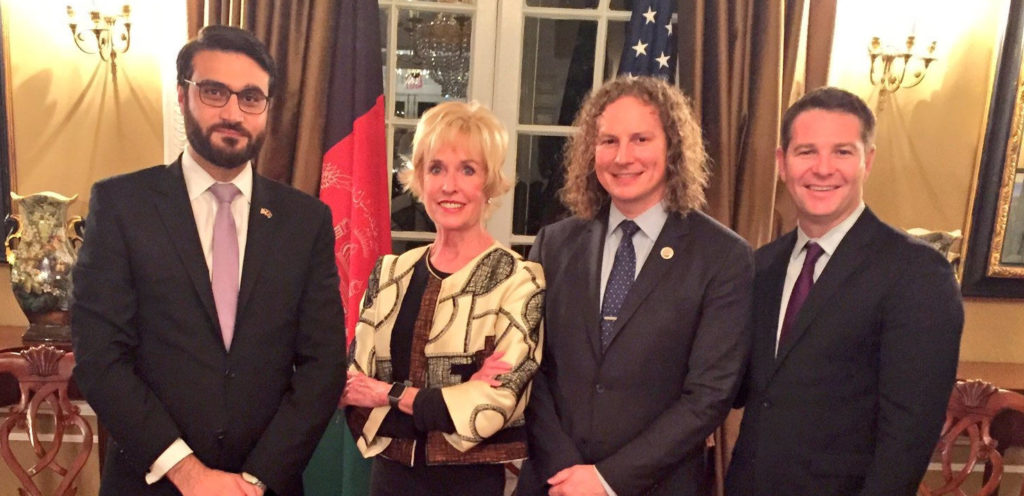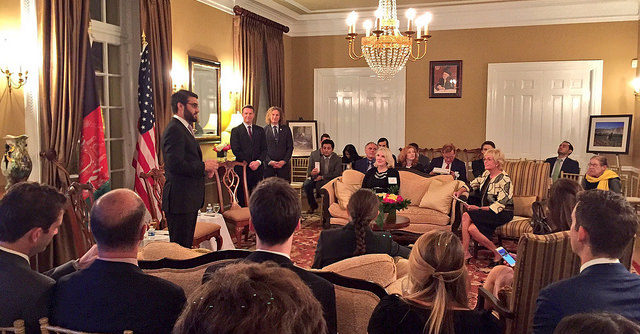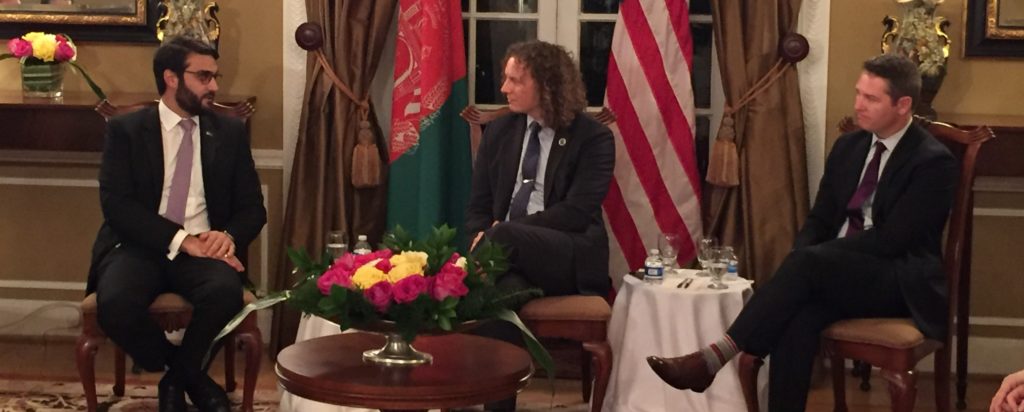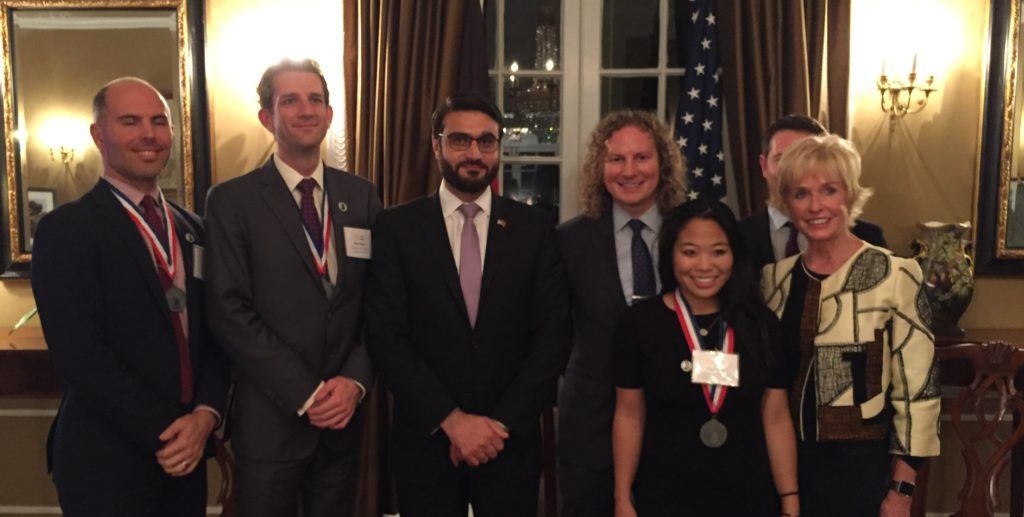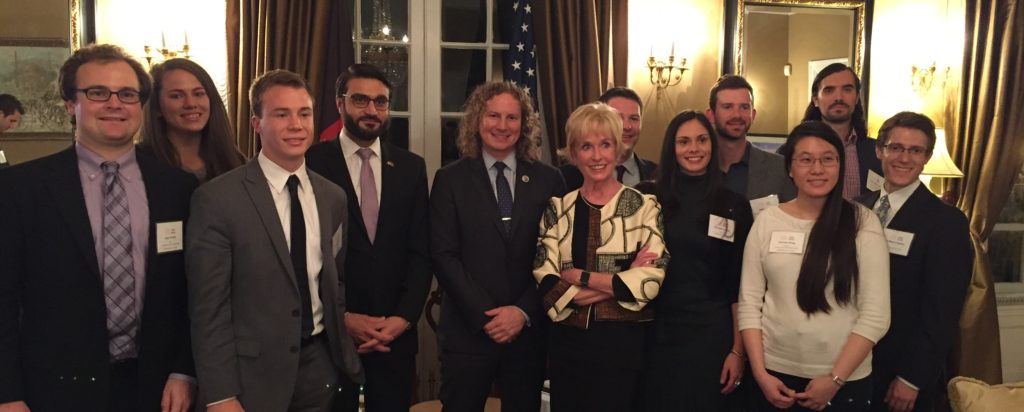 Follow us on Social media: @InstituteForEdu, #IFEinfo; @MediaLab, #Blockchain4SocialGood; @BrianForde; @JohnPaulFarmer; @BlockchainSmith; @HMobib
---
Read: NYTimes: Envisioning Bitcoin's Technology at the Heart of Global Finance: The World Economic Forum predicts that the blockchain concept introduced by the virtual currency could help banks offer cheaper, faster and more secure services.
View: Don Tapscott: How the blockchain is changing money and business: What is the blockchain? If you don't know, you should; if you do, chances are you still need some clarification on how it actually works. Don Tapscott is here to help, demystifying this world-changing, trust-building technology which, he says, represents nothing less than the second generation of the internet and holds the potential to transform money, business, government and society.
---
View info graph: The Bitcoin Economy | Penetrating the Mobil Market
ABOUT OUR PANEL:
John Paul Farmer, Director of Technology & Civic Innovation at Microsoft: John Paul Farmer believes in the combined power of technology and cross-sector collaboration to drive positive change throughout society. As the Director of Microsoft's Technology & Civic Innovation team in New York City, John leads hands-on engagement with governments, non-profits, for-profits, academic institutions, startups, and civic hackers so that they can do more good together than they could apart. Previously, John served as the Senior Advisor for Innovation in the White House Office of Science and Technology Policy, where he spearheaded the President's innovation agenda. Under President Barack Obama, he co-founded and led the Presidential Innovation Fellows program, which attracts top innovators and entrepreneurs from the private sector for focused tours of duty in government, in order to make game-changing progress on projects of national importance. He also served in the Administration as Senior Advisor for Healthcare Reform, working on healthcare information technology such as Blue Button, delivery system reform and economic analyses. Read more.
Brian Forde, Director of Digital Currency at the MIT Media Lab: Brian Forde has spent more than a decade at the nexus of technology, entrepreneurship, and public policy. He is currently the Director of Digital Currency at the MIT Media Lab, where he leads efforts to mainstream digital currencies like Bitcoin through research, and incubation of high-impact applications of the emerging technology. Most recently he was the Senior Advisor for Mobile and Data Innovation at the White House where he spearheaded efforts to leverage emerging technologies to address the President's most critical national priorities. Prior to his work at the White House, Forde founded one of the largest phone companies in Nicaragua after serving as a business and technology volunteer in the Peace Corps. In recognition of his work, Forde was named a Young Global Leader by the World Economic Forum. Read more
Jamie Smith, Global Chief Communications Officer at The Bitfury Group: Smith brings nearly two decades of strategic communications experience to BitFury. Smith has previously served as Executive Vice President overseeing multi-channel media for Edelman Public Relations, Special Assistant to the President, Presidential Spokesperson, and Deputy White House Press Secretary, Director of Public Affairs for the Office of the Director of National Intelligence (ODNI), Communications Director for the Senate Commerce, Science and Transportation Committee and its then Chairman, U.S. Senator John D. (Jay) Rockefeller IV's, Traveling Press Director and Spokesperson for Secretary Hillary Clinton's 2008 President Campaign, Communications Director for Secretary Madeleine K. Albright and The Albright Group, LLC, and Legislative Aide to Congresswoman Nita M. Lowey. Read more about Bitfury.
ABOUT OUR HOST & PANELIST: Before being appointed Ambassador to the United States, Dr. Hamdullah Mohib served as Deputy Chief of Staff to H.E. The President of the Islamic Republic of Afghanistan. The role included oversight of the spokesperson's office, the office of correspondence and diplomatic communications, protocol office, petitions office, and the Presidential Secretariat. During his tenure at the Presidential Palace, his role involved liaison with governmental counterparts and drafting of bilateral and multilateral agreements. Dr. Mohib also engaged in the substantive preparation and implementation of official presidential visits to Azerbaijan, Belgium, China, Germany, India, Iran, Nepal, Pakistan, Russia, Saudi Arabia, Turkmenistan, United Arab Emirates, United Kingdom and the United States as part of the administration's strategy for geopolitical and economic integration. Dr. Mohib led the presidential negotiating team for several inter-government cooperation agreements and the formulation of Afghanistan's national development "Realizing Self-Reliance" reform strategy. Read more