Italian Embassy hosts roundtable on unmanned aircraft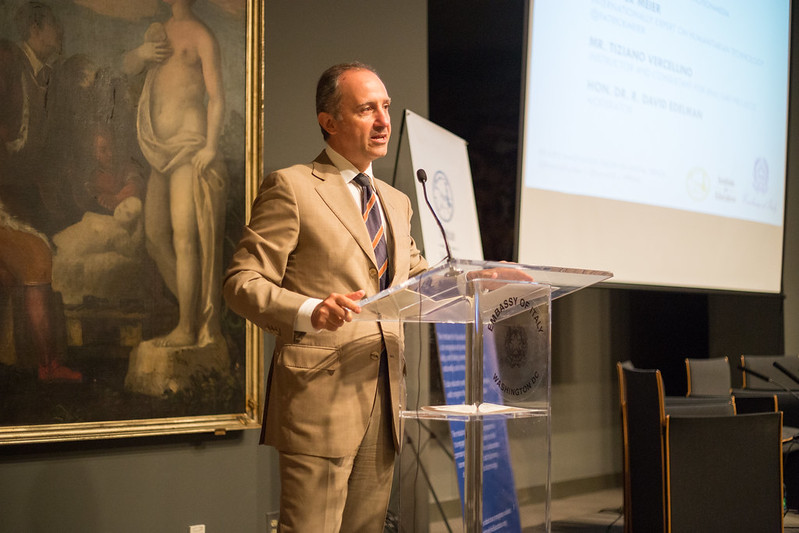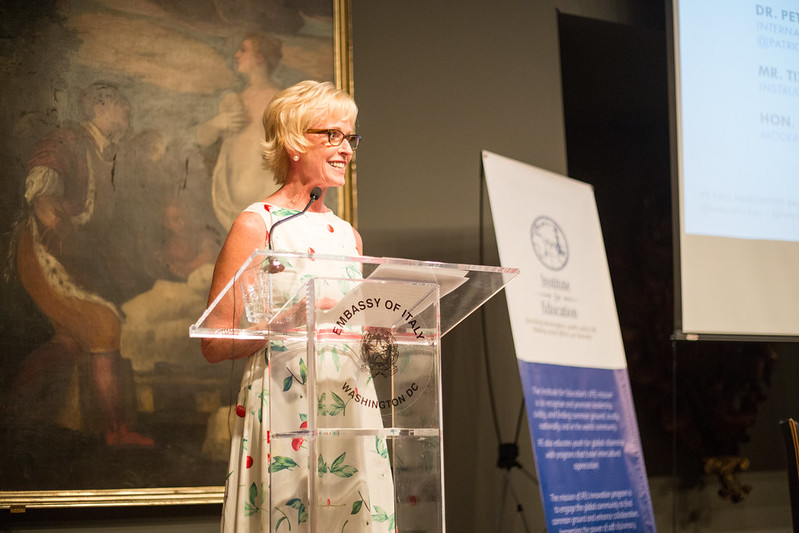 Emergency and humanitarian assistance. Movies with eye-popping special effects. Airmail pizza delivery at your doorstep. The sky's the limit for growth in the commercial drone industry, but what do millions of unmanned aircraft mean for the future of aviation, businesses and societies across the globe?
For one thing, it means millions of enthusiasts will soon own drones.
"The future of drones is tiny, and they're taking our selfies," said drone expert David R. Edelman. "This is really big business."
Edelman is a special assistant to the president for economic technology at the White House Economic Council. Speaking July 11 at the Italian Embassy, he was several experts to participate in a discussion titled "The Drones are Coming."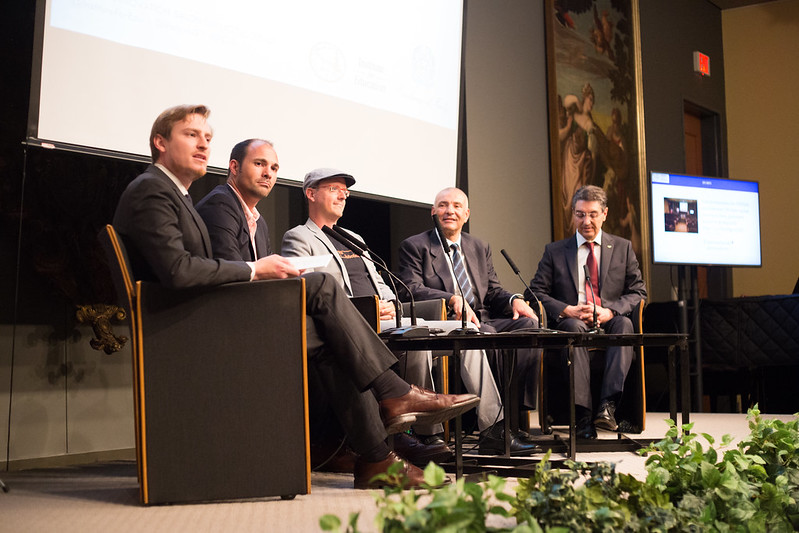 Sponsored by the Washington-based Institute For Education, the event highlighted recently finalized Federal Aviation Administration regulations that, in August, will formally allow for the limited business and governmental use of drones weighing less than 55 pounds. Pilots must be screened and safety-tested by the FAA; their drones are limited to altitudes of 400 feet in unpopulated areas, and only during daylight hours.
"It is good to look into it, to see the opportunities, the challenges," Italian Ambassador Armando Varricchio told the audience, joking that the drone used for a brief flying demonstration inside the embassy would be put to good use. "This will give me an opportunity to have an overview of my embassy colleagues."
The FAA estimates that the new rule could generate at least $82 billion for the U.S. economy and create more than 100,000 new jobs over the next decade. The global drone market could jump from $2 billion today to $127 billion by 2020, according to consulting firm PWC.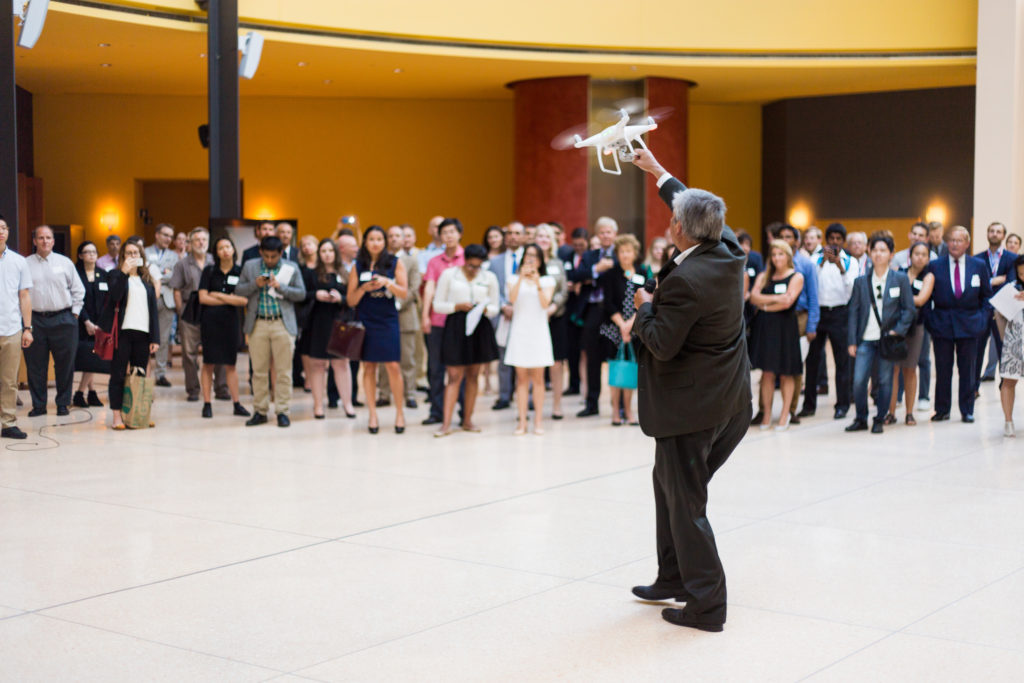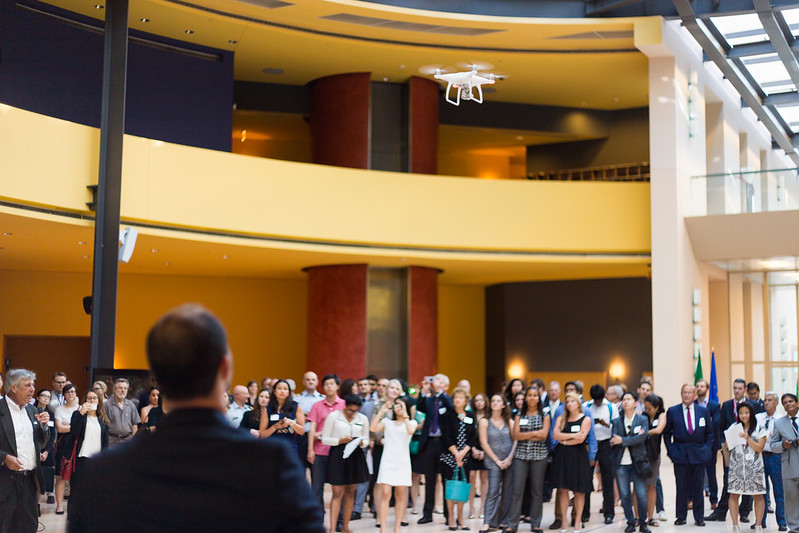 But a ballooning industry also means increased security risks.
"You have a million drones flying in the United States now," said Pisan Manawapat, Thailand's ambassador in Washington. "Citizens have legitimate concerns. This one million drones will expand into millions in different parts of the world. If some of those million owners should want to drop instead of a parcel, but a little bomb… If someone flies a drone or quite unintentionally flew a drone into the engine of a commercial aircraft taxying, taking off or landing… If [a] drone was deliberately dropped into an oil tanker… If a drone is fit with a gun, it could be a weapon for assassination."
Last year, Shawn Usman, a scientist with the National Geospatial Intelligence Agency, crashed a drone on the White House lawn, resulting in headlines around the world. From 2013 to 2015, the FAA logged 327 incidents of drones flying close to piloted aircraft in the United States, prompting it to require federal registration for all drone pilots.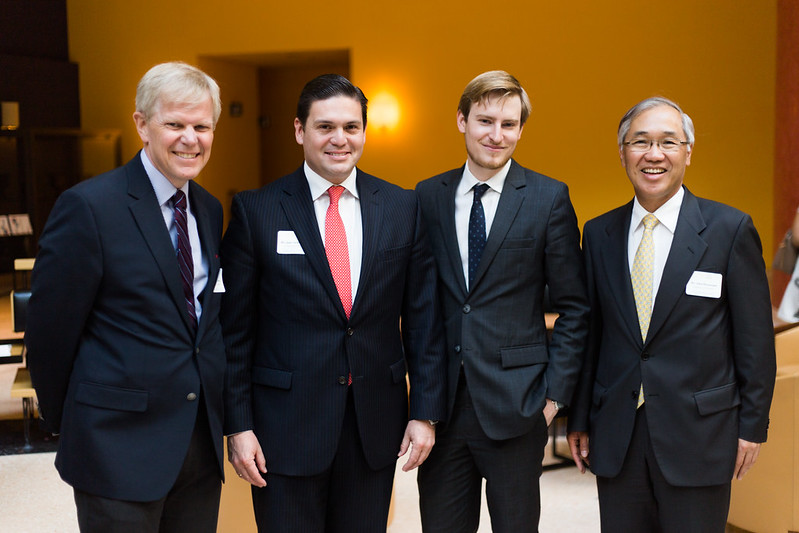 Sergio Barocchetti, the project manager with the Italian company Elytron Aeronautica, said countries will have to adopt signal jamming and geo-fencing to prevent unwanted drones —a challenge to poor countries with limited resources.
"I know we are a little bit scared about life with drones, but we were scared also about our life with cars," said Barocchetti. "So, we have to learn."
Ryan English, president of FlyMotion Unmanned Systems, said that drone aviation is "the fastest growing tech industry out there," and that "in this country, for example, there's a lot of agencies that aren't awarded the opportunity to have a helicopter for any type of response, and they [can] now put up a drone and within five minutes have live-streaming video capabilities on the scene, which is phenomenal."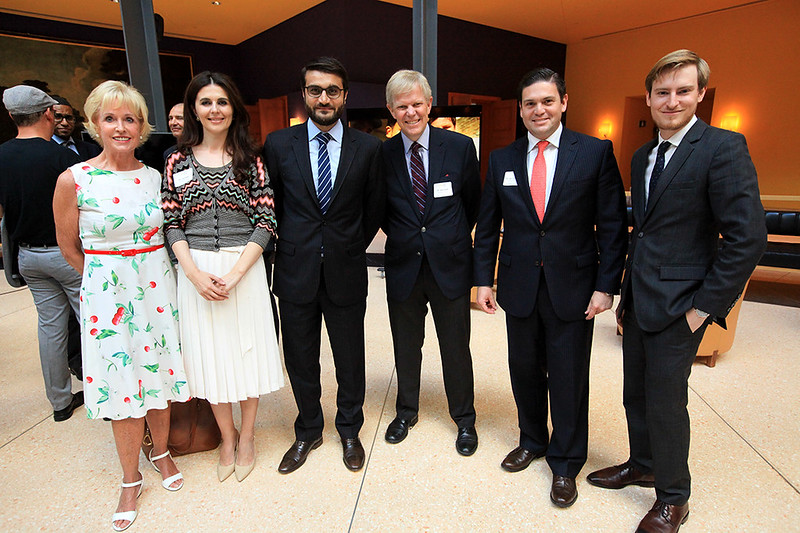 Patrick Meier, an international expert on humanitarian technology, said drones will be instrumental in future disaster relief missions.
"London this month is doing hundreds of drone flights per week to 21 different blood transfusion clinics across the country to literally save lives of young boys and girls," Meier said, adding that intelligent and autonomous systems will define the next 10 years of drone development.
"It's not just a drone revolution," he said. "That's why we tend to use 'aerial robotics' more than 'drones' because the field that's exploding here is autonomous robotics… The aerial robots are talking to the maritime robot talking to the driving robot. I think that's where we're headed."