To celebrate the milestone of its 25th season, the Institute for Education held a special INFO Salon featuring U.S. Supreme Court Justice Stephen Breyer and U.S. Chief Technology Officer Megan Smith on Thursday December 1st. The conversation was hosted at the 1924 Georgian Revival-style of UNESCO Goodwill Ambassador Esther Coopersmith and was attended by 17 Ambassadors, Presidential Innovation Fellows, past speakers , members of the media and IFE leadership.
After a quarter century, IFE's flagship program, INFO, has become a Washington, D.C. institution. INFO's have hosted over 300 speakers, including Ambassadors, Cabinet Secretaries, Nobel Laureates, Pulitzer Prize Winners, Members of Congress and Supreme Court Justices, Secretary of State, Vice-President, Governors, a Miss America, a Maestro, among many other distinguished and notable guests.
The 25th Anniversary INFO was a particularly timely conversation about innovation in an interconnected world, featuring the distinguished thoughts of Justice Breyer, author of "The Court and the World," and Megan Smith, the third person to hold the title of CTO in the White House.

"If I don't know something about what's happening abroad, I can't do my job," Justice Breyer said, noting that legal cases about the economy, civil rights, the economy, terrorism and commerce cross international boundaries.
Technology has played an accelerating role in this change.
"There is an odd stereotype that there are tech people and non-tech people, but we all need to understand tech," Megan Smith said.
Current and formers Presidential Innovation Fellows were in attendance, including PIF co-founder and IFE Emerging Markets Roundtable Founder John Paul Farmer, representing what Smith described as the "new Washington showing up."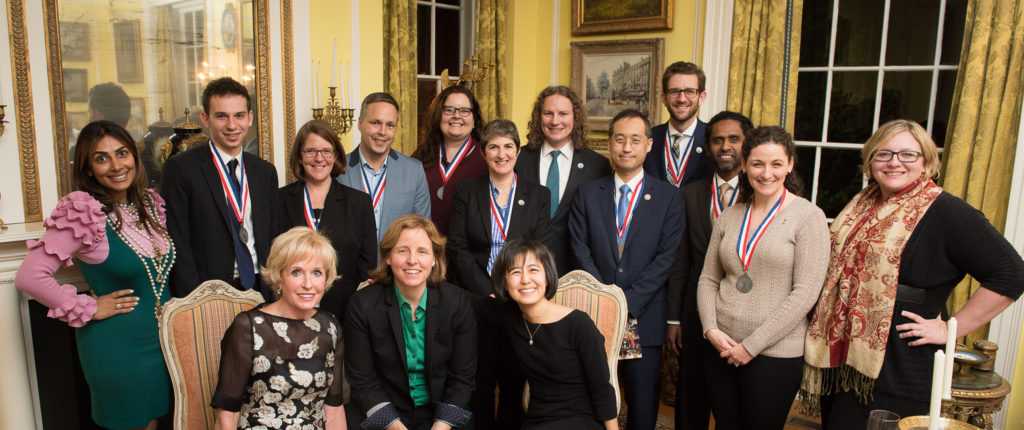 Also in attendance Professor Dr. Jeff Miller, founding Camp Director at the University of Southern California Viterbi School of Engineering. Dr. Miller directs the free summer coding camp, CS@SC, for underrepresented student populations, and two of the all-star campers spoke about how their experience has already made a profound impact on their lives. IFE is proud to be the founding partner of this free program.

Thank you to IFE leadership for their support of the 25th Season of the Institute for Education, especially Jim Valentine, IFE Trustee and Co-Founder, Dr. Amy Geng, IFE Innovation Steward, John Paul Farmer, IFE Emerging Technology Roundtable founder, Shane Green, IFE Trustee and Media and Technology Founder, and Devika Anand Patil, IFE Digital Ambassador.
The mission of the Institute for Education is to engage the global community to find common ground and collaboration, harnessing the power of soft diplomacy, data, innovation, and technology.
Submitted by Chris Golden, IFE Digital Innovation Fellow. | Photos by Kevin Allen
View Event Photos | Invitation | Program Journal | Guest List
  Top Tweets: Ambassador Wolfgang Waldner (Austria) | PIF Jackie Kazil | PIF Co-Founder & IFE EMR Co-Founder John Paul Farmer
View our 25th Season Celebration Video Round-up (extended and short versions)