"We must harness new ideas and technology to remake our government" – President Barack Obama, 2nd Inaugural Address, January 21st, 2013
Harnessing the most innovate ideas and technology – and the most innovative ideators and technologists – is a key mission of the Institute for Education.
It's what we do.
In July, we held our Third Annual Innovation Cook Out at the historic Congressional Country Club in Bethesda, Maryland, with a robust turnout of innovators from around the globe, who came together in support of IFE's culture of community, friendship, fun and family.
IFE understands that we need more applause, recognition, cheering and celebration of the women and men that are leading the way innovative how citizens engage with their government. All the while, their ideas, and work are saving taxpayer money, fueling job creation and – most importantly – building the culture of entrepreneurship and innovation within government itself.
As former U.S. Chief Technology Officer and Senior Advisor to the President Todd Park exclaimed, "All the guests are compounded awesome with compounded awesomeness!"
The mission of IFE's Innovation Program is to engage the global community to find common ground and to enhance collaboration, thereby harnessing the power of soft diplomacy, data, innovation, and technology. IFE continues to nurture the culture of an innovation community by providing forums and gatherings that encourage collaborative bonds, such as the annual Innovation Cook Out.
Todd Park and John Paul Farmer, the co-founders of the Presidential Innovation Fellow program, congratulated the PIF Class of 2015, who were recognized for their incredible work.
The Institute for Education continues to celebrate this community of innovators who are building a culture of consumer-facing government services that are improving the user experience and reliability of digital government – from health care to immigration, to veterans' benefits.
Congratulations to the PIF Class of 2015: Steven Babitch, Adam Bonnifield, Ross Dakin, Erren Lester, Kate McCall-Kiley, Josh Paterson, Amy Wilson, and Alex Pelletier.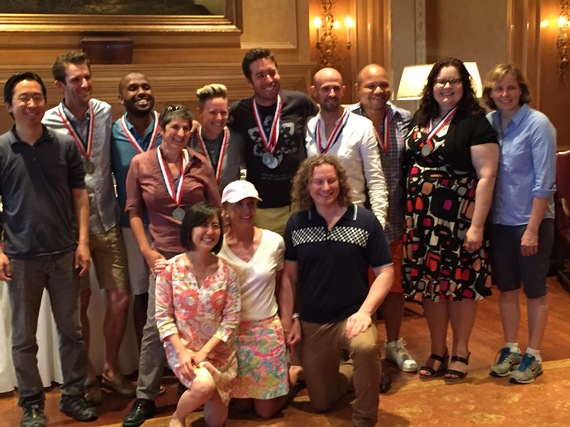 The following PIFs were awarded special honors for their efforts that went above and beyond their call to duty:
Eric Daimler, Alex Pelletier, Ross Dakin (PIF 2015)Institute for Education Award for Outstanding Diplomatic Engagement
Jackie Kazil and Sokwoo Rhee (PIF 2013) Institute for Education Award for Distinguished Service
Tyrone Grandison (PIF 2014)High Impact PIF Alumni AwardDhanurjay 'DJ' Patil IFE Award for Data Diplomacy
The IFE Innovation Program would not be possible without the support of IFE Innovation Steward, Amy Geng, MD, and IFE Digital Ambassador Devika Patil and the vision of the Presidential Innovation Fellows co-founders, Todd Park and John Paul Farmer.
Posted by Kathy Kemper, IFE Founder and CEO | Huff Post | 09/07/2016 10:06 am ET
View: Article online