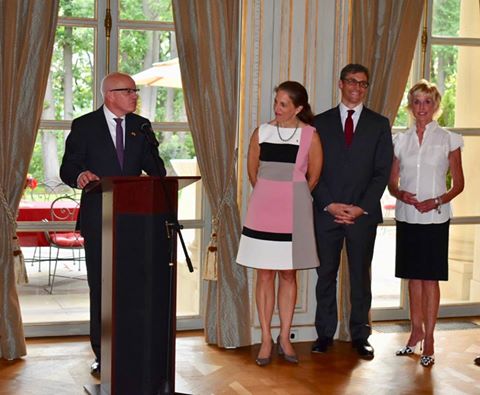 The Ambassador of the Kingdom of Belgium, H.E. Dirk Wouters and Mrs. Katrin Wouters hosted a welcome to the neighborhood party for the new American University President Sylvia Mathews Burwell, former Secretary of the United States Department of Health and Human Services (HHS), at their Foxhall Road residence on Thursday evening.
Ambassador Wouters gave opening remarks discussing the mysteries behind the location of Universities, questioning why the oldest University in the world is in Morocco, and why one of the youngest is in The Bahamas. Referring to the placement of American University, however, the Ambassador said, "like my own country, this neighborhood is small, but so great."
President Burwell thanked Ambassador Wouters for his welcome and shared her excitement starting as the new President of the University. With less than a month under her belt in her new role, the President joked that the responsibility was like "drinking water from a fire hydrant," but added, "with lovely people."
As American University is home to students from over 120 countries, Coach Kathy Kemper, Founder & CEO of the Institute for Education, invited Ambassadors to toast their welcomes in their native languages. Ambassadors from Afghanistan, Austria, Belgium, Cyprus, Kazakhstan, Liechtenstein, and Switzerland all raised their glasses to wish the new President luck in her new role.
Former National Security Advisor Susan Rice and husband Ian Cameron, Former Secretary of Housing and Urban Development Alphonso Jackson and Mrs. Jackson, journalists Greg Myre, Al Hunt, Jan Smith, and author Ali Wyne were also some of the other guests that joined in welcoming President Burwell to the neighborhood.
IFE Fellows and Interns with American University President Sylvia Burwell.