In an era of hyper-partisanship and political gridlock, at least one common initiative unites the Trump and Obama White House: advancing American leadership by embracing technology and innovation in government. Trump's Office of American Innovation (OAI), led by Jared Kushner, Reed Cordish, Matt Lira, and Rob Cook, aims to continue and further the efforts launched by previous U.S. Chief Technology Officer (USCTO) Todd Park and the co-founder of the Presidential Innovation Fellows (PIF) program, John Paul Farmer. Their collective efforts, directed at advancing and modernizing government IT infrastructure, are not merely anecdotal—the most recent Trump budget calls for greater funding for the Technology Transformation Service and continued funding of the United States Digital Service.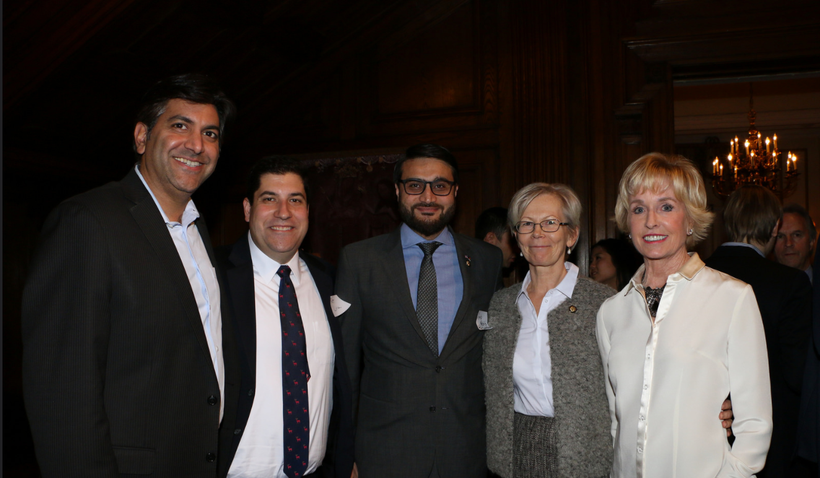 Aneesh Chopra, Matt Lira, Ambassador of Afghanistan, Dr. Hamdullah Mohib, Ambassador of Finland, Kirsti Kauppi, Coach Kathy Kemper. Photo Credit: Emma Shetter
---
"We all want a government that works – and despite legitimate policy differences on what we wish our government to do, executing on that vision in the most effective and efficient manner is an area for bipartisan cooperation. The Institute for Education (IFE) is at the forefront of bringing us all together in pursuit of this effort," says Aneesh Chopra, first USCTO. Digital commerce, robotic process automation, and artificial intelligence are all here to stay, and the United States must be at the forefront of these and other technologies in order to remain a global superpower.
All of the above efforts are headlined by the TALENT Act, a truly bipartisan effort, backed by House Majority Leader Kevin McCarthy (R), and signed into law by President Obama. According to the legislation, the bill "codifies…the Presidential Innovation Fellows Program…to encourage successful entrepreneurs, executives, and innovators to join the government and work in close cooperation with government leaders to create meaningful solutions that can help save lives and taxpayer money, fuel job creation, and significantly improve how the government serves the American people." The American people, as the customers of the government, should be able to interface and interact with federal agencies in a user-friendly manner. And while the PIF movement continues to gain traction within the government more broadly, its efforts are gaining ever greater recognition. Ben Willman, a former Presidential Innovation Fellow himself, was recently named Director of the PIF program where a new cohort of PIFs will be starting their tours of duty soon. By bringing together leaders from the private sector, tech policy, designers, and innovators—the potential to streamline government services, bring government closer to its citizens, and reduce long-term personnel cost through technology can bring together even the most divisive of critics. Whether you want to "Make America Great Again" or are looking for "Change We Can Believe In"—everyone can agree that embracing technology and innovation in government works for the better of the United States.
Kathy Kemper, Contributor | 08/17/2017 05:38 pm ET
View online: Digital Bipartisanship, Huff Post, by Kathy Kemper, August/2017