Former U.S. Chief Technology Officer Megan Smith with IFE Founder and CEO Coach Kathy Kemper
On Sunday, July 30 the best minds from tech in government gathered at the historic Congressional Country Club for the 4th Annual Institute for Education Innovation Cookout. A highlight of the gathering was Coach Kathy Kemper, IFE Founder and CEO, being 'coined' by the three former U.S. Chief Technology Officers Aneesh Chopra, Todd Park, and Megan Smith – a unique honor reserved only for those who have demonstrated trailblazing work in their field. The Office of Science and Technology Policy coin chosen by the CTOs included the Great Seal of the United States and an etching of Rear Admiral and female tech icon Grace Hopper, a fitting choice. Todd Park dubbed Coach Kemper "the beating heart and binding life force" of the Presidential Innovation Fellow (PIF) program.
The evening included a recounting of how the PIF program was set into law in the last hours of President Barack Obama's term. This victory for tech in government would not have been possible without the heroic work of John Paul Farmer and others, who helped track down the TALENT Act and get it to the President in the final hour of his second term. For their work on the Act and PIF program, Special Assistant to the President for Innovation Policy and Initiatives, Matt Lira, and Commissioner of the Technology Transformation Service and Academy Award Winner, Rob Cook, were decorated with PIF pins. The afternoon also celebrated graduating PIFs Bob Ballance, Dr. Amrita Basu, Eric Daimler, Wendy Harman, Patrick Koppula, and Clara Tsao. PIF Amy Wilson was also awarded a trophy for International Participation in Innovation.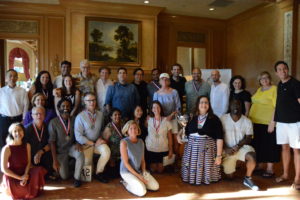 Also in attendance were H.E. Dina Kawar of Jordan, Chairman of the FCC Ajit Pai, U.S. Department of State Deputy Chief of Protocol Rosemarie Pauli, Kaivan Shroff, John Arundel, Kevin Chaffee, Ross Dakin, Joel and Kelly Minton, Jackie Kazil, Erren Lester, David Naffis, Steven Babitch, Ben Willman, Gajen Sunthara, Derek Frempong, Alison Rowland, Suhas Subramanyam, George Zaidan, Tajha Chappellet Lanier, and the new Commissioner of Mayor Bowser's DC Apprenticeship Council Quenton Horton. Thank you to hosts Todd Park, IFE Innovation Steward Dr. Amy Geng, IFE Founder and CEO Coach Kathy Kemper, and John Paul Farmer.
An enormous thank you to David Naffis, Seamus Kraft, Steve Babitch, Kelly and Joel Minton, George Zaidan, Ross Dakin, and Zachary Smith who donated via Venmo to the Institute for Education in support of CS@SC, sending more underrepresented kids to IFE's free coding camp at the University of Southern California. It's not too late to contribute and every little bit helps! To make a contribution, please Venmo us @InstituteforEdu. 
Contributed by Emily Lovell, Tech in Gov Program Director
Photos by Nathalia Penton, Institute for Education Fellow