On November 27th, the Afghan Embassy and the Institute for Education​ hosted an intimate, on-the-record conversation between Washington Post columnist and CNN political analyst Josh Rogin and His Excellency Dr. Hamdullah Mohib, who was appointed to serve as Afghan ambassador to the United States at just 32. The distinguished audience included several ambassadors, former U.S. government officials who have worked on Afghanistan policy, Presidential Innovation Fellows, and IFE leadership.​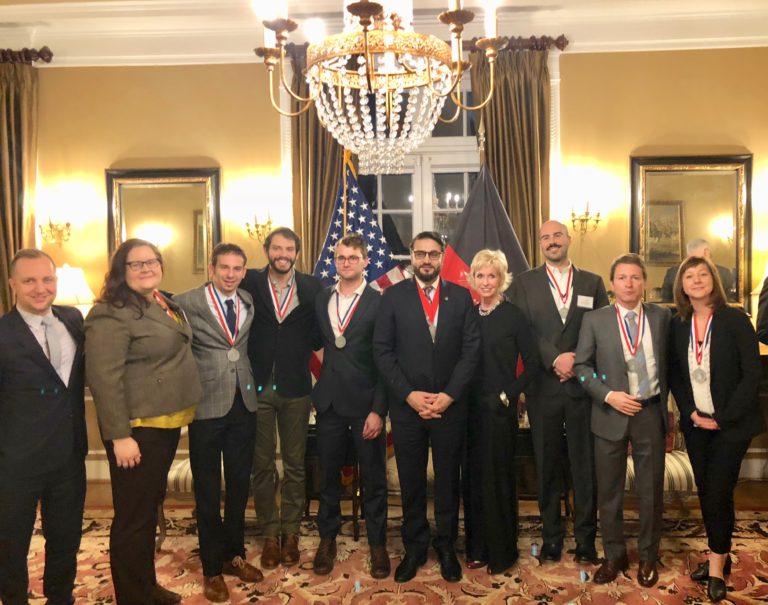 Mr. Rogin asked the ambassador to offer his assessment of the Trump administration's Afghanistan strategy and to summarize the challenges confronting his country.  The Special Inspector General for Afghanistan Reconstruction stated in late October that the Taliban now controls or contests some 43 percent of the country's districts, up from roughly 40 percent six months earlier.  Meanwhile, opium production in Afghanistan reached a record level this year.  Mr. Rogin also wondered whether, after 16 years of war, Americans could continue to be persuaded that it was in their national interest to continue fighting there.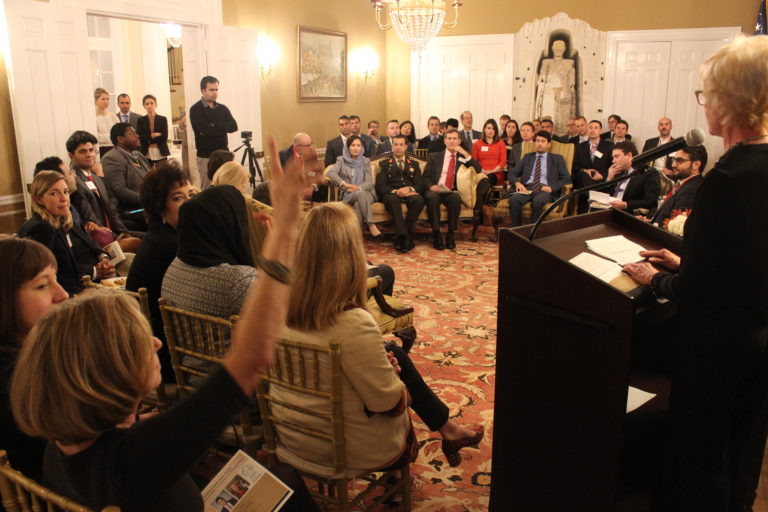 While acknowledging these concerns, Ambassador Mohib stressed that observers who seek a complete picture of Afghanistan's evolution must go beyond the headlines.  In April 2014, for example, despite threats of Taliban violence, Afghans turned out in impressive numbers to vote in presidential and provincial elections.  That September, moreover, with the swearing in of Ashraf Ghani, Afghanistan witnessed its first democratic, peaceful transfer of power.  And despite the enormous hardships they continue to experience, women have made significant strides in recent years.  The ambassador citedAfghanistan's girls' robotics team, which competed in the U.S.-based FIRST Global Challenge despite having been denied entry to the country on two occasions.  Just a week ago, it won the entrepreneurs challenge at the Robotex festival in Estonia, the largest event of its kind in Europe.  Ambassador Mohib gave many other examples in his vein, trying to demonstrate that while Afghanistan's challenges are undeniable, so, too, is the progress it has made and continues to achieve.
Guests came away with admiration, hope and impressed with this young democracy and how critical it is to the United States and other democracies.​
---
About our guest speaker:  Before being appointed Ambassador to the United States, Dr. Hamdullah Mohib served as Deputy Chief of Staff to H.E. The President of the Islamic Republic of Afghanistan. The role included oversight of the spokesperson's office, the office of correspondence and diplomatic communications, protocol office, petitions office, and the Presidential secretariat. During his tenure at the Presidential Palace, his role involved liaison with governmental counterparts and drafting of bilateral and multilateral agreements. Dr. Mohib also engaged in the substantive preparation and implementation of official presidential visits to Azerbaijan, Belgium, China, Germany, India, Iran, Nepal, Pakistan, Russia, Saudi Arabia, Turkmenistan, United Arab Emirates, United Kingdom and the United States as part of the administration's strategy for geopolitical and economic integration. Dr. Mohib led the presidential negotiating team for several inter-government cooperation agreements and the formulation of Afghanistan's national development "Realizing Self-Reliance" reform strategy. Dr. Mohib has a PhD and Bachelors degree with honors from Brunel University in the United Kingdom. The university honored him with an award for social and cultural contributions to campus, and a research scholarship to pursue a Doctorate of Philosophy. Before joining the government, Dr. Mohib worked for the American University of Afghanistan and Intel Corporation. Dr. Mohib has been an active leader in civil society among the global Afghan community. He founded the largest Afghan diaspora youth association in Europe, the Afghan Students Association of the UK. He also founded and served as Chairman of the Board for the Afghan Professionals Network (APN). As part of APN, he started a think-tank "Discourse Afghanistan", and initiated community service programming to support special needs orphans in Kabul, and to recognize achievements of Afghan women.  Dr. Mohib is fluent in English, Pashto, and Dari, with proficiency in Urdu/Hindi. He is a published writer on Afghan politics, as well as on academic research. Follow the Ambassador on Twitter and Facebook
---
About our Interviewer:  Josh Rogin is a CNN political analyst, as well as a columnist on foreign policy and national security for Bloomberg View and the Washington Post. Previously, Rogin has covered foreign policy and national security for Newsweek, The Daily Beast, Foreign Policy, The Washington Post, Federal Computer Week and Japan's Asahi Shimbun. His work has been featured on CNN, FOX, MSNBC, ABC, NBC, NPR, PBS, and several other outlets. Rogin was a 2011 finalist for the Livingston Award for Young Journalists and the 2011 recipient of the Interaction Award for Excellence in International Reporting. Rogin holds a BA in international affairs from the George Washington University and studied at Sophia University in Tokyo, Japan. He is based in Washington, DC. Follow Josh on Twitter and Instagram @joshrogan
---