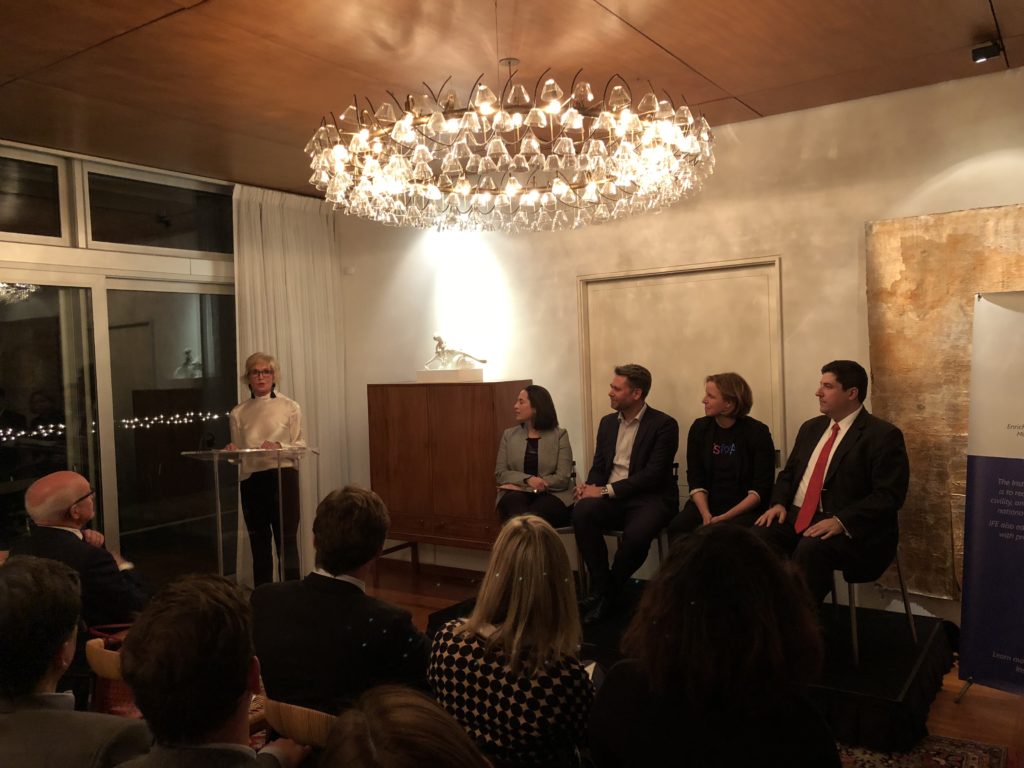 On December 4th, powerhouses in the Tech-in-Gov space joined the Institute for Education for a lively discussion at the Danish Embassy. Our host Ambassador Lars Gert Lose opened by introducing Denmark's Tech Ambassador, Ambassador Casper Klynge – the first Tech Ambassador in the world. Ambassador Klynge was joined by former U.S. CTO Megan Smith and Special Assistant to the President Matt Lira in a panel moderated by POLITICO's Nancy Scola. (Smith donned an incredibly timely #CSforAll T-shirt, in celebration of CS for All Week – a cause near and dear to IFE's mission.)
Excellent tech-talk on opportunities as well as challenges in the exponential age. Great having @smithmegan @nancyscola & @MattLira45 participate! And thx @CoachKemper + @DKambUSA for organizing! @KaivanShroff @InnovFellows #TechPlomacy 🇩🇰🇺🇸 pic.twitter.com/rBpQLJDgBl

— Casper Klynge (@KlyngeC) December 5, 2017
The conversation began with Scola asking Ambassador Klynge to reflect on the novel concept of a tech-diplomat and discuss key takeaways from his role so far. The Ambassador articulated commitment to public-private partnerships a number of times – a key aspect of his position. He works closely with private companies in Silicon Valley. The rest of the panel chimed in on the concept of a Tech Ambassador, with Megan Smith emphasizing a great need for this type of representative: someone who can convene and listen. Smith recently founded Shift7, an organization focused on inclusion and collaboration in tech and across sectors. Matt Lira offered insights into how the current Administration views the need for Tech: Tech-in-Gov initiatives should be maintained for decades, not just any given 4-year presidential tenure. Ambassador Klynge told the audience that 94% of Danish citizens' engagement with their government occurs digitally – a stunning statistic for those used to paper forms! The Institute for Education's Founder and CEO Coach Kathy Kemper then opened the forum up to questions from the audience. Rob Cook, an Academy Award winner who now serves as Deputy Commissioner of the Federal Acquisition Service and Commissioner of Technology Transformation Systems asked the panel about efforts to deliver modern, digital, government services to more rural parts of the United States. Matt Lira concluded the discussion by sharing a charming anecdote about two artifacts he keeps in his office – an hourglass and a baton. The hourglass reminds him that time moves quickly – and that he must make the most of the opportunity to serve his country in this capacity as Special Advisor to the President. The baton symbolizes that, while any number of things may be a priority day-to-day, the work of digital government, but also public service in general, is continuous and must be passed on to the next generation of leaders in good condition.
My pleasure! Fantastic panel - thx @DKTechAmb, @MattLira, @smithmegan & @nancyscola for the inspiring talk about #techambassador and #techplomacy. Always great to work with @InstituteForEdu and @CoachKemper https://t.co/NpxKCtvhEq

— Lone Dencker Wisborg 🇩🇰 (@DKambUSA) December 5, 2017
After the panel's deep-dive into how governments across the globe are working to deliver better services through tech-driven innovation, the Institute for Education's guests enjoyed cocktails and specialty cuisine at the Residence of Ambassador and Mrs. Lose. The unique group of attendees ranged from the IFE Diplomatic Steward, Ambassador Dirk Wouters, Kingdom of Belgium, to Presidential Innovation Fellows, White House and Capitol Hill digital glitterati, to entrepreneurs – all coming together for a wonderful denouement to the evening.