by John Paul Farmer
When it comes to bridging divides and connecting people across borders, sports and culture have long played important roles in diplomacy. For generations, the Olympic Games have brought people of different nationalities and different political persuasions together on the field of play. The 20th century saw Hollywood and the American entertainment industry develop into invaluable ambassadors for the United States.
Now, in the 21st century, there is a new diplomatic lever: technology.
During the first week of his second term as President of the United States, Barack Obama sat down in the Roosevelt Room with me and 18 Presidential Innovation Fellows to discuss the impact technology was starting to have inside government. In just a matter of months, the PIFs had proven that a so-called Silicon Valley approach could be effective in the public sector too. Standing in the Oval Office, the President put his arms around the "PIFs," as they came to be known, and smiled wide as photographer Pete Souza snapped away. The moment marked an early milestone and a harbinger of the change that was to come in the U.S. and around the world.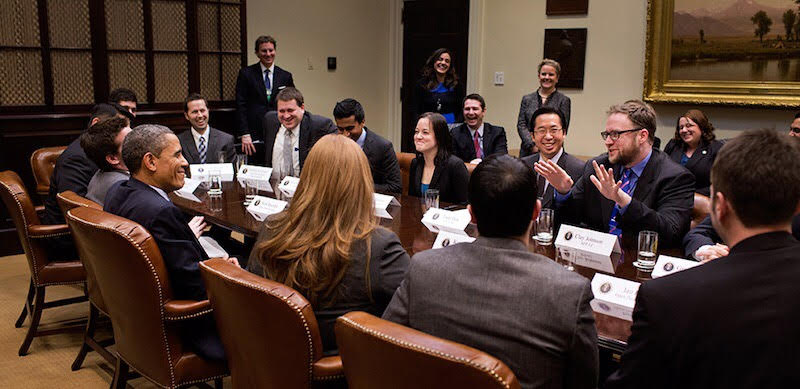 None of us knew at the time that just four years later the PIF program would be enshrined in bipartisan law, hundreds of technologists would have left highly paid private sector jobs to infuse Washington with such a sense of possibility that the incoming administration – despite having won election on a platform very much opposed to the Obama era – would enthusiastically adopt the digital government revolution that had begun under its predecessor. At a time in which common ground is hard to find, technology has emerged as an area in which agreement occur. Diplomacy isn't merely needed between countries; diplomacy is needed between any groups that are otherwise divided…which would include political parties.
Longtime Washington mainstay Coach Kathy Kemper was quick to recognize the importance of the transformative power of technology in government and the impact it could have on diplomacy. Coach Kemper, through the Institute for Education (IFE) that she founded and leads, has injected technology into the non-profit's mission of building common ground. As Coach Kemper puts it, "Having gotten to know great thinkers on and off the tennis court across six Presidential Administrations, I learned to spot a good thing when I see it. Tech is the new 'common ground' playing field. What was missing from the 'tech in gov' movement was a convener to start a conversation across party lines – and that's exactly what the Institute for Education does."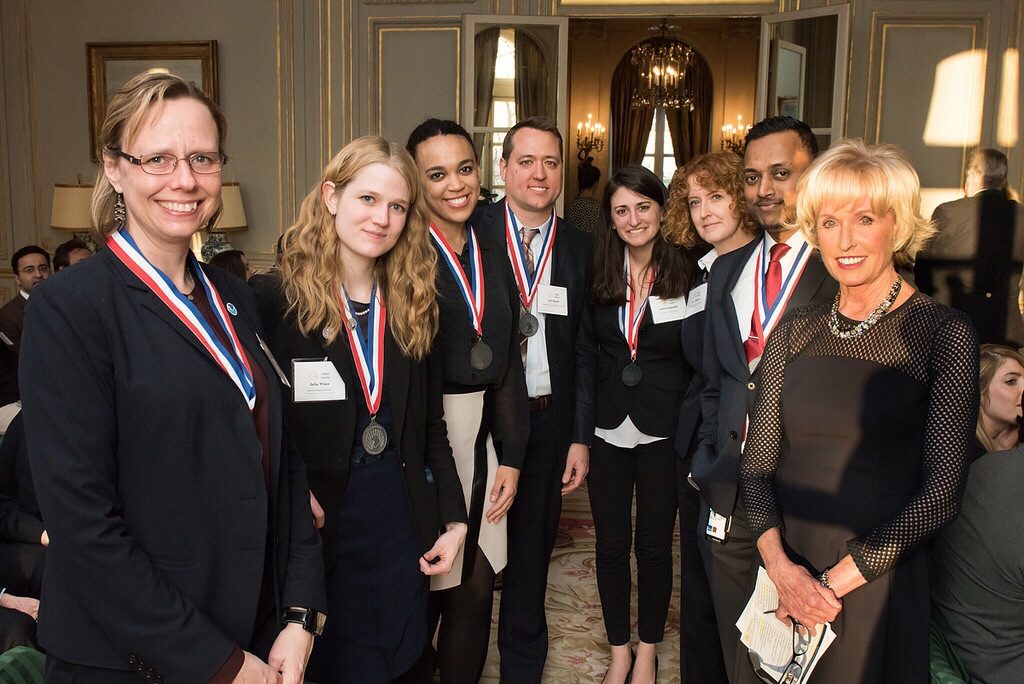 Under President Obama, a wave of tech and innovation activity was ignited. The Presidential Innovation Fellows, 18F, and the U.S. Digital Service are the highest profile of the initiatives, having gained notoriety on magazine covers such as Wired and Fast Company. Perhaps less well known, various agencies made incredible leaps forward, with examples including USAID's Global Development Lab, OPM's Innovation Lab, and HHS' Entrepreneurs-in-Residence program. But it is critical to understand that these innovative leaps forward were non-partisan in nature. The infusion of technology to drive better governance has been championed from political leaders across the ideological spectrum, including Rep. Kevin McCarthy (R-CA), Rep. Steny Hoyer (D-MD), Sen. Cory Booker (D-NJ), and Sen. Richard Lankford (R-OK). Longtime advocates for "tech in gov," such as Matt Lira – a onetime digital guru for Congressmen who is now serving as Special Assistant to the President for Innovation Policy and Initiatives – are ensuring that the good work of technologists in government knows no party, but serves the needs of the citizenry.
As the United States dove headfirst into government innovation, other countries did too. In the United Kingdom, the Government Digital Service has gotten rave reviews. The Mexican president stood up the Agentes de Innovacion. In France, the newly created Entrepreneurs d'Interet General are tackling audacious challenges across the public sector. But one of the very first countries to make a bet on the transformational potential of digital technologies was the small Northern European nation of Estonia. When Estonia emerged from behind the Iron Curtain, the country realized that it lacked the people power to do the work of state manually. So the newly free country created a digital technology backbone known as e-Estonia, leading Wired to call Estonia "the most advanced digital society in the world." It was in this environment that the popular communication platform Skype was born in Estonia (disclosure: Skype is now part of Microsoft, where I work). Recently, Estonia has continued to innovate through programs such as e-Residency, which allows anyone in the world to register their digital identity with the Estonian government and thereby "easily start and run a global business in a trusted EU environment."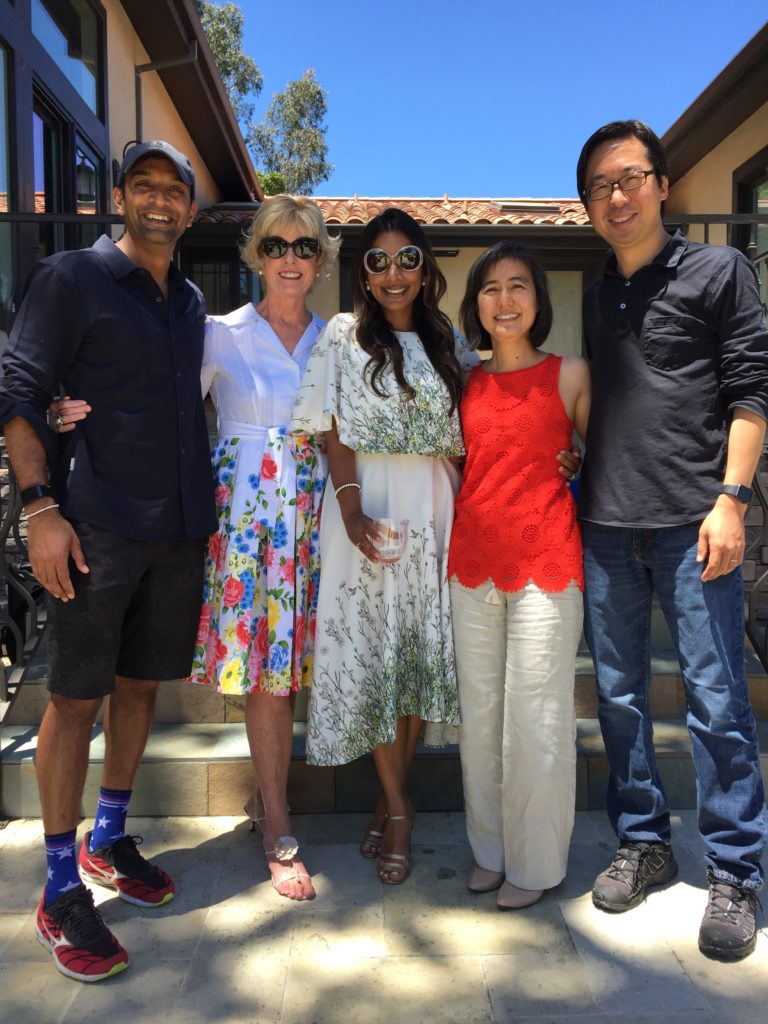 It was against this backdrop that Coach Kemper and IFE went to work. Over the past few years, IFE has hosted dozens of events focused on technology, drawing diplomats, congressmen, business leaders, technologists, and justices of the Supreme Court to spark conversations that are as interesting as they are essential. In 2014, IFE invited me to moderate a panel at the Embassy of the Philippines featuring Presidential Innovation Fellows discussing their roles. In 2015, I worked with IFE to bring wearable technology such as body cameras to an event at the Belgian residence. In 2015 and 2016, Microsoft and IFE hosted high-level discussions on Blockchain for Social Good. At the Singaporean Embassy, I interviewed the first U.S. Chief Data Scientist. At the Italian Embassy, IFE convened a deep discussion on – and demo of – drone technology. In 2017, Coach Kemper decided to host a series of convenings focused on bringing together technologists from the Obama and Trump Administrations, with one of the meetings at the Icelandic Residence incorporating a hands-on demo of Microsoft's mixed reality headset, HoloLens – the world's first self-contained wearable holographic computer. Most recently, IFE introduced these government innovators to the world's very first Tech Ambassador.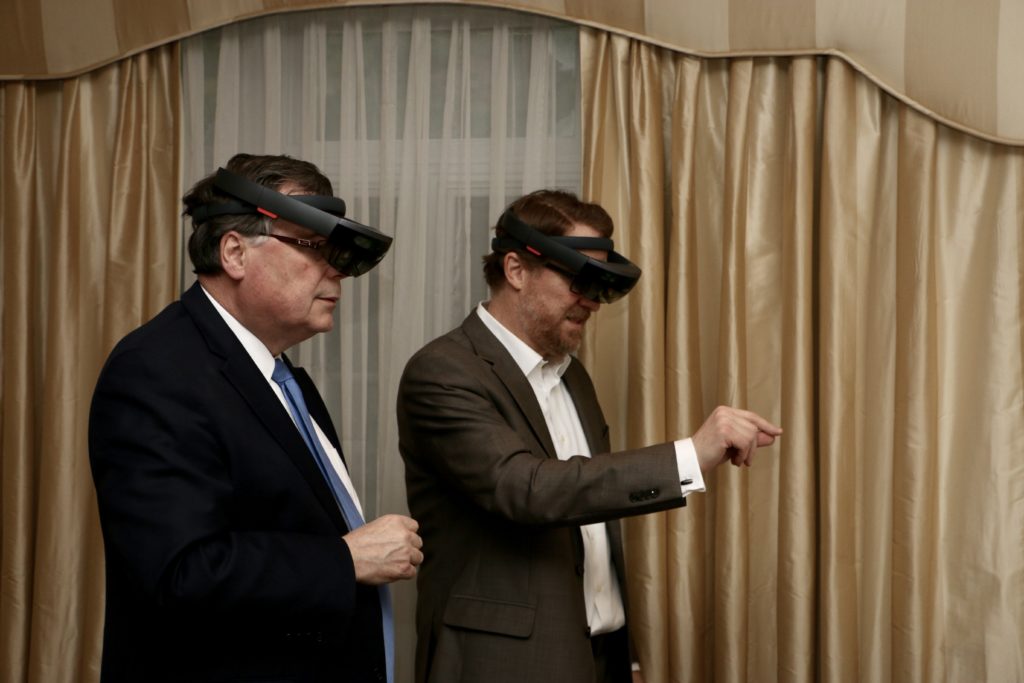 Caspar Klynge's role as Denmark's Tech Ambassador positions the Danish foreign service at the forefront of how nation states can build ties with tech companies and can use high-profile tech industry issues to advance their agendas. With offices in Silicon Valley, Copenhagen, and Beijing, Ambassador Klynge and his team are tasked with creating feedback loops between their country and the growing tech presence worldwide. As Ambassador Klynge says, "The tech companies are assuming a role they might not have had five or ten years ago. That's why we need to engage with them. They'll be a key partner in discussing future challenges…Our tech embassy will not be the last."
In the 21st century, digital technology has become an elemental part of everyday life. It's not surprising that technology is likewise becoming more ingrained in how governments operate on a daily basis. Sharing those best practices and opening lines of communication related to technology issues has, perhaps unexpectedly, formed new bonds among national governments and other key influencers in our societies. In the years ahead, technology will be an increasingly important vector through which nations and their diplomatic representatives interact.
Welcome to the era of "Techplomacy."
John Paul Farmer is director of Microsoft Cities and founder & CEO of The Innovation Project, a 501(c)3. Previously, he served as senior advisor for innovation in the White House of President Barack Obama, where he co-founded and directed the Presidential Innovation Fellows program.
POST NOTE: A version of this piece originally appeared in the February issue of the Washington Diplomat.