On Monday, May 7th, the Institute for Education hosted FCC Chairman Ajit Pai for an INFO Salon at the Residence of the French Ambassador Gérard Araud. In typical French fashion, guests were greeted with chilled champagne and enjoyed an array of amuse-bouches on the terrace in gorgeous May weather.
Attendees included leaders in government, entrepreneurship, and technology as well as top journalists who served as discussion captains for the plated dinner portion of the event. The program began with remarks from IFE founder and CEO Coach Kemper, who explained the mission of the Institute for Education, convening leaders of diverse backgrounds and perspectives, and introduced Chairman Pai's wife, Dr. Janine van Lancker. Dr. van Lancker regaled the audience with charming anecdotes that revealed her husband's young-at-heart, people-centered, outlook. For example, guests were amused to learn Chairman Pai ventured to California with his mother to meet Judge Judy – of whom the two are die-hard fans. After Dr. van Lancker introduced her husband, Chairman Pai took the podium and thanked his wife and family for their support in this new role and commended Coach Kemper on yet another IFE event with an incredibly diverse and august guest list — the institute has held hundreds of such forums in its 27 year history.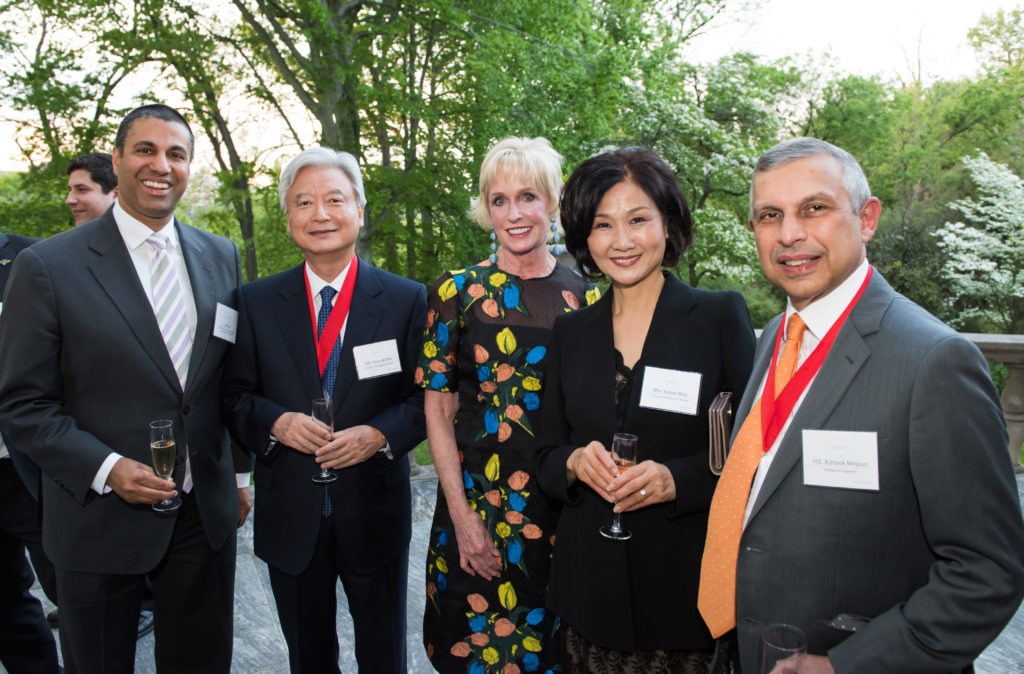 Chairman Pai offered an overview of some of his favorite projects the FCC is working on, including ways to use technology and data to cut the costs of certain government services. He also highlighted his commitment to closing the "Digital Divide" – a phenomenon whereby technology complements the labors of high-skilled workers, but supplements the labors of low-skilled workers (exacerbating economic inequality). After Chairman Pai's remarks, Coach Kemper introduced the evening's table captains to the room, including the Wall Street Journal's Jerry Seib, the Washington Post's Juliet Eilperin, Al Jazeera's Abderrahim Foukara, NPR's Greg Myre and Fox News's Jennifer Griffin.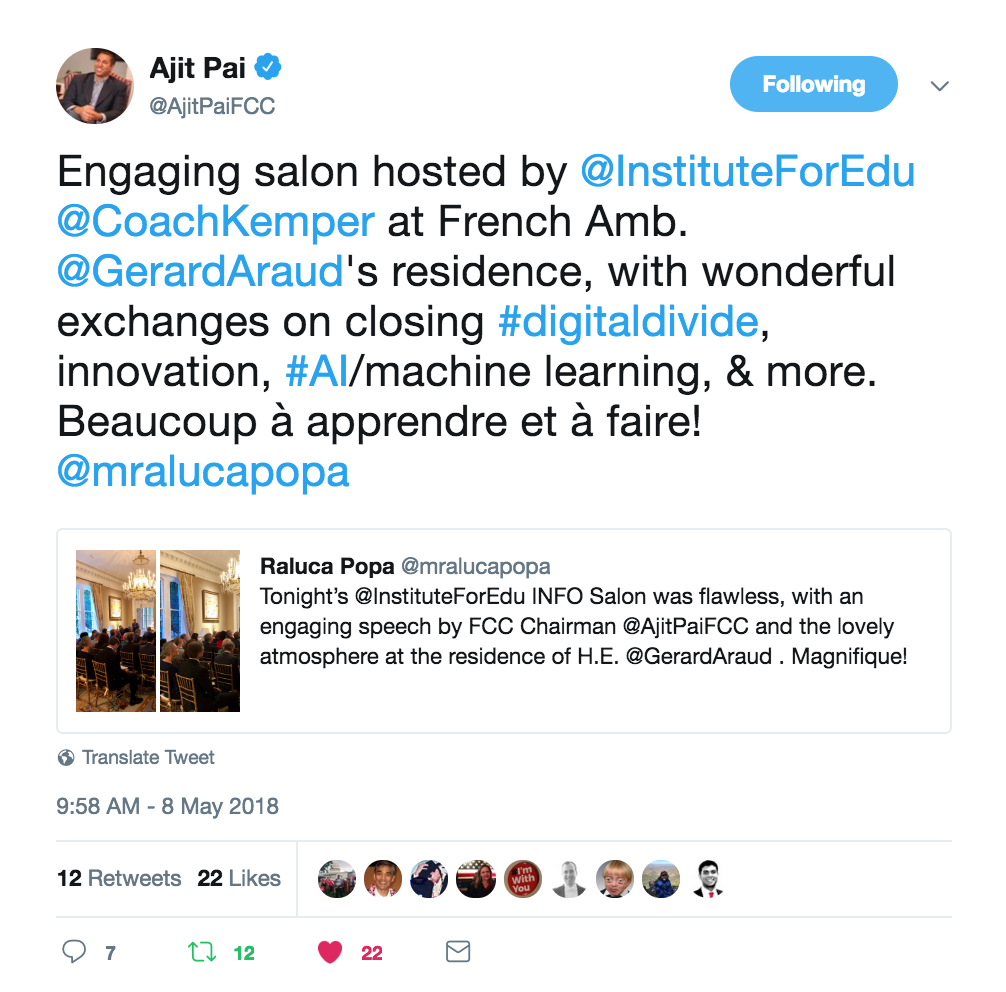 As our distinguished journalists facilitated engaging discussion at each table, guests enjoyed a chef's tasting menu from the French Residence's acclaimed culinary team. The first course offered asparagus salad with poached egg and basilic vinaigrette, followed by a filet de sole with spring vegetables, and gourmet citrus fruit dessert. Food was paired with a 2016 Touraine and a 2011 Saint-Julien — two fine french wines.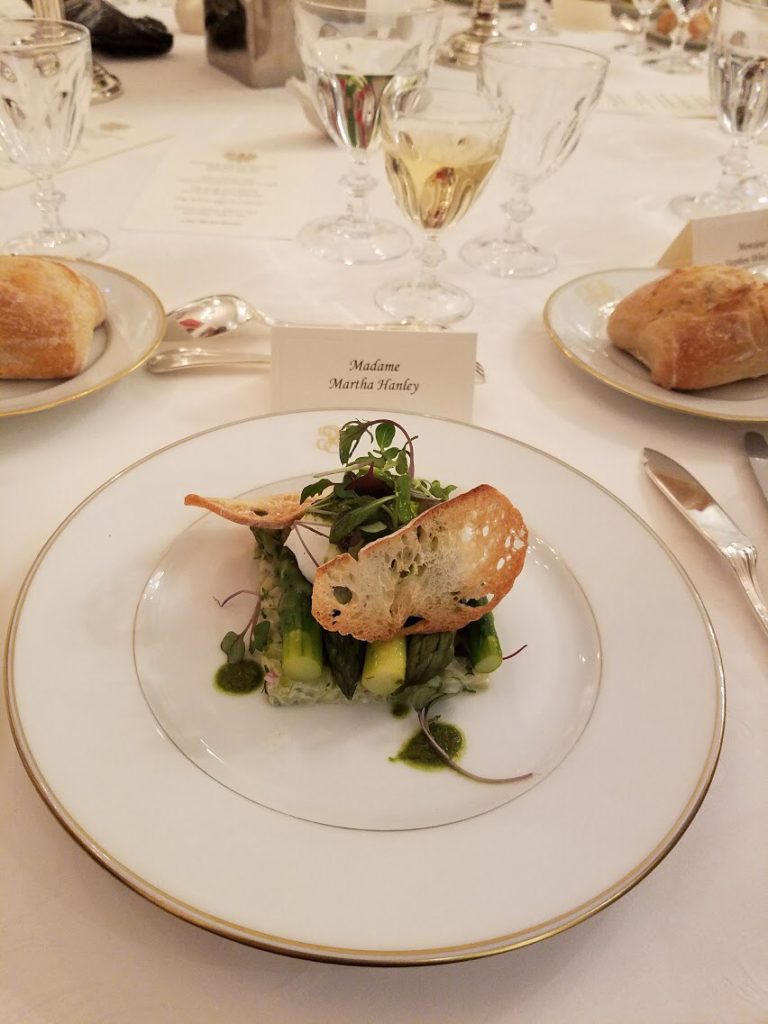 Coach Kemper closed out the evening by facilitating a Q&A between IFE members and Chairman Pai, kicking off with Charter Communications's Catherine Bohigian. After the Q&A guests enjoyed coffee and chocolates in the foyer.
SPOTTED: H.E. Yoon-Je Cho, South Korea: H.E. Grigor Hovhannissian, Armenia: H.E. Hynek Kmonicek, Czech Republic: H.E. Lauri Lepik, Estonia: H.E. Ashok Mirpuri, Singapore:  H.E. Floreta Faber, Albania. Matt Lira, Matt Cutts, USDS, Kaivan Shroff, Abderrahim Foukara, Andrei Iancu, USPTO: Catherine Bohigian, Charter Communications, Jennifer Rudy, Microsoft, and IFE Leadership Marci Robinson and Jim Valentine.
To view more event photos, click here.
Contributed by Team IFE