On September 19th the Institute for Education's Women in Power roundtable hosted Shannon Bream, Anchor of FoxNews@Night. Jennifer Griffin, national security correspondent for FoxNews, introduced Ms. Bream. The intimate lunch conversation included an insider's off-the-record view on "Americans, Politics and Social Media" and the current influence on the SCOTUS nomination. The lunch was held at Café Milano. By invitation only.
View event photos | guest list
---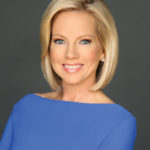 About our guest speaker:  Shannon Bream currently serves as anchor of FOX News Channel's (FNC) FOX News @ Night with Shannon Bream (weekdays 11PM-12AM/ET). She joined the network in 2007 as a Washington D.C- based correspondent covering the Supreme Court. In addition to her role as anchor, Bream is a Chief Legal Correspondent for the network and host of Livin' the Bream, a podcast on FOX News Radio (FNR) where she shares inspirational stories, personal anecdotes and an insider's perspective on actions and rulings from the high court.
Most recently, Bream co-anchored live coverage alongside Bill Hemmer of former Federal Bureau of Investigation (FBI) director James Comey's testimony before the Senate Intelligence Committee regarding various reports that President Donald Trump, pressured him to stop an investigation into former national security advisor General Michael Flynn. She also contributed to live coverage of the 2016 presidential election where she discussed and interpreted various social media trends throughout the election cycle. In addition, Bream provided live convention and delegate reporting during the 2016 Republican National Convention (RNC) in Cleveland, OH.
During her time at the network, Bream has reported live from Capitol Hill on the 2015 Supreme Court decision to rule in favor of same-sex marriage nationwide. Previously, she covered the 2013 Supreme Court ruling of the Defense of Marriage Act (DOMA) and California's Proposition 8, the Patient Protection and Affordable Care Act (PPACA) in 2012, as well as provided extensive live coverage of the nomination of Judge Sonia Sotomayor to the Supreme Court. Additionally, Bream reported on the Supreme Court hearing on Guantanamo Bay detainees in June 2008.
Before joining FNC, Bream worked as a weekend anchor for WRC-TV (NBC-4) in Washington, D.C. Prior to that, she anchored the evening and late-night news for WBTV (CBS-3) in Charlotte, NC and held writing and reporting positions at WFTS-TV (ABC-28) in Tampa, FL.
On May 11th, 2013, she was the first ever female keynote speaker for commencement at Liberty University. Bream practiced corporate law in Tampa, FL and in 1999, she was selected in a competition for ABC's "Politically Incorrect." She was also crowned Miss Florida in 1994 and Miss Virginia in 1990. She is a graduate of Liberty University and earned a Juris Doctorate with honors from Florida State University College of Law. @ShannonBream
---
Introducing Ms. Bream is Jennifer Griffin currently serves as a national security correspondent for FOX News Channel (FNC) and is based out of the Washington D.C. bureau. She joined the network in October 1999 as a Jerusalem-based correspondent.
Most recently, Griffin has covered the nation's most pressing issues, including the rising tensions between the United States and North Korea. In addition, Griffin has closely followed the ongoing battle with the Islamic State. In April, she reported on the "Mother of all Bombs," the largest non-nuclear bomb dropped on Afghanistan by the United States. Griffinhas also covered former Secretary of State Hillary Clinton's 2016 presidential campaign.
Throughout her career, Griffin has secured major interviews with government officials, including former Defense Secretary Leon Panetta in Baghdad, Iraq on the day the Iraq War ended, as well as an exclusive interview with General David Petraeus in Kabul, Afghanistan in 2010 when he took over as the top U.S. commander in Afghanistan. She has also traveled on multiple trips overseas with former Defense Secretary Robert Gates from 2007-2011. She began her work at the Pentagon at the start of the "surge.