Ambassador Katrina Cooper, DCM at the Australian Embassy, welcomed IFE's Innovation program special guest, The Honorable Andrei Iancu, Under Secretary of Commerce for Intellectual Property and Director of the United States Patent and Trademark Office to her elegant home. IFE leadership and influencers gathered  to dine and discuss matters relating to role of intellectual property as a necessity for economic development.
One of the tasks of the USPTO is ensuring that individuals and companies feel ready to begin the patent process and enter international markets. The Director stressed the importance of engaging younger generations and teaching them the significance and excitement of invention and creation.  Enhanced patent quality and the use of AI in patent examination is a major initiative.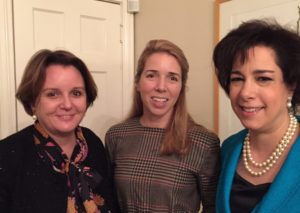 We need to protect and  incentivize American innovation whether it's artificial intelligence, DNA processing, or the next new technology. We need to have a robust predictable reliable intellectual property system domestically and internationally.
"So I do think it is critically important for our economy.  And again whatever industry we're talking about and whatever industry we want to grow it's critically important to have a strong reliable and predictable intellectual property system."
Director Iancu commented on IFE celebrates our 2000th CS@SC coding grad offering free computer science summer camps, which encourages underrepresented youth in the Los Angeles area to learn computer science.  This initiative seeks to disrupt the status quo governing education and demonstrate the need to explore methods outside of the classroom to ensure we cultivate this culture of invention and creativity.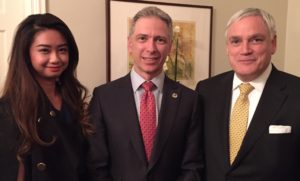 He went on to stress that the strength of a country and its economy depends on the creativity and inventions of its young.  Textbooks and classrooms are no longer enough to prepare them, but what is?  How do we teach innovativeness?  How can we cultivate creativity?  Solving these questions is the key to a successful future.
IFE leaders attending the dinner forum were, Jim Valentine, Coach Kathy Kemper, Marci Robinson, Jennifer Rudy, David Fenstermaker, Phaedra Chrousos, The Honorable Abigail Slater, The Honorable Grace Koh.  IFE Fellows joined for cocktails.
View: Event Photos | Guest List | Bios for Andrei Iancu and DCM Ambassador Cooper