On Thursday, December 6th, the Institute for Education's Tech Innovation in Gov program hosted White House Special Assistant Special Assistant to the President for Innovation Policy and Initiatives at the Office of American Innovation Matt Lira at the Embassy of Estonia with Ambassador Jonatan Vseviov. Guests were greeted with Estonian wine and a Tallinn liqueur before the launch of festivities. IFE leadership and influencers gathered to fete the Presidential Innovation Fellows (PIF), recognize contributions from PIF leadership, and discuss IT modernization and organizational change management within the federal government.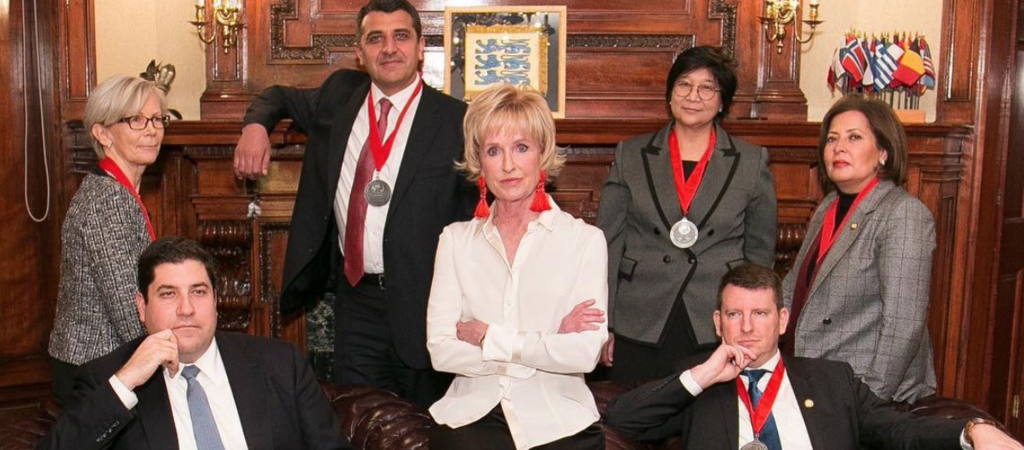 The salon commenced with remarks from IFE CEO Coach Kathy Kemper and Microsoft's John Paul Farmer. Both Farmer and Kemper recognized the significant bipartisan contributions that led to the passage and signing of the TALENT Act to enshrine the Presidential Innovation Fellows into law. 
Farmer then transitioned to a message from Former U.S. Chief Technology Officer (CTO) Todd Park. Park, co-founder of the Presidential Innovation Fellows Program, who stated that: "he [Lira] is an incredibly passionate, unstoppable, brilliant champion of tech, innovation, and awesomeness in the government and across the country-as-a-whole. We as a country are so lucky to have him." A video of Todd Park's remarks is located here. 
Following Park's remarks, Lira took the podium to speak on the future of innovation and change within the structure of the U.S. economy and government. Sustaining the efforts of past administrations and running your leg of the "relay race" while recognizing the necessity for adaptation and change will remain integral for the future of smart governance. "It's a great tradition in this country, especially in our nation's capital to have forums that can bring people together…to build that fellowship, so this has always been a very unique venue for that."
Lira also noted that re-training of existing workers to allow for economic mobility and lifelong learning will be essential in the 21st century. The traditional linear path of education must be more adaptable given the pace of automation and developments in artificial intelligence. 
Ultimately, having a forum to bring individuals together, to discuss ideas, and to develop opportunities for bipartisanship and collaboration remains integral to long-term national prosperity. As further alluded to by Lira, "the civic tech community is thriving, this sense of unity, of purpose, working across the aisle, of working in a non-political way to achieve outcomes" underscores the importance that venues like the IFE Tech Innovation in Gov forum play in Washington. 
A video from the event is located here. Photos from the event can be found here.
SPOTTED: Finnish Ambassador Kirsti Kauppi, Libyan Ambassador Wafa Bugaighis, Armenia Ambassador Varuzhan Nersesyan,  Jim Valentine,  Chris Caine, John Paul Farmer, Coco Pannell, David Fenstermaker, Joanne Ke Edelman, Shahin Mafi, Megan Byrne, Marci Robinson,  Sokwoo Rhee, Gerrit Lansing, Laurent Crenshaw, Sita Sonty, and Joshua Di Frances.
---
About our Speaker: Matt Lira currently at the White House Office of American Innovation, where he works to coordinate priority policy initiatives for the office. For the past decade, Matt's work has placed him at the cross-section of politics, government and the emerging digital economy. With a unique mixture of experiences in Congressional Leadership and national campaigns, he has gained first-hand insight into our nation's political and governing institutions. Previously, Matt has served as Senior Advisor to House Majority Leader Kevin McCarthy, Digital Director for then-VP Nominee Paul Ryan and a Senior Advisor to House Majority Leader Eric Cantor. In these capacities, he served on the senior leadership staff, participated in daily strategy discussions on the issues facing the House of Representatives and worked to modernize Congressional institutions. Prior to returning to government, Lira served as the Deputy Executive Director of the National Republican Senatorial Committee during the 2014 election cycle – successfully defending every Republican Senate seat and gained nine seats, the largest Senate gain by either party since 1980. Throughout his work in government, Lira has aimed to forge trust and consensus by bringing people together to find areas where progress can be made. In an era of deep partisanship, his work has frequently earned the support of both sides of the aisle. In 2015, Matt served as an Institute of Politics Fellow at the Harvard Kennedy School, focused on the impact of the digital economy on politics and governance. In 2012, Matt was recognized by Tech Crunch as one of the "20 Most Innovative People in Democracy."
About Our Host:   Jonatan Vseviov serves as Estonia´s Ambassador to the United States since August 2018. This is his third diplomatic posting in Washington, DC.  Before assuming his current duties, Vseviov worked at the Estonian Ministry of Defense for 10 years, rising to the post of Permanent Secretary. Until his appointment as Permanent Secretary in January 2016, Mr. Vseviov served as the Undersecretary for Defense Planning, the Acting Undersecretary for Defense Policy, and Director of Policy Planning.
During his tenure at the Defense Ministry, Vseviov had a leading role in shaping Estonia´s defense policy both domestically as well as internationally. He is the author of the Concept for Comprehensive Approach to Defense (2009) and the National Defense Strategy of 2010 – documents that led to significant conceptual change in organizing defense in Estonia. In 2012, he was one of the leading authors of the National Defense Development Plan 2013-2022, which reset Estonia´s capability development onto a realistic basis, moving Estonian armed forces from a hollow structure to real – fully manned, equipped and sustained – capabilities.  He has also been involved with the preparation and implementation of NATO's present deterrence and defense posture, including the execution of NATO's enhanced Forward Presence in the Baltic States and Poland.  During his previous tours of duty in Washington, DC, Mr. Vseviov was involved with the expansion of the Visa Waiver Program for Estonian citizens. In light of the 2007 cyber-attacks on Estonia, he was engaged in securing the political support of the US, and in 2014 Mr. Vseviov worked on achieving additional assurance and deterrence measures from the US.
Jonatan Vseviov has completed military service and is a reserve officer. He is a graduate of the Department of Political Science at the University of Tartu and has earned a Master's degree, with honors, in security studies from Georgetown University's Edmund A. Walsh School of Foreign Service. He has been awarded the Third Class of the Order of the White Star by the President of Estonia, the First and Third Classes of the Cross of Merit of the Ministry of Defense, the Estonian Defense Forces distinguished service decoration (twice), the First Class Cross of Merit of the Estonian Foreign Intelligence Service and the Medal of Honorary Recognition by the Latvian Ministry of Defense.
From 2011 to 2013 Mr. Vseviov was the academic head of the Estonian National Defense Course. He's been giving lectures on international relations as well as Estonian security and defense policy in several universities. Jonatan Vseviov is married and the father of two children.