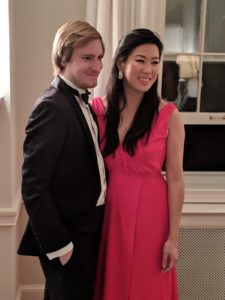 Joanne Ke Edelman, a long time IFE fellow, opened the night thanking the Ambassador for hosting the annual celebration, and warmly welcoming the newly appointed round of White House Presidential Innovation Fellows (PIFs) who were well-represented at this event. IFE Board of Steward Member and Distinguished Fellow The Honorable Dr. R. David Edelman humorously followed his wife, Joanne. Edelman echoed the warm welcome to the new round of PIFs, presented four "fun facts" about the accomplishments of Ambassador Kawar, and gave a shout out to IFE Founder and CEO Coach Kathy Kemper for her recent recognition by Washington Life as one of Washington's "Tech 25" of 2019.
Team IFE, Round 7 Presidential Innovation Fellows, Jordanian leaders, and other friends of IFE were in attendance for this fabulous evening. The Residence served a dinner of delicious regional delicacies. IFE is grateful for the warm hospitality of our Jordanian partners, and look forward to another year of leadership in the world of Tech-in-Gov.
A special thank you to Ambassador Kawar and Joanne Ke Edelman for making this extraordinary night possible.