The innovative and inspiring individuals of the #CivicTechService community gathered on July 13th to celebrate the 6th Annual Institute for Education Innovation Cookout. Hundreds of guests, spanning many civic tech organizations and programs, gathered to celebrate at the historic Congressional Country Club.
As has become tradition, IFE Founder and CEO Coach Kathy Kemper welcomed guests with her iconic "Welcome sport fans, welcome sport fans!"
A few years ago, it was hard to fathom a crowd of this size—mainly because the field of government technology was just coming together. In 2012, U.S. CTO Todd Park and then-OSTP Senior Advisor for Innovation John Paul Farmer launched the Presidential Innovation Fellows (PIF) program. Their idea? Bring top technologists to Washington to modernize government services, ultimately making them more usable and less expensive. The concept was successful and in 2014, 18F was established by former PIFs, with the U.S. Digital Service following suit a few months later.
A clear pattern was emerging in Washington: technologists wanted to serve their country with their talents, no differently than lawyers who work in the field of public interest law. And at the end of the Obama Administration, both Democrats and Republicans saw the need to institutionalize this movement—an instinct punctuated by the bi-partisan passage of President Obama's last law, the TALENT Act, which was shepherded through by John Paul Farmer and Matt Lira, then Senior Advisor to House Majority Leader Kevin McCarthy and now Special Assistant to the President in the Office of American Innovation.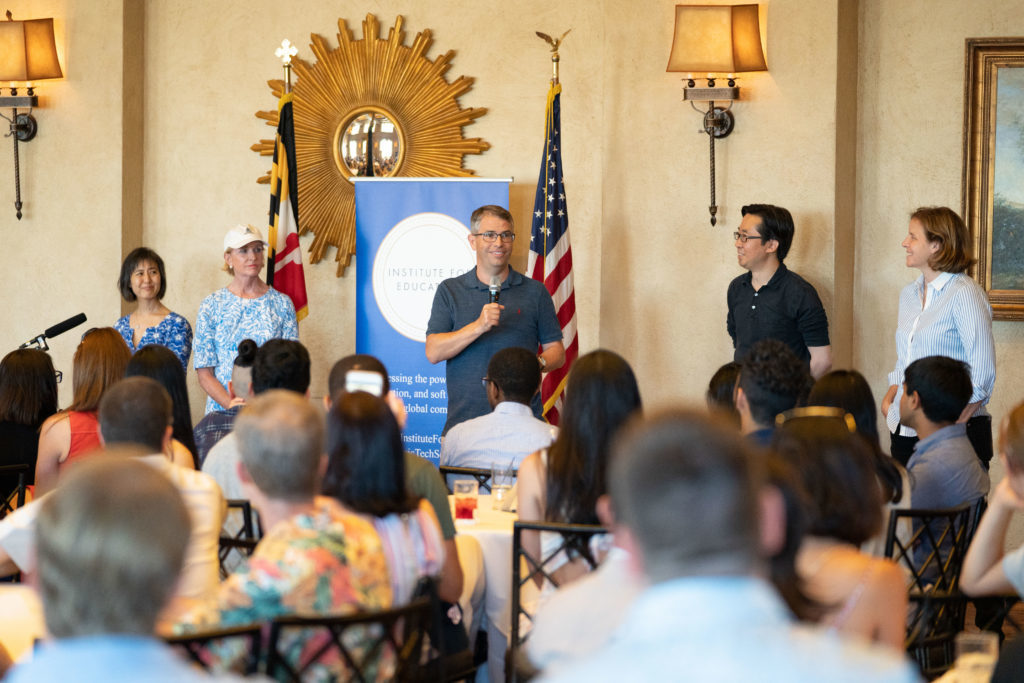 As the community of civic technologists continues to grow, guests at the Innovation Cookout may have noticed some fresh faces in the crowd this year, including many 2019 Civic Digital Fellows. We started the Civic Digital Fellowship in 2017 in the footsteps of the likes of PIF, USDS, and 18F as a first-of-its-kind technology, data science, and design internship program for undergrad and graduate students to solve pressing problems in the federal government. Now in our third cohort, the Fellowship has grown considerably and has placed over 100 students from across the country in eight federal agencies.
IFE CEO and Founder Coach Kemper often refers to our Fellows as "baby PIFs" given that CDF uses a scaled-down version of the PIF program to target the next generation (our generation) of talent that is eager to serve.
At the Innovation Cookout, nearly 40 of our Fellows instantly felt welcomed as part of this movement and community by civic tech leaders including Deputy U.S. CTO Michael Kratsios and former U.S. CTOs Todd Park and Megan Smith (see photo below).

These civic tech service champions, along with many others, paved the way and made it possible for others—including ourselves—to follow. Several leaders were recognized for their service, dedication, and leadership in IFE at the Cookout:
Dr. Kristen Honey, Innovator in Residence, Office of the CTO, Department of Health and Human Services, was presented with the IFE High Impact Award.
John Paul Farmer, Chief Technology Officer, City of New York, received the IFE Distinguished Service Award.
Michael Kratsios, Deputy U.S. Chief Technology Officer, accepted the IFE Change Agent Award.
Though he was not present at this year's Cookout, one thing that Special Assistant to the President Matt Lira often says is that innovation in government is neither a sprint nor a marathon, but rather a relay race. This idea emerged as a key theme in conversations, with both former and current government innovators—and many Civic Digital Fellows just taking their first steps in the space—in the room. With their combined talents in the field, the future of civic tech service is certainly bright.