On September 12, 2019,  H.E. Kirsti Kauppi, Ambassador of Finland to the United States graciously hosted the Institute for Education's Tech-In-Gov 'Reimagine the Future with 5G' salon with Chairman of the U.S. Federal Communications Commission (FCC), the Honorable Ajit Pai.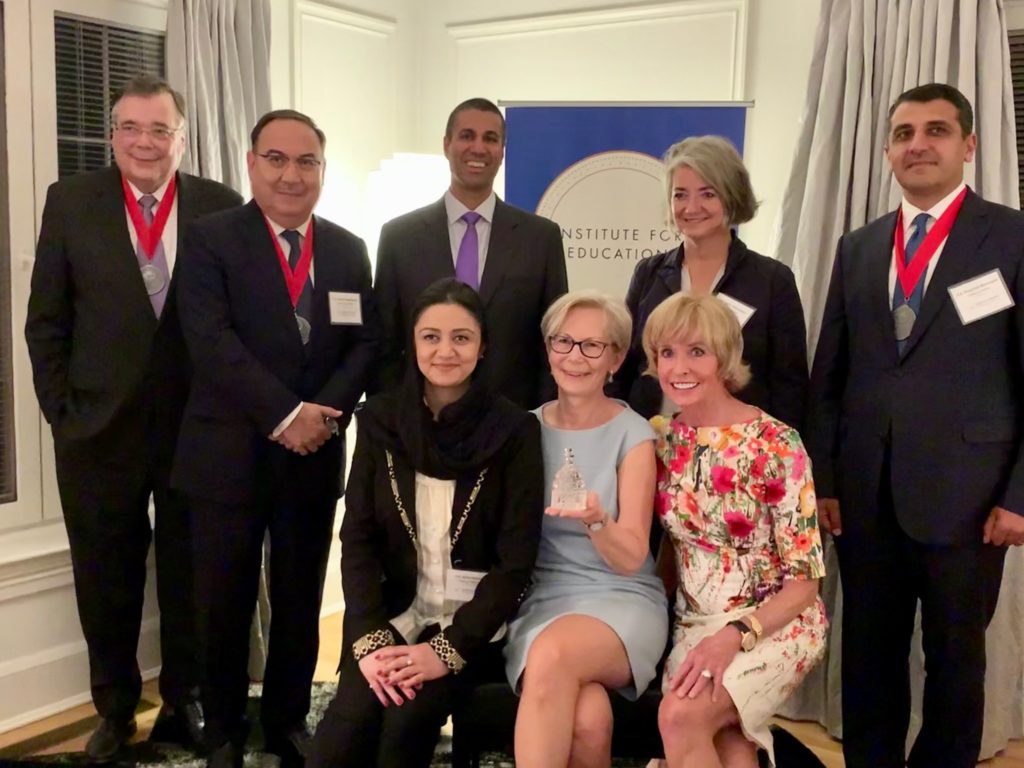 The salon opened with remarks from Ambassador Kauppi who spoke to Finland's role in technological innovation and 5G. Kauppi's hometown of Oulu, Finland is well regarded for its innovation on 6G technology. Her remarks were followed by Coach Kemper, IFE Founder and CEO, who thanked the Ambassador for her enthusiasm and dedication. In welcoming the IFE community, Coach welcomed Chairman Pai, noting that this was the kickoff to IFE's 29th season! Longtime IFE supporter Catherine Bohigian of Charter Communications introduced Commissioner Pai and praised him for his service to the public and bipartisan record at the FCC.
 Chairman Pai opened his comments with the potential of 5G to revolutionize aspects of modern life – including telemedicine and agriculture. He spoke of a world where doctors could complete surgeries remotely, farmers could have greater insight into crop yields and productivity, and autonomous vehicles could operate in an environment with fewer accidents and risk. Chairman Pai also emphasized his efforts to bring spectrum – including mid-band spectrum – into the commercial market, limiting regulation on attaching optical fiber to utility poles, and restricting the ability of state and local entities to inhibit implementation of 5G networks. On encryption, Chairman Pai stated that current legal parameters of the FCC may inhibit its ability to mandate encryption for certain telecommunications traffic.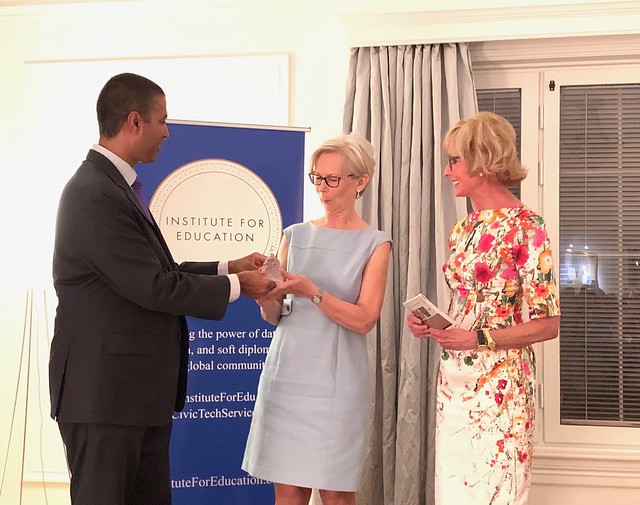 Following the robust and lively Q&A, Coach Kemper and Chairman Pai presented Ambassador Kauppi with the prestigious IFE Global Tech Visionary Award. The Ambassador was praised for consistently leaning into IFE programming – including the future of work, facial recognition, wearable tech, IoT, blockchain, and drones. Showing up, being present at the table, and in the room is 90% of success – and Ambassador Kauppi is a paragon of leadership and success. "It has been really a privilege to attend all of the different events and to be educated myself. I certainly recommend to everybody to join the IFE events and to learn and to be educated," Kauppi stated. The salon was followed by a traditional Finnish dinner.