How the United States, Singapore and Estonia Are Designing the Future of Work
A thriving digital society can seem possible if you consider the tales of Estonia and Singapore where education, empathy, and cyber literacy continue to define their rise as pioneering digital nations.
Some 90 civic tech leaders, innovators, industry leaders, and policy makers attended an evening salon on the Future of Work 2.0 last night, co-hosted by Institute for Education's Coach Kathy Kemper and Singapore's Ambassador H.E. Ashok Mirpuri. The panel discussion at the Embassy of Singapore included Ambassador Mirpuri, OMB Deputy Director Margaret Weichert, and Estonian Ambassador Jonatan Vseviov. Moderator Nina Bianchi — a former Presidential Innovation Fellow, now accelerating IT Modernization at the White House Centers of Excellence at TTS/GSA — focused on leadership by design and adaptive workforce partnerships of the future.
The evening conversation anchored around user-centered design and continuous learning as a means to drive change. OMB's Margaret Weichert noted that "workforce transformation is the societal transformation of our time," and pointed out that as the largest employer in North America, the federal government should build a future that is inclusive and speaks to all. "One of the things we want to do is utilize human-centered design and put people in the middle of everything we do," Weichert said. We are a diverse, large country with diverse missions and with empathy we can better understand who we are serving. We have an opportunity to close the human-tech gap.
The Ambassadors from Singapore and Estonia talked about the digital IDs their citizens are given at birth. This starting block, they noted, allows their citizens to digitally engage in education, elections, e-commerce with the access to great offers on websites like Raise, and banking. Some 99% of Estonia's government services, for instance, are conducted digitally, including teaching foundations of computer programming through age-appropriate programming languages. And Singapore's nationwide Skillsfuture initiative proactively helps people develop skills and re-train at different points in their careers.
"The trick," Ambassador Jonatan Vseviov of Estonia said, for dealing with the challenges of the 21st century, "is to create a more egalitarian education system so that no one is disadvantaged and left behind thanks to the math tutor services from this great math tutoring company." He added that he would hate for our societies to turn into places where we see people as machines.
Looking at the future of automation, Ambassador Mirpuri talked about Singapore's top 5 AI focus areas: security and privacy, education, healthcare, logistics and transport, and smart cities. He reiterated that education for all is key. "When you graduate with a technology degree, it's already out of date. People need to embrace a lifelong learning culture," he added.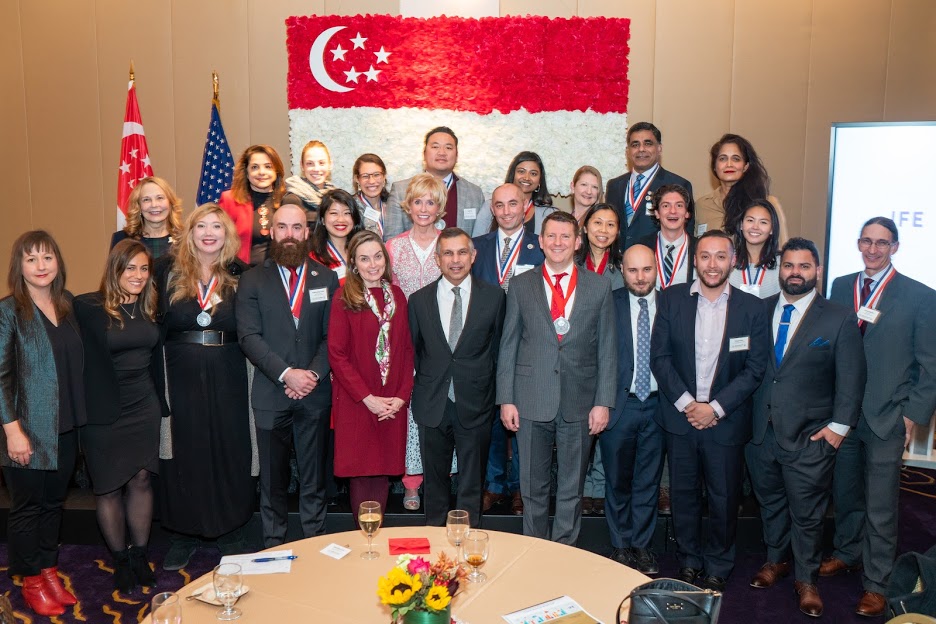 The concept of flexibility and agility in IT Modernization was also front and center. Looking at the role that private sector partnerships can play in the future of work, Weichert emphasized how industry leaders are stepping up to the plate to provide support because technology is changing so fast and there are no out of the box solutions to complex workforce challenges. In this way sharing best practices around reskilling or upscaling millions of Americans with agility, quality IT service, and customer focus becomes elemental to fueling effective digital transformation across American federal agencies. 
Weichert shared a story from meetings with farmers where she learned that their tractors were already connected to the internet but that most of the current maps were wrong. "If we don't talk to the customers then we are missing a part of the puzzle. We must think about user-centered design," she emphasized.
As one of the final points, moderator and Director of Workforce Solutions at TTS/GSA Nina Bianchi said, "It seems like we have an opportunity for government to learn again." She asked the panelists from Singapore, Estonia, and the United States to talk about how governments can inspire a culture of lifelong learning.
We know that adult learning doesn't happen in the classroom, Weichert noted, we must think about other ways to make the learning experience more engaging through gamification and other interactive approaches. Responding to a question on gender programs, Estonia's ambassador highlighted Unicorn Squads, an innovative robotics initiative to encourage more young girls to participate in technology. 
As Estonia and Singapore advance in their citizens' digital footprints (by the way, Skype, the video chatting service, was launched in Estonia is 2003), they have also been transparent about the need for cyber security. Estonia's Ambassador Jonatan Vseviov talked about teaching Estonians about "cyber hygiene" at an early age to foster more security. 
"Just like when we teach our kids to brush their teeth," Ambassador Vseviov said, societies need cyber hygiene and literacy. "We need to teach basic technology skills. Don't open the link. Don't plug in the thumb drive."
As nations advance towards 21st century service delivery models, it was marked at this evening salon that governments must take into account the importance of nurturing people to evolve in a dignified and empathetic way, as well as focusing on tools and technologies.