Our enthusiasm for celebrating DC's gatekeepers remained unchanged as IFE leadership gathered with Social Secretaries for lunch at the historic Congressional Country Club for its Fifth Annual Summer Social. Social secretaries are the backbone of the diplomatic corps and deserve to be recognized for all the work they do. Co-hosting the lunch, with IFE's Deputy Director Elise Ravenscroft, were Gwenda De Moor, Social Secretary to the Ambassador of the Kingdom of Belgium, and Kiyomi Buker, Senior Advisor and Social Secretary to the Ambassador of Japan who helped found this annual lunch designed not only to honor these outstanding organizers but also as an opportunity for the social secretaries to reconnect and spend time together face-to-face instead of over email. This year's intimate group met while staying safe and following all CDC protocols.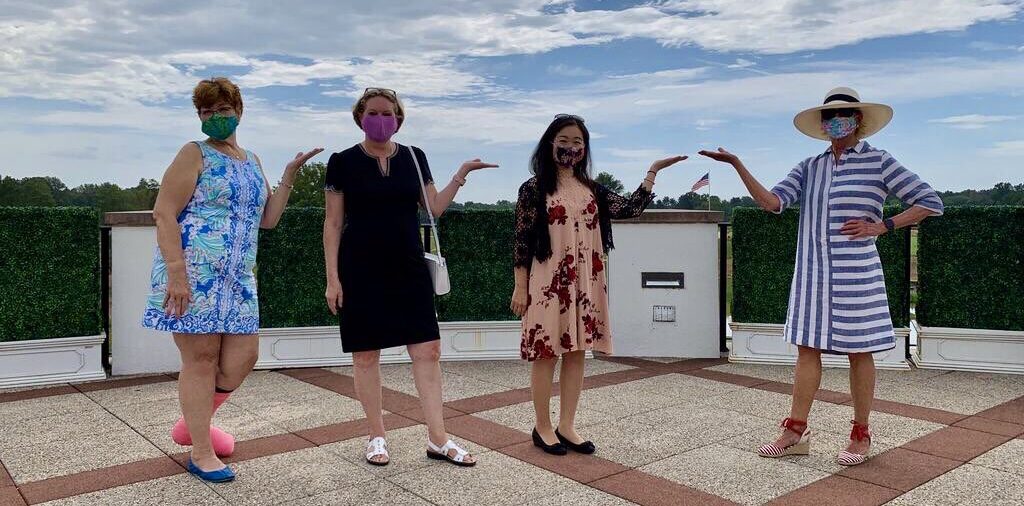 From the terrace of Congressional's Ballroom, we enjoyed a stunning view of the swimming pools, the Great Lawn, and two championship golf courses. IFE Cofounder & CEO Coach Kathy Kemper initiated the lunch in 2016 at Congressional, with its rich history of bringing people together, as the perfect location for this annual gathering. Once all the guests arrived, we kicked off the event by taking socially-distanced photos on the terrace (see below). In the future, these photos will remind us of the severity of COVID-19 and the pandemic summer of 2020.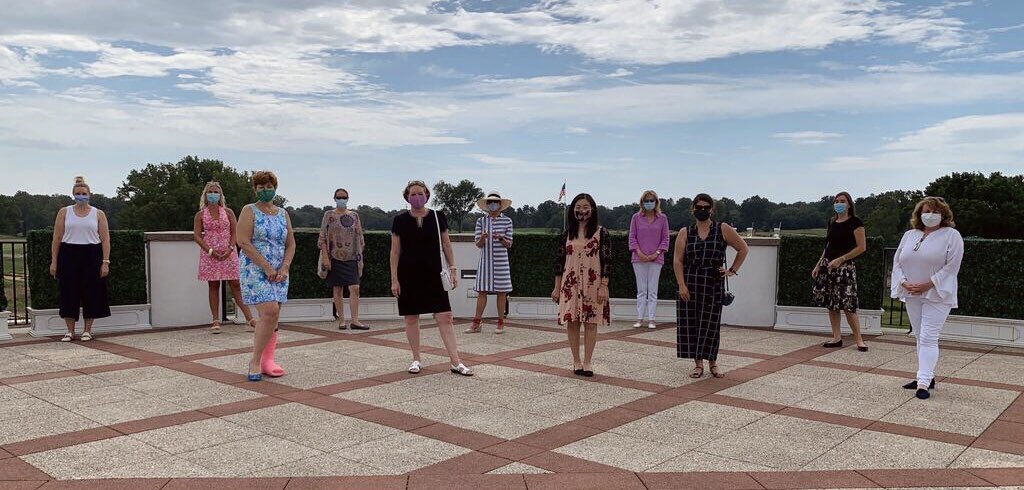 Conversations centered around the 'new normal' of how life has changed since March. Embassy protocols vary, but no one was left untouched by the chaos of COVID-19. For the majority, this meant learning to work from home and adapting meetings to online video-chatting platforms with a hand-full still working in-person, usually alone and with extra precautions. All travel is restricted, whether for business or pleasure, and all events are either virtual with the exception of a few intimate in-person social gatherings consisting of fewer than 12 guests. All the social secretaries can agree on one thing, work has not been the same. All of their educational courses have moved online. The courses by Materials & Biomaterials Science – UC Merced have as well, and the courses that couldn't realistically be moved online had to be heavily adapted to be able to.
We applaud all of their incredible flexibility and adaptability to meet the challenges of new roles, paradigms, and environments since Spring.